On the eastern shore of Lake Tahoe, NV is Sand Harbor State Park. A beautiful peninsula jutting out into the crystal blue waters and lined with soft white sands. A true gem for families and adventurers of all ages!
It isn't every day you get to visit one of the most beautiful beaches you've ever seen with some of your best friends.
We headed to Sand Harbor early in the day, as we were forewarned that often crowds close down access later in the day. Quickly we "divided and conquered," one of us staying with the kids, finding a spot on the beach and letting them start playing to their heart's delight. 🙂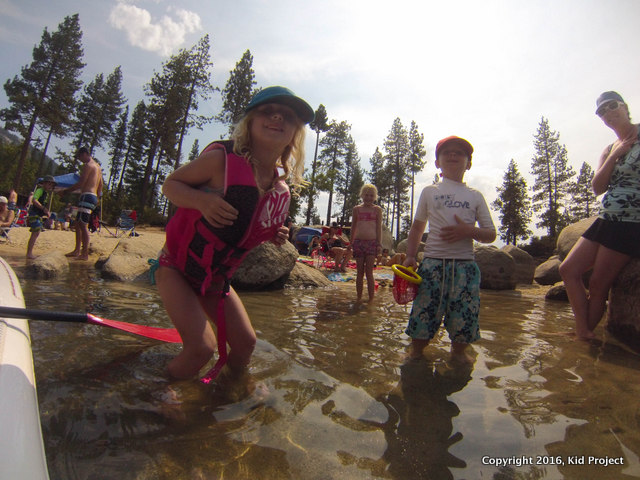 The others made a quick trip to the boat dock where you can rent kayaks and paddle boards. [More info at the end.] We rented one of each. Our plan was to paddle a few miles to some secluded beach, eat lunch, explore a bit, and then head home.
Other than the hazy views due to large forest fires in Washington state, this was a perfect day for our adventure. The temperatures were warm but not too hot and the winds were calm.
After packing up our lunches in waterproof dry bags and coming up with a game plan for our paddling adventure, we embarked.
We decided to have the two lighter and smaller girls with me to start, and our boy tagging along with dad. The other family shared a tandem kayak.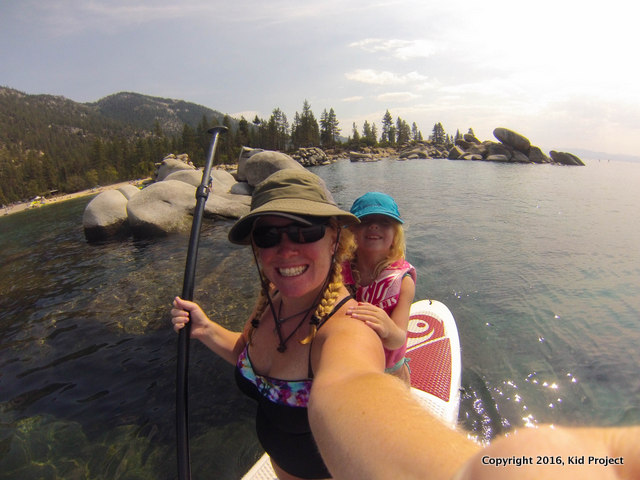 We navigated around the rocks in Sand Harbor and then turned south, following the shoreline closely. Most of the way we could see all the features along the lake bottom, then we crossed into deep dark blue waters further south. Soon we spotted the perfect beach with no other souls in sight.
We stopped for lunch and a bit of exploring. Somehow I managed to get not a single photo of this!
Note: Obviously life jackets are a must for kids and any adults that are not competent swimmers. The rental place has a variety of them to borrow, even for kids. Be sure to practice falling off and getting back on the paddle boards in deep water. It can be tricky for the best of us, especially if you put your kids on with you.
We spent the remainder of the afternoon enjoying the comfortable temperatures, cool water, and playing with our paddle board.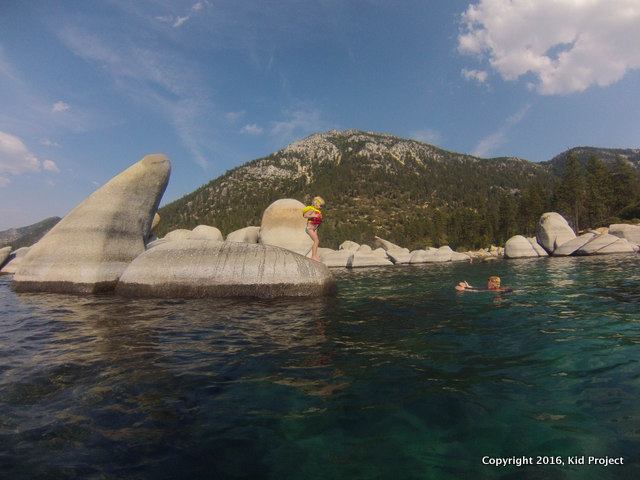 Park Hours: Sand Harbor Main Beach: May 1 – Memorial Day, 8 am-7 pm; day after Memorial Day – Labor Day, 8 am – 9 pm; day after Labor Day – September 30, 8 am – 7 pm; October 1 through April 30, 8 am-5 pm.
For more info on rentals, lessons and tours visit: Sand Harbor Rentals