I just looked at our weekly forecast. Highs in the upper 90s (F) and lows in the 70s.
Ugh.
Nothing kills my drive to adventure outdoors like heat. However, if I have a cool body of water (i.e. lake, river, ocean) nearby, then all the sudden camping in the heat is refreshing again.
This last weekend we camped at Ruby's Inn outside of Bryce Canyon National Park. We had a great time, were saved by the pool, but still the hot temperatures grated on our nerves. It was enough for us to hunt down a cool lake not to far away in hopes of jumping in. We did jump in. :). AND we found a rope swing.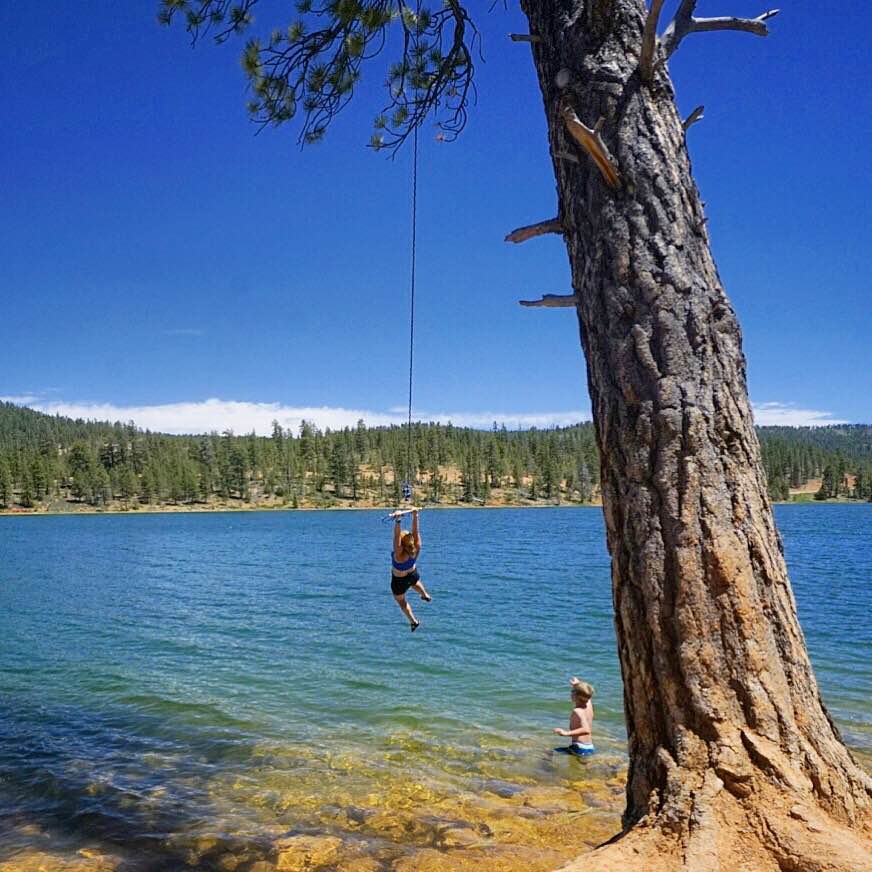 It solidified my opinion that come mid-summer if we aren't camping at high elevation, we'd better be near water.
Today I am joining with a bunch of families bloggers and sharing our favorite waterside campgrounds from around North America.
Click on the photos below to explore. We hope it helps you cool off this summer! See you on the water. 🙂
Camping and Swimming at Sand Hollow State Park, Utah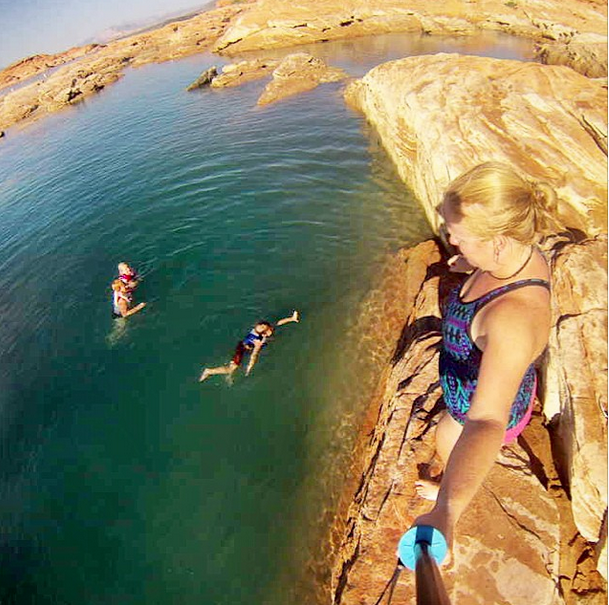 Camping with close access to National and State parks, slot canyons, plus crystal blue water and cliff jumping right out your tent door! Check out Sand Harbor State Park in Utah!
The 5 Best Waterside Campgrounds Near Calgary, Alberta – via Family Adventures in the Canadian Rockies

Enjoy waterside camping beside gorgeous mountain lakes in the Canadian Rockies, play in a river in the Alberta Badlands, swim or paddle with painted turtles in beautiful British Columbia, or soak up some sun on a family-friendly beach near Calgary.
Find Your Inner Glamper at Santa Barbara's El Capitan Canyon via The Examiner
Nestled between the picturesque Santa Barbara mountains and the vast Pacific Ocean, El Capitan Canyon offers families 300 acres of camping, cabineering and luxurious yurts perfect for adventure and relaxation.
The Best Waterside Campgrounds in North America – via Mountain Mom and Tots
"These campgrounds are our family faves, but there are so many other great ones to explore. Whether you're by an ocean, lake, river or stream there's lots of fun to be had camping by water."
Family Approved: Best Waterside Camping Campground location: Highland Lakes, Stanislaus National Forest, Northern California – via Chasiqui Mom
Escape to the California Sierras, to Highland Lakes for a more rustic car-camping experience with the beauty of lakes and lovely mountain peaks.
Vancouver Island's Best Seaside Campgrounds via Play Outside Guide
Beautiful beaches, old growth forests, and charming towns await you on Vancouver Island. Camp seaside for the best Island experience!
Lastly, I want to include one of our favorite stops on our road trip up Pacific Hwy 1.
FAMILY PADDLING: DORAN PARK CAMPGROUND / BODEGA BAY, CA
Great area for the kid's to bike, climb coastal trees, build forts, and collect shells. You are a five-minute walk from the beach on Bodega Bay, sea-lion spotting, wading and general sand castle fun!