The Sawtooth Mountain Range lies in central Idaho, not far (approx. 45 minutes) from Sun Valley, Idaho. It is a jagged and rough mountain range, dotted with deep and clear lakes, abundant wildflowers and towering summits.
The Sawtooths are also decently accessible and super family friendly both for backpacking and car camping. Though I'd certainly suggest saving Sawtooth trips for when your kids are older and can cover longer miles.
For us? This would be the hardest trip to date we've taken with our kids (ages 6-9). See we have three kids, meaning much more food and gear… and somewhat limited space on our backs. While my husband and I haul the bulk of the weight, our older kids have to be able to carry gear and cover decent mileage. (We only load up our 8 and 9-year-old with 10-12 lbs.)
In essence this trip, spanning 20-21 miles in 3 days, was an adventure in the truest sense of the word. Success wasn't insured. We were ready to see just what we could do as a family…
The Toxaway/Alice Lake Loop begins from Tin Cup Trailhead on Pettit Lake (FYI there is a campground right by the trailhead and it alone would make a fabulous destination).
Day 1: Tin Cup Trailhead (Pettit Lake) to Toxaway
And I thought, if we stop when it gets hard, we will miss all the good that is to come. It is an act of faith.
While not ideal, day 1 began for us at 5 a.m. as we drove to the Sawtooth Range. But hey, sometimes you do what you have to do.
I suggest starting the hike earlier than we did, as we hit the trail right at noon. The temperatures were much hotter than I expected. Much hotter. And the first day is also the most difficult in every way. It is all uphill or flat-ish and it also has the longest mileage.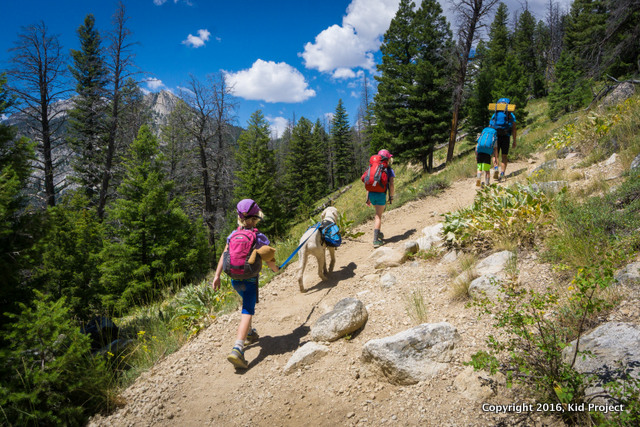 And so it became a test of our will. The trail climbs immediately after the trail junction that heads toward Alice Lake. For two miles we climbed northwest toward Yellow Belly Lake before descending to the next trail junction. I'll be honest, it was hot, dry and sort of miserable. We were using our poor pups to help pull the youngest up some hills.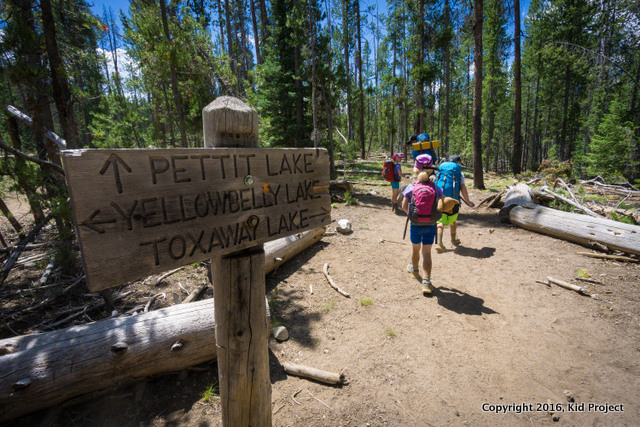 At the next junction we enjoyed quicker miles on relatively flat ground as we headed toward Toxaway Lake. Around mile 3 we ran into our first river crossing and Kai was SO happy for some water and a cool off.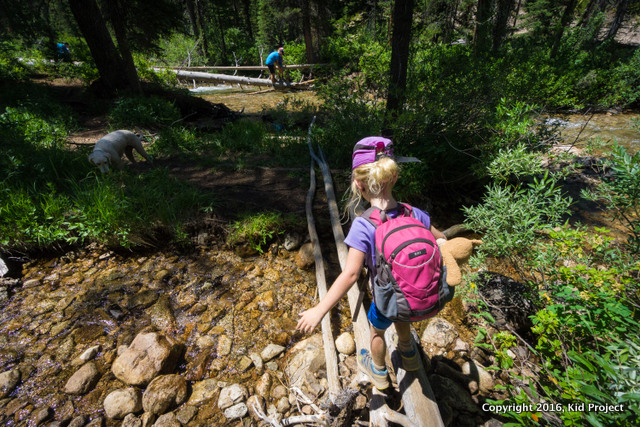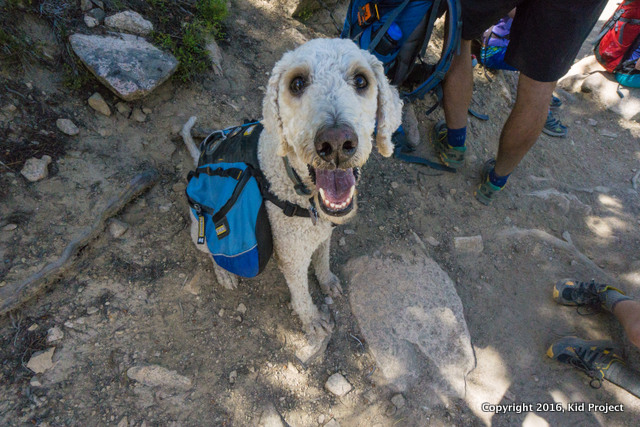 From there we continued the climb to Farley Lake. Farley Lake sits deep in the valley and the trail did not come nearly as close as we expected. However, we were desperate for a break. So we dropped our packs, grabbed some snacks and headed down to the water's edge. Good thing too! We found a natural diving board. 🙂 By now our watches read 5.6 miles and we'd been hiking for 3-4 hours.
After our break the trail becomes slightly more rugged, but more interesting as well. A few marshy crossings and multiply lakes made it entertaining. Even if we did think we had arrived at Toxaway when indeed we hadn't. Don't let the false lakes trick you!
We arrived at Toxaway around 8 miles in (further than expected) and having gained about 2,000 vertical feet (more than we expected.) The kids were toast, it was all we could do to throw down the tent and pads while Chris cooked dinner. The good news was we still had plenty of daylight with sunset being after 9pm.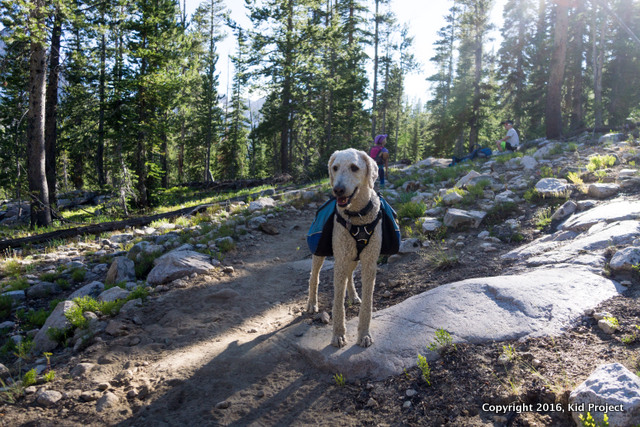 I've been asked if we could divide this section up and add a day. Yes, you can. Approximately 3-4 miles into the hike you have access to water via stream or your could easily camp at Farley Lake or the other small lakes along the way. However, the distance from Farley to Toxaway is small.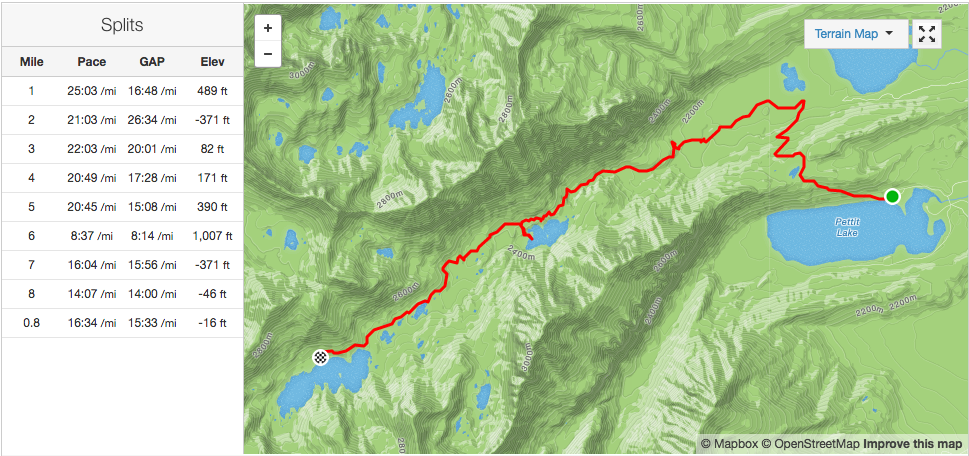 Day 2: Toxaway to Alice Lake
So much is determined by attitude.

We started over the pass from Toxaway to Twin Lakes, uphill for 2 miles but moods were great. The kids worked together to make up a song about our adventures as we passed snow fields, marmots, and watched mountain goats high on Snowyside Peak.

We were fueled by knowing once we reached the top, the rest of the days were all downhill!
The day dawned perfect: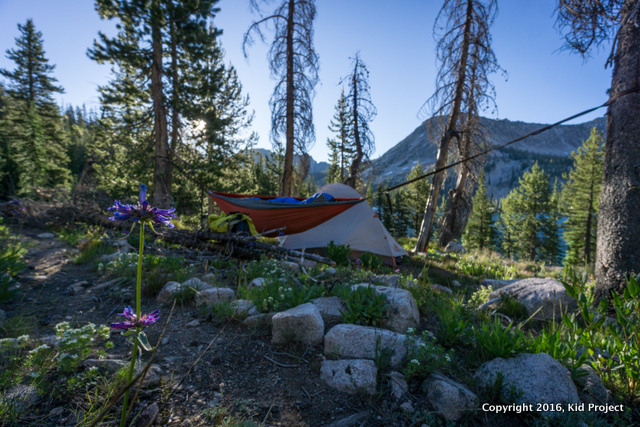 Today was the best day, I knew it even before we woke up. In terms of quality, this segment of the trail had the least mileage (roughly 5 miles) and the best scenery when we make it over the pass and look down on Twin Lakes.
But the walk around Toxaway is steller as well! Don't hurry onto the next camp! Our day started immediately with amazing scenery.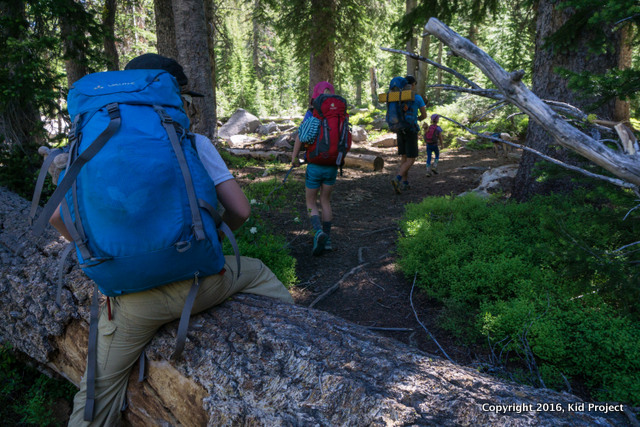 The trail climbs past many gorgeous teal lakes, a few waterfalls and eventually snow fields up higher.
As we neared the top of the pass my youngest daughter decides she needs to boulder every rock in sight. Obviously she can be made to carry more weight, eh?!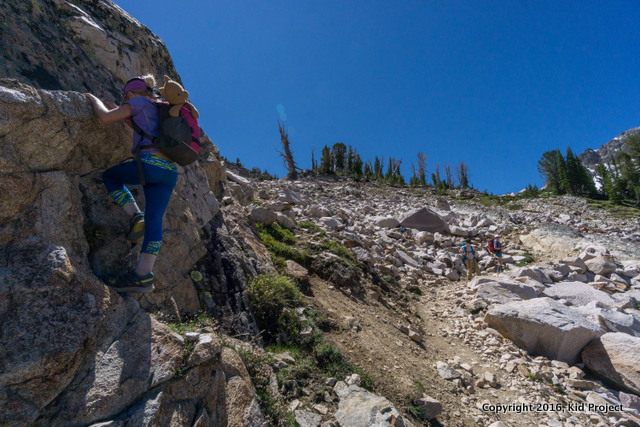 At the top we stopped for lunch, let Kai play in the snow, and Chris ran up Snowyside Peak for a quick summit, truly a fun summit and highly suggested! Just research the route before hand as there isn't really a trail and involves some decent scrambling and exposure.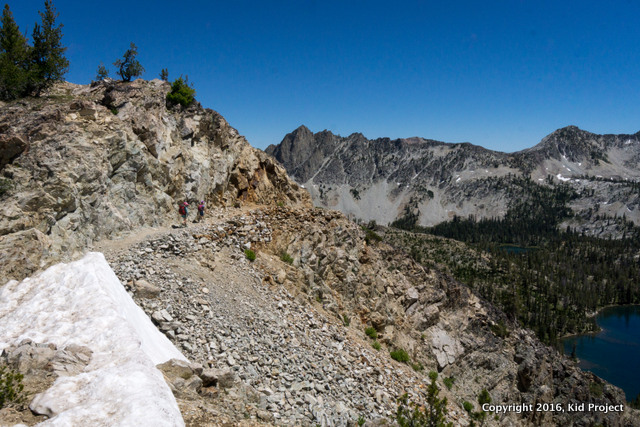 We hiked the remainder of the trail down past Twin Lakes and found a truly magnificent site on Alice Lake. We spent the afternoon reading, exploring, and playing in the water. Chris summited El Capitan on the eastern point of Lake Alice and we all rested and ate a lot!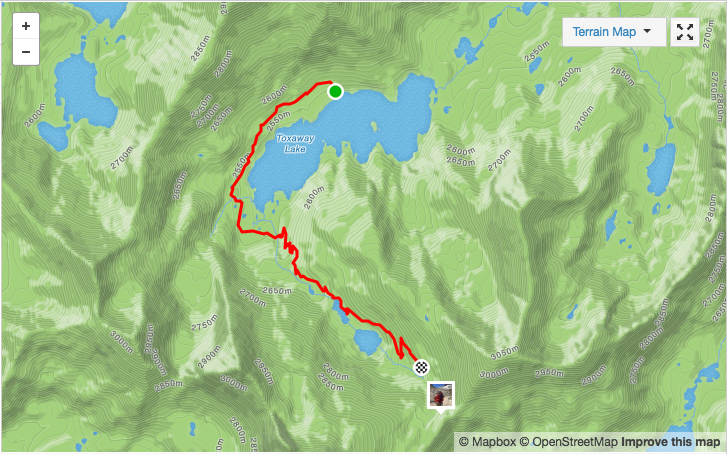 Day 3: Alice Lake back to Tin Cup Trailhead (Pettit Lake)
This is why I wanted to come back. Reflection so deep you don't know where it begins and ends.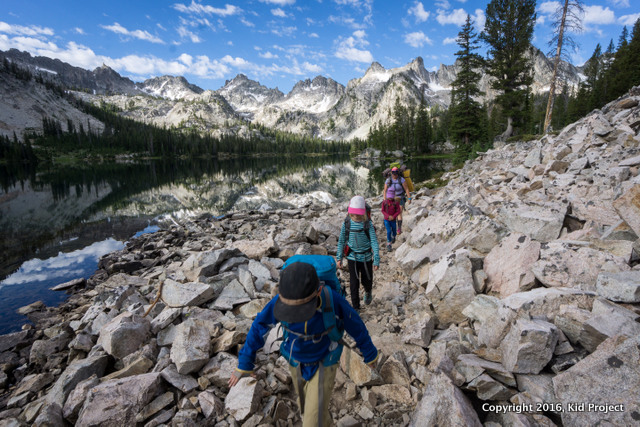 We awoke with the sun. Well, sort of. Kai was not so ready to get up…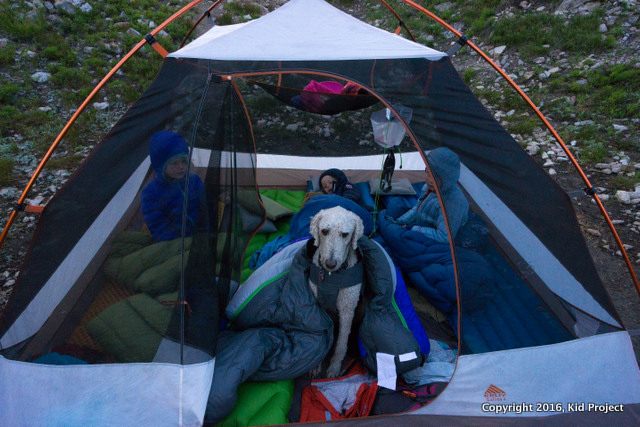 After yet another breakfast of oatmeal (really it is pretty good, especially with craisins, walnuts, and coconut flakes in it), we packed up to head home.
My son looked at me and said, "Mom, I am really excited to finish out this big hike with you." So cute. Though I am decently sure he was dreaming of a good burger or milkshake. But hey, aren't we all at this point?!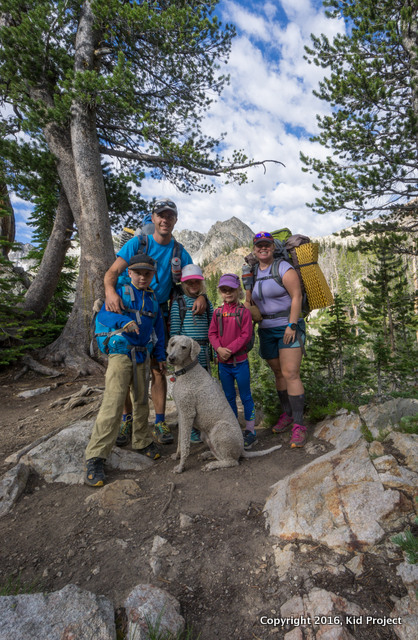 We let the pups have a break from his backpack – we could tell his paws were pretty sore.
The views around Lake Alice are epic, I'll let our photos speak from here on out. It is 6.2 miles from Alice Lake to Tin Cup Trailhead and all down hill – if you are coming from the lake. 🙂
And seriously the best part?! The rope swing at the end of the trip! I knew it was there, having made the discovery last summer. Every backpacking trip should end this way!