I am a Colorado native, and so I have very dear memories of traveling to the Glenwood Hot Springs Pool from my own childhood. It was where I learned to swim around age 2. And where I first experienced a tube slide. So naturally I counted down the weeks till I was able to introduce my own kids to this gem in the heart of the Rocky Mountains in Colorado.
There are few places left that haven't changed in 20+ years. But this is one of them. It is as great as I remembered.Turns out, fall is my new favorite time to visit the Glenwood Hot Springs Pool!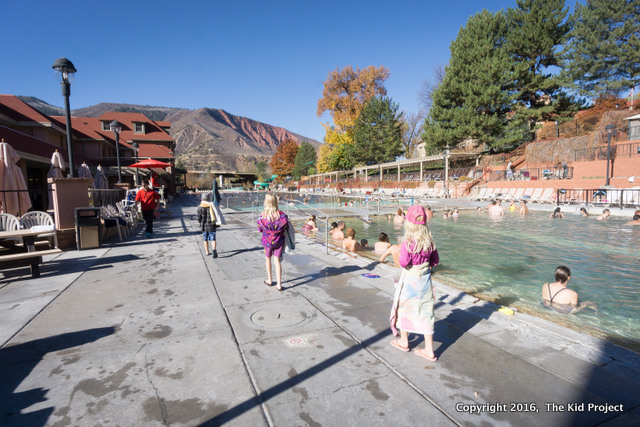 While summertime is considered "peak season", I'd say fall, winter, and spring are the better times to visit due to lack of crowds and enjoyment of the warm pools during cooler weather.
Parking
We arrived around 10 a.m. I remember parking being tricky, and it could be hard on a crowded day. We parked in a neighborhood area to the north of the pool. There is a closer parking lot tucked just to the east of the pool as well. From our car, it was a short walk downhill to the pool entrance. It is well signed and got us there without much of a problem.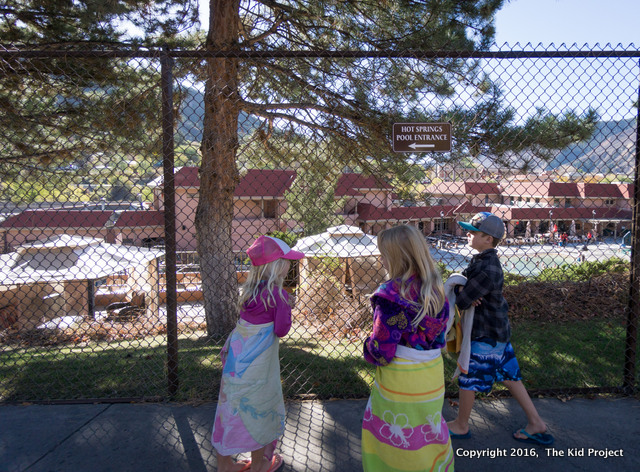 Admissions
During Value Weeks (which it is in October) the prices were $15.75 / adult and $10.75 kids (3-12). Prices vary for peak weekdays, peak weekends, and holidays.
Check your rates for the Glenwood Spring Pool Here.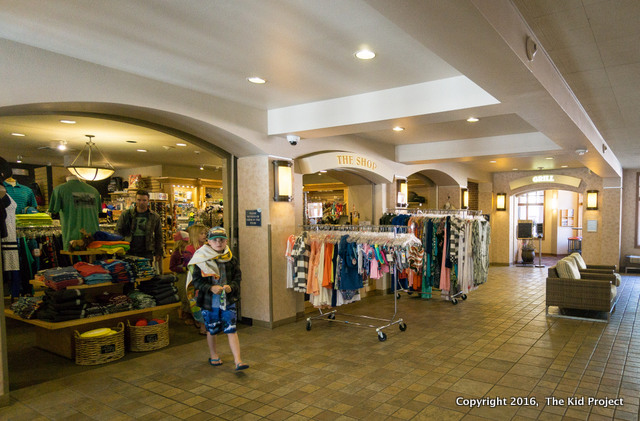 There is also a great store for any swim necessities you might have forgotten. Surprise, surprise! It is actually affordable! We forgot swim goggles (highly suggested as the water is salty), and we found some there for $5!
The Large Pool
There are two main pools at Glenwood Hot Springs. As mentioned above, the pools are salty in nature and smell slightly of sulfur. This was new to my kids, and not entirely desirable as they weren't used to it. I probably should have warned them ahead of time. This is due to the minerals present in the water: Sodium Chloride, Potassium Sulfate, Calcium Sulfate, and Calcium Bicarbonate.
For more info on the water, filtration, and chloride, visit the Glenwood Hot Springs FAQ page.
The big pool is 405 feet long and 100 feet wide and kept at approximately 90 degrees (F). It is the perfect temperature – not too hot, not too cold. This is where we spent most of our time and it is perfect for young kids and infants. This time there were no shaking and shivering kids after only 30 minutes in the pool!
On the east end of the pool are stairs, perfect for the young ones in our group to play. As you swim to the west end, it very gradually becomes deeper. Most adults can touch the bottom throughout the entire pool (except in the deep end) but my younger kids could not touch at the west end by the lap lanes. Child PFDs are provided free of cost if you'd like the peace-of-mind of having your child wear a life jacket.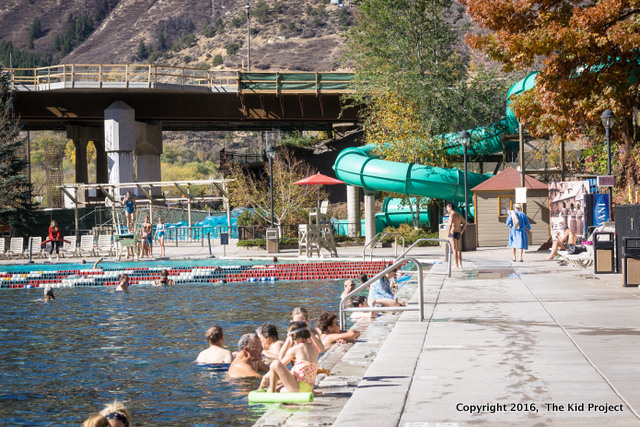 The Hot Pool
While both pools are warm, there is a hotter pool (a.k.a. the therapy pool) that is 100 feet long and kept at 104 degrees (F). It is designed to be more relaxing and dare I say more "adult?" There are jetted chairs for added relaxation.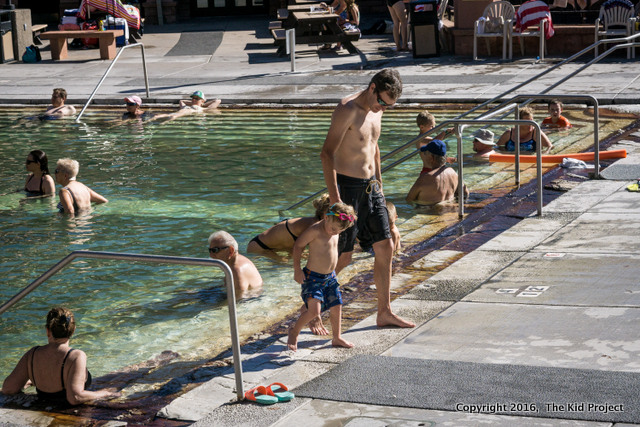 While kids are allowed, I kept mine mostly in the large pool because I didn't want them disturbing older visitors that didn't want to be splashed all day. 🙂
The Diving Boards and Slides
Lucky for us we went on the last weekend that the slides were open for the season! Slides are an additional fee and require you to purchase a full day pass or a punch card when you enter. (Good news – your kids can share a punch pass!) In our opinion, they are totally worth it!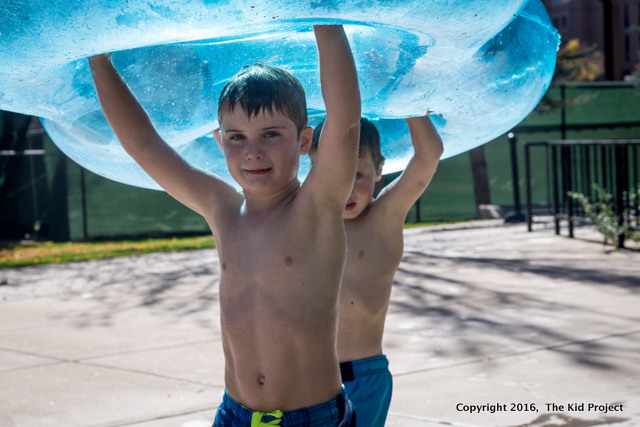 We have two thrilling water slides to get your blood flowing. Avalanche Falls (minimum height to ride is 48") and Shoshone Chute (minimum height to ride is 36").
While there are minimum height restrictions, younger kids are allowed to ride with an adult.
Info:
The water slides are seasonal.
***CLOSED FOR SEASON – TENTATIVE SPRING BREAK SEASON OPENING ON MARCH 19, 2017***
Spring Break: 12:00 PM – 5:00 PM
Open daily during Peak Season: 10:00 AM – 6:00 PM
Weekends during spring and fall: 12:00 PM – 5:00 PM
Subject to change due to weather conditions and demand. For up-to-date information, contact the pool desk at 970-947-2955.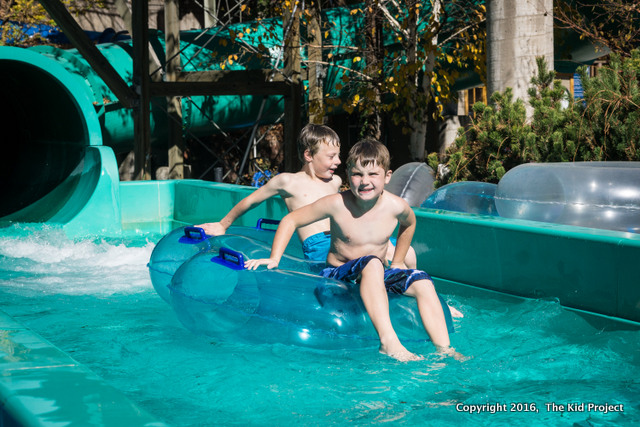 The larger pool has a diving board and deep end on the west end of the pool. This is also where the water slides are.
We spent a lot of time down by the diving boards!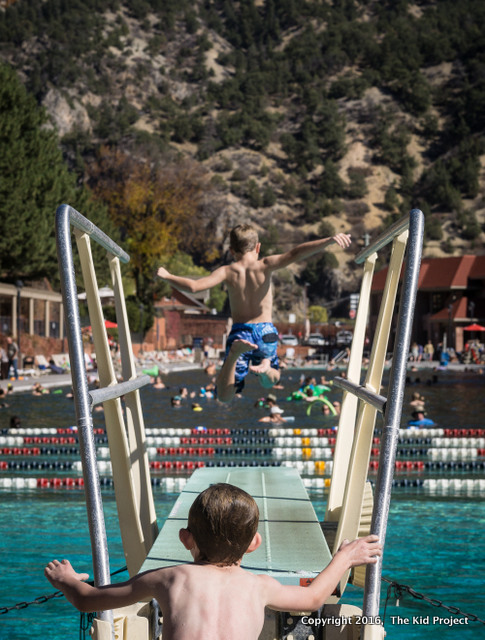 Our time at Glenwood Hot Springs was perfect! If you are visiting the area, I'd highly suggest you introduce your family to this gem. We ended up arriving in the morning, packing our lunch, and staying for the whole day! There is a restaurant on the property if you don't want to bring your own food.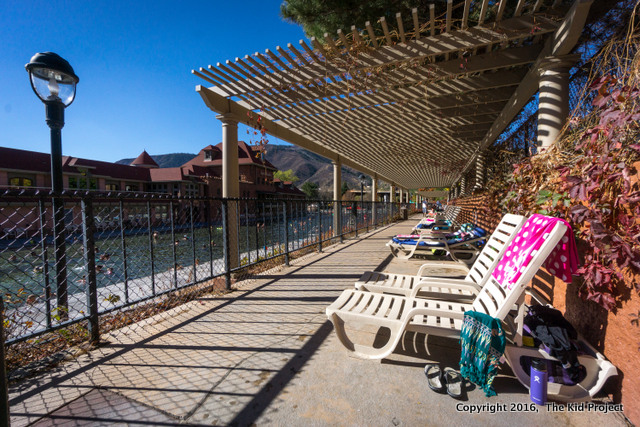 ENJOY!