We hike alot. And backpack alot.
Over the years, I have become increasingly frustrated with the lack of quality kid's backpacks for ages 5-10. Once you hit the "tween" years, most children will fit into an adult pack or what is often called a youth backpack.
But what about all us families that hike before our kid's hit the teenage years?! We've had some luck with Deuter backpacks but otherwise have come up empty, until now.
Mountain Smith recently released their new line of kid backpacks (including larger packs for the tweens and teens). Needless to say, we jumped at the opportunity to give the RockIt 16 kid's pack a thorough testing!
A stylish and functional pack for future peakbaggers. From the trails to the playground, rugged 600 denier fabric provides durability that your little ones need for years to come.

Tested in: Southern and Northern Utah; Hiking/ Overnight trips for younger kids
Cost: $44.95
Availability: http://mountainsmith.com
Best Use: Day Hiking
Selling Points:
The RockIt 16 is packed with amazing features, but is still a simple and streamlined pack. It has everything you need or want and nothing else.
First, I am amazed at the fit of this backpack. It is nearly flawless on all three of my kids – my petite 7 and 10 yr old girls as well as my sturdy 8 yr old boy. The back length isn't too long. The shoulder straps sit perfectly on their shoulders. Major thumbs up!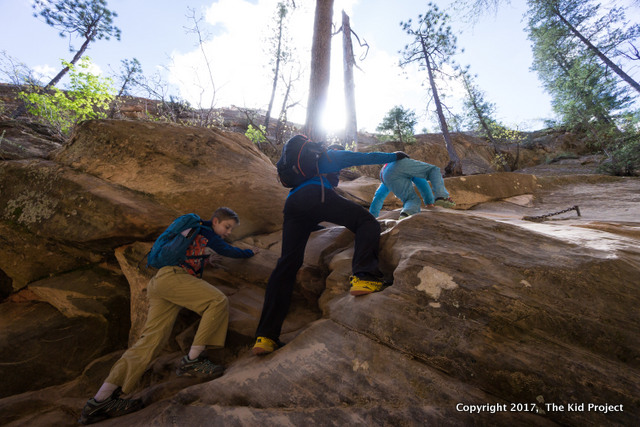 The fabric is sturdy, colors vibrant, and design is sleek.
The pack has the features that are important to us, such as:
Mesh water bottle holders on the sides.
Internal water bladder sleeve for more options.
Waist belt – they really do help the shoulders out on longer days.
Flip top lid with easy open/close drawstring.
Zippered compartment on lid to provide organization – ideal for overnight trips.
The backpack is streamlined BUT also wide enough to take to school and fit school books/lunch boxes.
Desired Improvements:
My one and only complaint: the buckle on the sternum strap is not the traditional side-release buckle. At first I assumed this other buckle was perhaps easier for kids to undo? But it wasn't for my kids, the older two figured it out after a day but my 7 year-old still needs help. I say, stick with one type of buckle.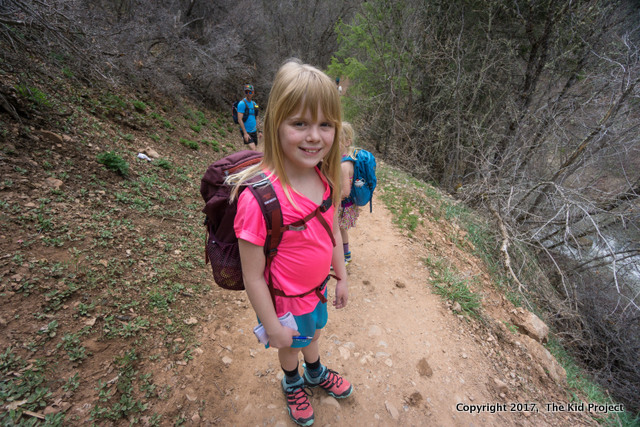 The Bottom Line:
This is my favorite kids pack to date, even beating out the Deuter Climber pack, due to the added mesh water bottle holders. All my kids love the style, colors and fit. They use them for both adventure and school. I would highly recommend these packs, and the Mountain Smith Lifetime guarantee is a bonus!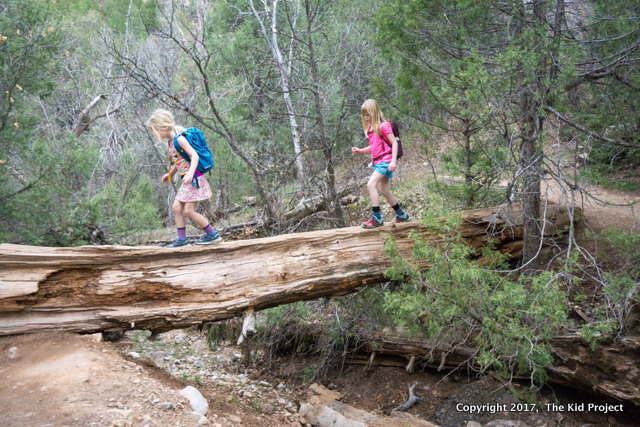 These samples were received for the purpose of review. All opinions are honest and forthcoming.