Let me just say this: around 28 years of skiing under my belt and two parents that have taught skiing for longer than that – and I was still not prepared for how difficult it was going to be to teach my kids how to ski. Frustrating at times, exhausting, hot [cause you're doing most the work] and slow. But they are learning!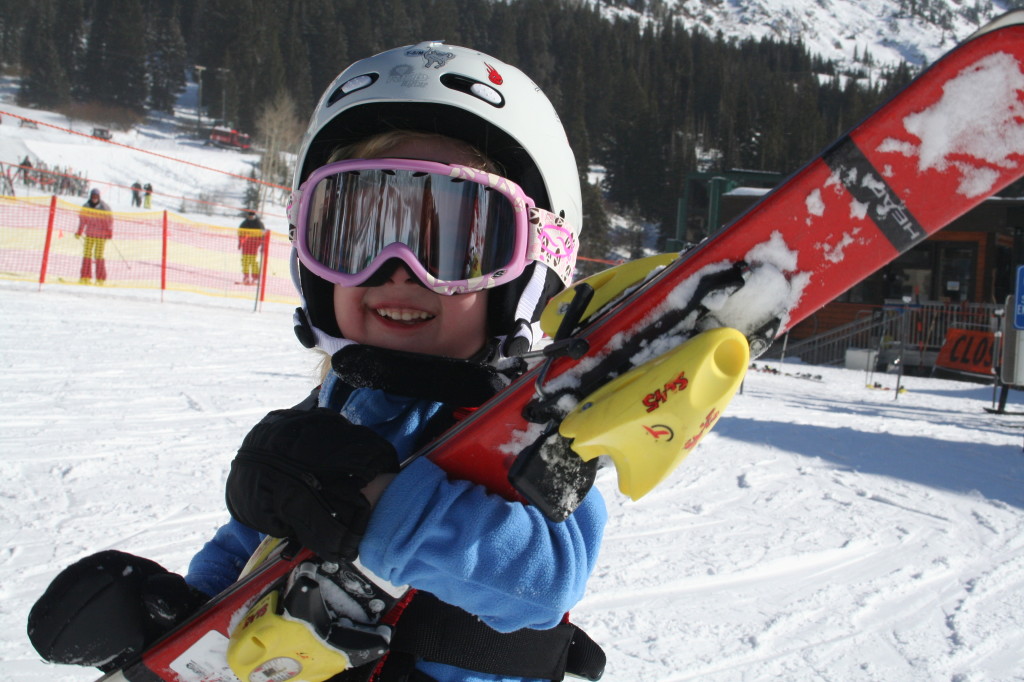 This year has been so fun watching our five-year old recall stopping from past seasons, learn to turn, hold speed, and even manage a few "woop-de-doos" as they are called in this family.
And we've tried nearly every tool of the trade out there.  Our conclusion, while some of those tools might help make it easier on the parent – the kid still has to learn to ski the old-fashioned way…by trial and error [ and a little coaching along the way].
We received a Lucky Bum Ski Trainer
from one of my parent's friends and have been using it now for the last two seasons.
The debate is hot right now: are harnesses more harmful than good?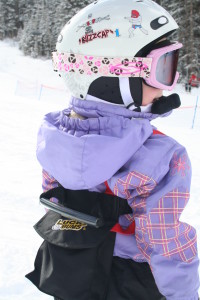 Here is my two cents:
Benefits depend on the age of the child and a host of other factors as well.  This harness in particular buckles over their shoulders and across the sternum. The largest downfall of it is the positioning on the child's body automatically causes them to be pulled into the "backseat" while skiing.  It teaches them to lean back, instead of forward, and does not force them to use their edges, wedges, or anything else for that matter.
For a review of a harness that does NOT have this problem, check out: Lil'Ripper Gripper
So for our five-year old, we don't use it anymore – in fact the most useful aspect of it is the grippy handle on the back, useful for helping them onto a chairlift or a quick boost up off the ground.
When they are useful:
But I do believe this ski harness is useful on younger kids.  It has been super helpful with our three-year old son.  Now, we have experienced all the negatives with him. But here is the deal: He is three years old.  There is only so much working on the wedge, learning to stop, working the edges we can do down by the magic carpet before we lose his little heart to boredom and frustration.
In his words, "I want to go fast. I want to go on the big runs."  And after a few hours on the rope tows [my arms are jelly], and I am OK with that.  So we head up the chair and let him fly down the bigger runs – with us controlling his speed all the way.  I can let him have a little bit of fun and feel like a big kid.  And I can give myself a break. Well, sort of.