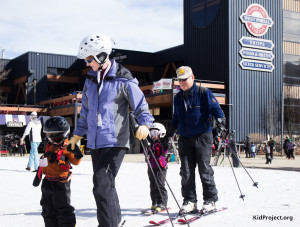 To me, Winter Park/Mary Jane, CO will always be a mogul skier's dream. But now that I have three tiny tots, two of which are skiing, I have realized it is a kids dream as well! I practically grew up on the tree trails, runs, and lifts of Winter Park. I remember clearly skiing up to the lift attendant as a 6 year old and telling them clearly, "I need a slow down and a boost up please!"
So I was excited this weekend to scope it out from the perspective of a parent with YOUNG kids. And I was pleasantly surprised. Now, my family is supremely spoiled. Both my parents teach skiing for the Eskimo Ski and Board Club [a "must check out" if you live in the Denver Area]…what it means for us it that there is no hassle of carrying skis, getting ready, and storing stuff at the base. But even for those families who are in it for the long haul from the car, Winter Park works hard to make it easy. I will attempt to outline everything I learned this last weekend as I followed my parents and kids around this fun resort and played paparazzi.
First things first: If you have no intention of teaching your kids to ski but want another able bodied adult to, click here. And here is info on childcare for those too young to ski. I have used both programs and love them.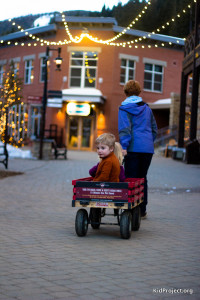 Now onto the practicals:
Parking: No way around it: parking is a hassle for a parent of toddlers!  But the resort tries hard to help out. The Cabriolet lift and/or buses will deliver you from your parking area to the Village/Base.
Walking: They provide cute red wagons for toting those little kids and all their gear through the base. And they make for a great photo opp!
Pricing: Day tickets aren't cheap. But we all know downhill skiing is expensive. The good news for families is kids 5 years and under are free! And if you are interested in only the beginner areas, parents can purchase a $10 ticket good for use on the Galloping Goose lift at the base of Mary Jane or on the rope tows and magic carpets of Sorenson Park.
The best part? Winter Park truly has the terrain and services for EVERY level skier. Here is my beta: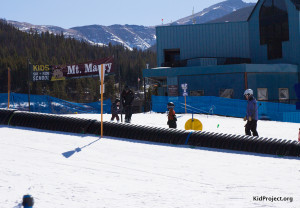 If you have a-never-been-on-skis-kiddo that you want to start out. Easy peasy. Walk them on over to Mt. Maury at the bottom of the Gemini Lift! It is free to kids, has a magic carpet so the parents don't kill their backs hauling them up and down the small hill, and plenty of room to flail, fall, instruct and hopefully get them standing on their own two skis!
If they have graduated from the baby hill to the bunny hill head on over to Sorensen Park. Mom and Dad can buy a $10 ticket good for the magic carpets and rope tows that access a few runs that are great for your little beginner ski bunny, but more advanced than Mt. Maury.
If, like us, you have a tiny tot that has mastered stopping, starting, turning and is ready to head up the chairlift, then all of Winter Park is right at your finger tips! Great terrain is found off almost any of the lifts! And the Discovery Park area offers fun tree trails, such as Moose Hollow, to keep the little jumpers entertained.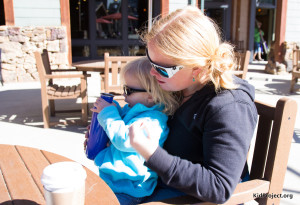 For those who have to divide-and-conquer: There are so many options! For the parent who stays behind with the baby, enjoy a cup of coffee at the Winter Park Coffee and Tea Market or Starbucks. Walk through the cute Village while your little one plays the chimes displayed along the way! Watch ice skaters on the pond. Take them sledding on the little hill, enjoy some good food. Need to burn energy? Strap them on your back and snowshoe to Snoasis [which is what we did, minus the snowshoes] or even to Sunspot at the top for some amazing views!  The options are endless!
Oh and don't forget the choo-choos. Any parent of toddlers will admit that a train that runs by the base is a major perk in terms of entertainment for their little one. And they have a great playground too. Sometimes it is the little things, right?
For more information on Winter Park from my favorite ski resort reviewer, visit the Brave Ski Mom's article, Winter Park and Mary Jane: Colorado Family Skiing at its Best!