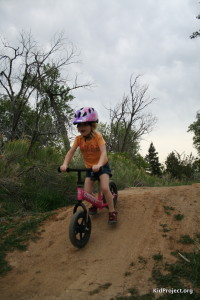 What to expect: The bike park lies hidden like a jewel in the rough. Tucked in the lap of North Table Mountain, I would have driven right by, if my parents hadn't been directing me.
This park is a "bike only skill park." Features include downhill flow trail (I had a blast on this), multi-directional trails, skills park, and pump track. "The gravity-fed flow park features rollers, berm turns, and table-top jumps that are suitable for beginners, and offer options for advanced riders to launch their bikes." You can find a map of the Golden Bike Park here.
My kids loved this park! For more reasons than one. We went back two times in the same week! We were there during the day, so there were no crowds and trees provided shade while on the pump track.
Beware: as far as I could tell, there is no easily accessible water or bathrooms. So be prepared.
Directions: Honestly, just use Google Maps! It is a tad tricky! Just know it is roughly 5 minutes from downtown Golden, on the South Eastern side of the North Table Mountain.
Cost: Free. I love this free bike park thing!