It is a little easy at Outdoor Retailer to get the glassy eyed, overwhelmed sort of look and go into autopilot. So much great outdoor great, flying at you from every angle. But as I was chasing my little ones around, something green caught my eye: Edelrid Kid's Fraggle Harness
Why? Other than the bright green color? This is why:
For years now my husband and I have been clipping an additional rope onto the backs of our kids as they climb. They are still securely tied into the top rope but tow a rope up with them as well. Why? Well, climb with a young kid once and here are somethings you might experience:
Them freaking out at the top and refusing to let go.
Not pushing off the wall, and then as you lower, getting "dragged down the rock."
Pushing off too hard, flipping around backwards and hitting their heads (scary for them, even with a helmet).
They don't actually weight enough for them to lower without aid.
All these things have two things in common, ok maybe three:
They usually result in hystrics on the rock.
We've experienced them all.
Attaching a rope on the back to assist in lowering helps a ton!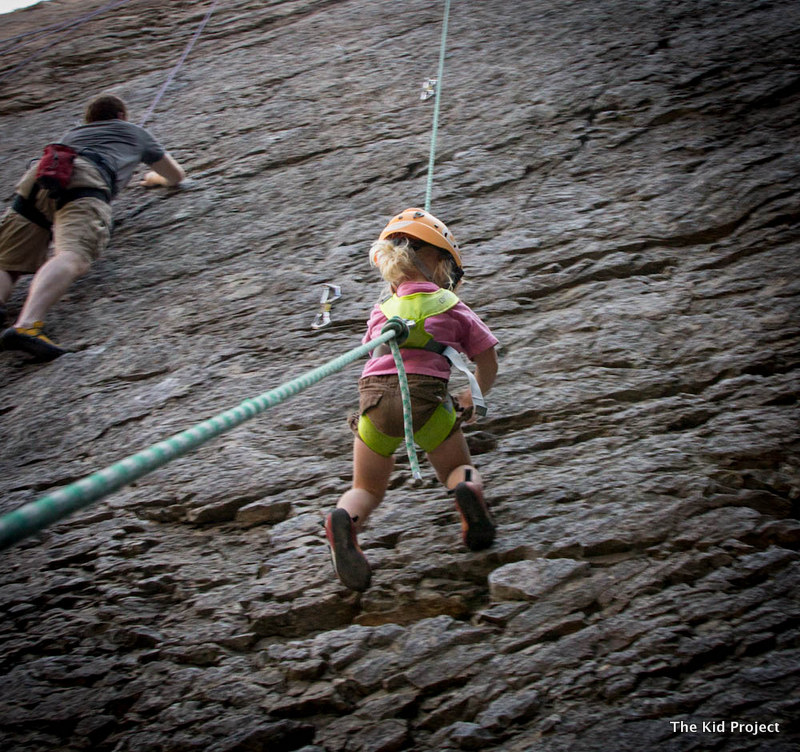 We haven't heard of many other people doing this, so when I saw that Edelrid had actually designed a kids harness with this in mind I was stoked! Great minds think alike! And I knew I wanted to try out that harness.
Things only got better as I talked to the guys from Edelrid. While we've enjoyed our other kids climbing harness, we've noticed a few inconveniences. The largest being it really didn't adjust down small enough for my two-year-old who was desperate to get on the rock like her big brother and sister. One of the guys showed me a picture of his 10-month-old in the harness climbing! Yes! This harness would adjust down for a small child!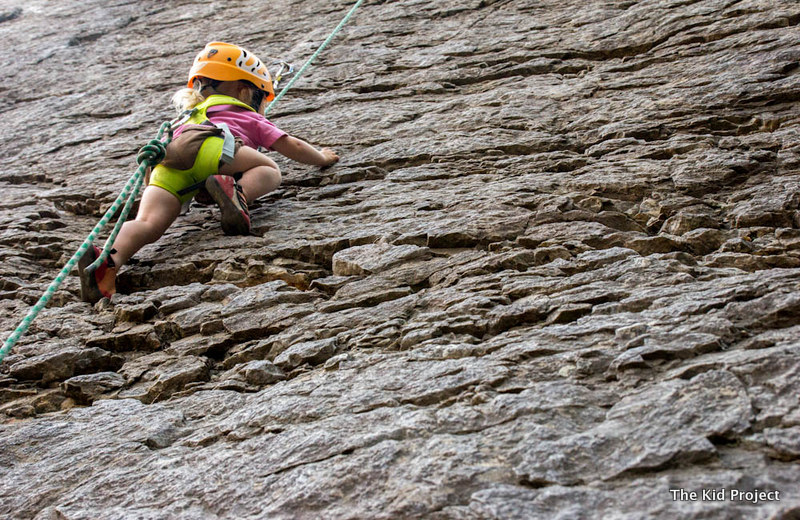 Secondly, our other kid's harness involves a ton of adjusting (if you are moving between kids, like we often are) and it is confusing for even the adults to get on a kid! The padded leg loops and shoulder straps not only make the Edelrid harness more comfortable, but because the harness maintains some of its shape, it is easy to get on.
Let me sum it up for you:
Yays:
Child retrieval loop in back (side note: this loop is not rated for arresting falls.)

Paddled shoulder straps and leg loops.

Fits small children very well as well as older kids. We had our 40 lb. son in it and our 25 lb. 2-year-old. It fit both very well.
Made my daughter feel comfortable and secure.
Only two places to adjust. My husband and I are baffled about this. Logically it seemed the harness should not customize or should be awkward without the extra adjustability, but it wasn't!
Easy to take on and off.
Chest buckle. Keeps those shoulder straps on those narrow shoulders, not slipping off the side. (

Note: the front tie-in MUST be secured with a locking carabiner and tied securely into the top rope as well, as the chest strap is not PPE rated.)

Rated up to 40 kgs, roughly 88 lbs.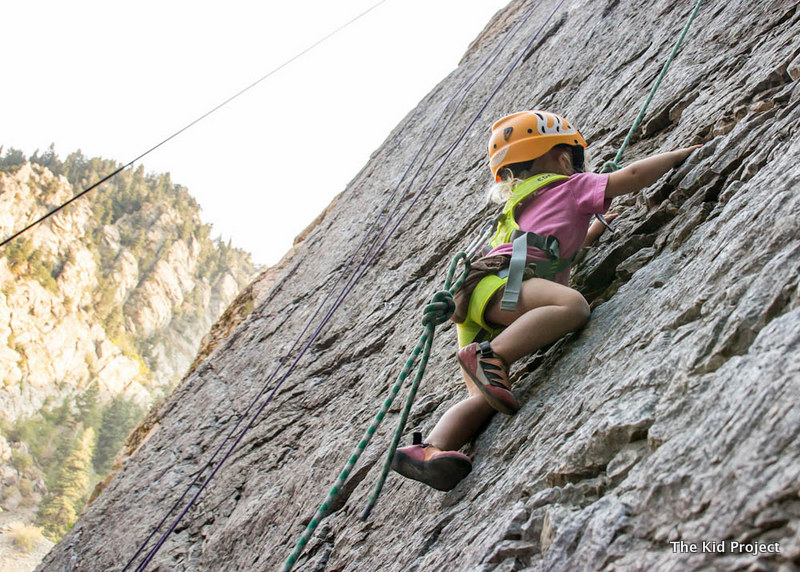 Nays:
Fixed leg loops could be a problem for "thicker" thighs. But Ezzie's legs are pretty chunky and she has plenty of room.
While the attached leg loops make it super easy to get on and don't inhibit range of motion, my older son said they "squished his pee-pee" when he ran. Not sure about this… or how often kids will be running in a climbing harness :).

Now for the part you've all been waiting for. Edelrid is giving away one Fraggle Harness to one lucky reader! Here are the details:
a Rafflecopter giveaway
The Kid Project received a Fraggle Harness for the purpose of review from Edelrid North America. However, these are our true and honest opinions. Climbing can be dangerous, please climb with care!