Probably the question we get asked the most during the winter is, "How do you actually teach your kids to ski? I mean how to you physically help them on the hill?" Today we are going to attempt to answer this question or at least share a few ideas.
There are so many good ways to teach a young kid to ski. And as we've worked with each of our three kids, different things have worked. Some used an Edgie Wedgie or ski harness for a time. Others, not at all. Overall, you have to work through the process of trial and error. Below are the "teaching positions" we use when working with our young skiers.
1. Between the Legs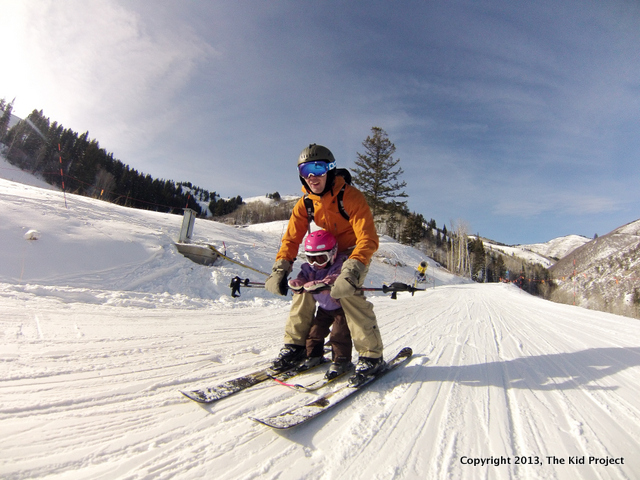 Great for steep sections of a run or when you need to cover some ground quicker than a "snail's pace." Our caution: many kids will lean/hang from you (making you very tired) and resulting in the child not really learning the feel of standing on their own skis.
2. Side-by-side, holding hand.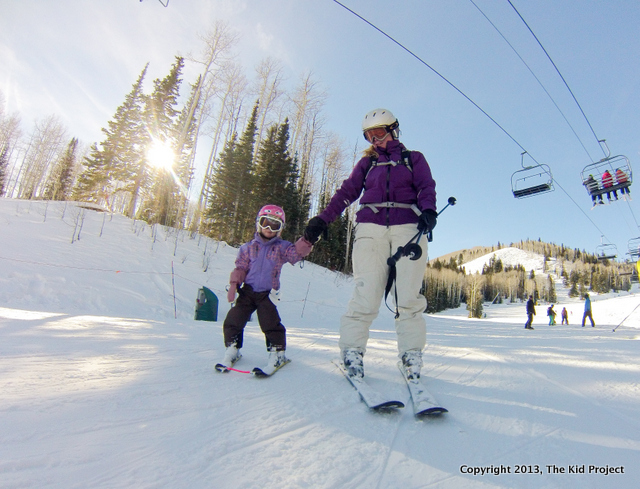 Great on low-angle easy runs. The child gets the feel for balancing, turning, etc on their own skis but with the comfort of having you nearby. Our youngest has excelled using this "technique." Our caution: Depending on everyone's skill level, skis can become easily entangled. Parent must figure out how to hold the kid's hand without pulling or unbalancing them on turns. It will take some practice on both parts.
3. Side-by-side with ski poles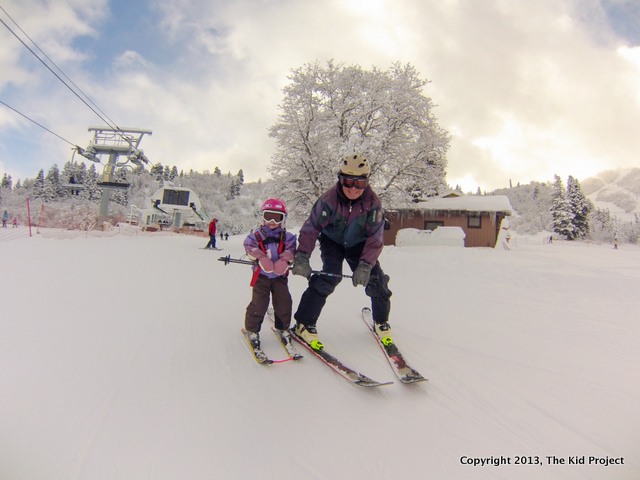 Much of the same benefits as holding hand, but with a little more support for the unstable beginner. This "old school" way of teach a kid is probably my favorite. And it was the very same one my parents used with me. Our caution: Um… besides killing your back? I've seen some kids hang or lean on the poles. It is also hard for the really young (2-3 yrs of age) to hold on to the poles well.
4. Parent goes ski-less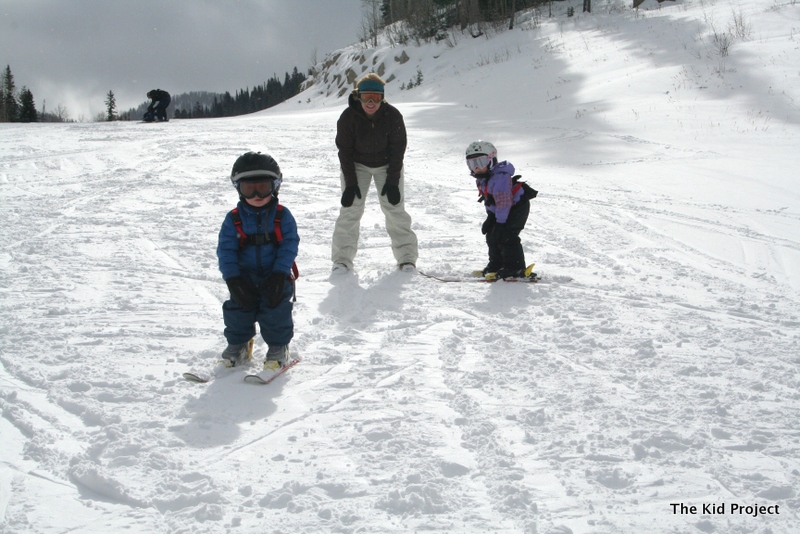 This is great for the really little kiddos. You can run behind, run in front, catch them at the bottom, easily help them up, or give a hug without the hassle of having skis on. Our caution: Only really works well at the super beginner stages.
5. Parent skis backwards, controlling kid's speed with poles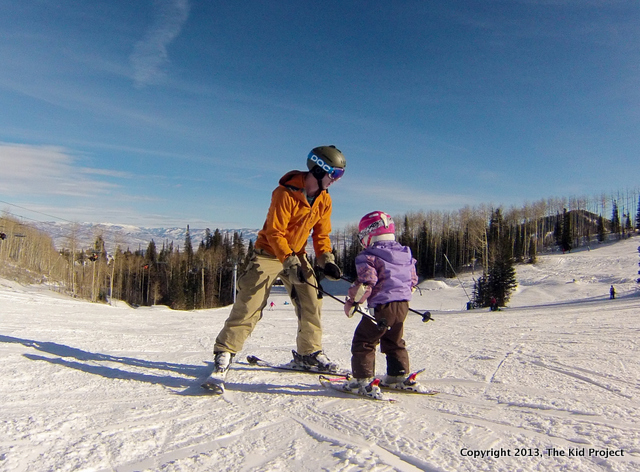 This is a great option to stick in your back pocket for super easy beginner terrain. It gives the child a feel for turns and shifting their weight. Our caution: Well, the adult needs to be comfortable skiing backwards, which depends largely on terrain and crowds.
Below are links to products that were useful for us in teaching our kids to ski. We do not link to products we don't use and love! Shopping through these links helps support our site. Thanks!