Down the last sandy hill, across a rocky wash and up to the ramp. I was almost there: 34.3 miles into a 34.4 mile race and about to finish my first Ultra. I hear my kids shout, "It's mom!" I climb up the steep sandstone, hit the ramp and Abs, my 7-yr-old boy, says,
Come on, mom, let's finish this thing!
We ran through the finish together stride for stride.
This is just one of the moments I will never forget during the Antelope Canyon 55K in Page, Arizona, last week.
But first let me rewind a bit~
I am not sure I can even begin to describe the insane frame of mind one needs to be in to sign up for an ultra marathon of any length. [For those who are wondering what an ultra is: basically any race that is longer than 26.2 miles.] I stand by my original thoughts… that is a crazy long way to run. Most often these Ultras are also off road, involving obstacles such as mountains, rugged trails, no trails and in my case….sand.
And yet, the more I've gotten to know long distance runners and been immersed in the world, I've realized that running far isn't nearly as intimidating as I once thought, nor are the people who do it. For the most part, they are just people who like being outdoors for long periods of time, exploring beautiful places and eating along the way. And that is a crowd I can identify with!
For those of you who want the grisly details, I broke them down into segments between aid stations, otherwise enjoy the photos! It was spectacular in its beauty and crazy hard!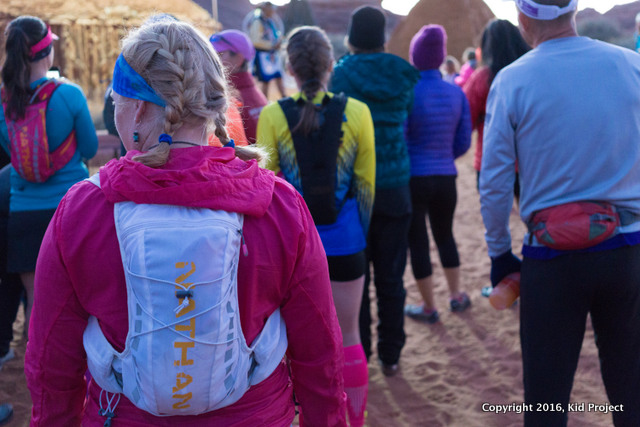 Miles 1-5
We started our journey just before 7 a.m. at the Navajo Village Heritage Center. The race start was commemorated by a traditional Navajo hoop dance. Then we were on our way!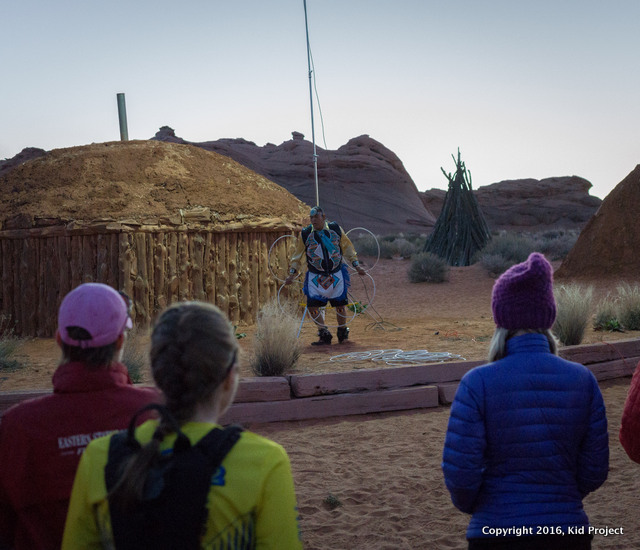 I started the slow jog in line with everyone else as we made our way across the road and headed southwest towards Horseshoe Bend. We crossed the road, stepped off pavement, and into ankle-deep sand. The sand would be one consistent element for the next 20-ish miles. Thank God for the gaiters!
The first aid station at Mile 2 came very fast and I skipped on past it. The trail headed through a cleft in some sandstone, up a sandy hill and then was easy (is anything easy in sand though?) downhill all the way to the Horseshoe Bend Aid Station at mile 5.
Miles 5-13
Knowing I had an 8 mile stretch without aid, I camelled up at Horseshoe Bend Aid Station. I grabbed a few Hammer Gels and put a full 2 L of Tailwind in my backpack.  Unfortunately, Tailwind wasn't the sponsored liquid nutrition so I had brought all my own for the race.
Then I hit the trail. I was excited. With 5 miles of sand behind me, now it was time for the beautiful part! We had an easy downhill on our way to Horseshoe Bend. Soon, though, the sand turned to rugged sandstone and cactus. The trail, well…. there wasn't really a trail.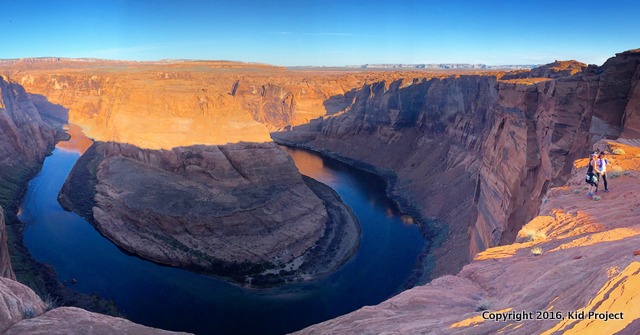 It felt more like I was in an adventure race, scampering up and down steep sandstone ridges, skirting cliffs, and always hunting for the little pink flags.
We cut in land – away from the river for a few miles and then emerged again on the north side of the canyon. That was when things became long and hard.
Relentless sun with no shade, no breeze and an endless set of flags into the distance left me feeling desperate. Physically I felt fine, but emotionally I was overwhelmed.  Right about then, the elite 50 mile racers caught us and bounded ahead.
Honestly, this was disheartening as I could see them running off into the distance, over endless ridges separated by deep sand and not an aid station in sight…
I made small talk with some fellow racers that were nearby. I focused on simply putting one foot in front of the other.
When I saw the tops of those white tents I was so thrilled!
Miles 13-18
Have I mentioned how the aid station volunteers were so awesome? Well, they were. I pulled into Water Holes Aid Station, they grabbed my pack, loaded more water and ice into it and had it ready for me when I came out of the bathroom. Knowing it was hotter than I had expected, and I was a few hours into this adventure, I spent more time at this aid station grabbing food. Pickles, boiled potatoes, and chips being my favorite.
After leaving the aid station, we ducked in a fenced area and immediately began the scramble down into Water Holes Canyon. The beauty was immediate and refreshing.
The cool air and magnificent landforms of Water Holes Canyon made it a race highlight for sure. Here are a few photos: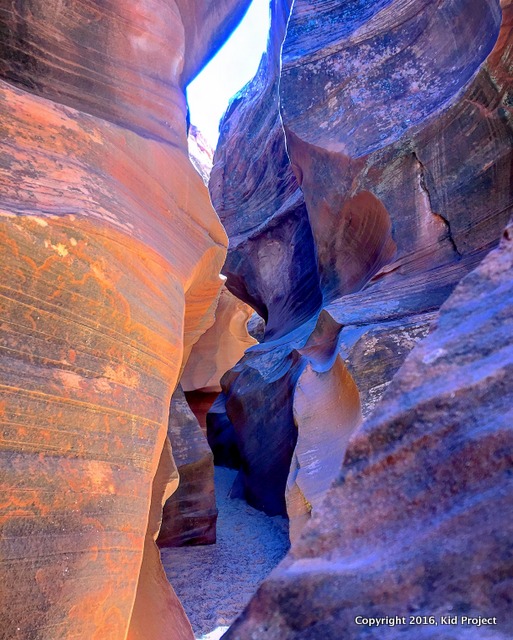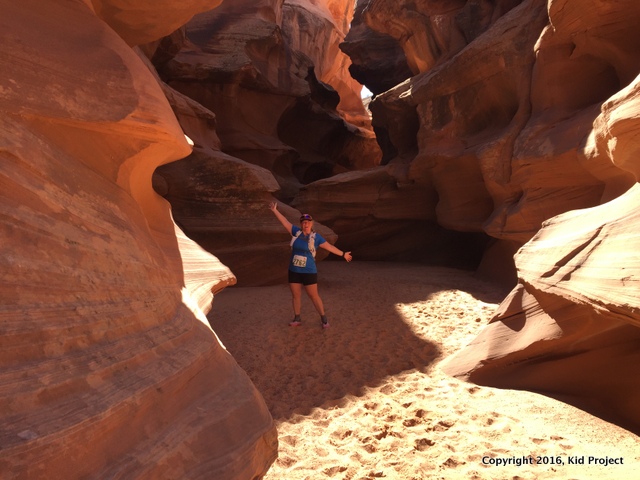 At the end of the slot canyon, we had to climb a steep and deep sandy hill, and then began 3-ish miles of sandy road. I had fully expected this to be the low part of my race, knowing I usually hit some sort of wall around mile 17, but these miles flew by. They were runnable again! And mostly, I knew I was only a few miles away from seeing my family for the first time of the day back at Horseshoe Aid Station.
Miles 18-23
My whole family was waiting for me at Horseshoe Bend Aid Station. I cannot state strongly enough how awesome it is to see your crew when you come into an aid station. It sounds sort of funny, since I only saw them for a few minutes, but they were the breath of fresh air I needed.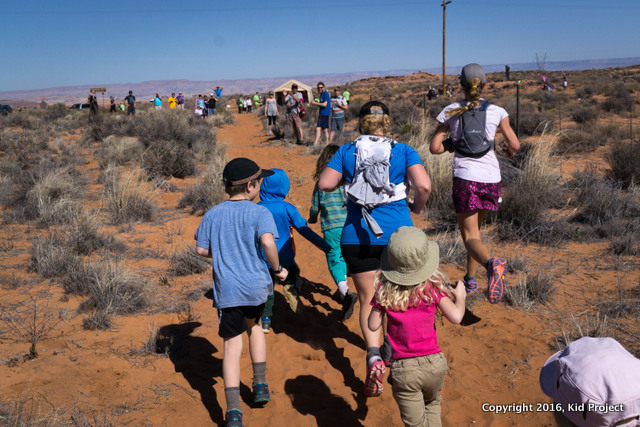 Remember those easy but sandy downhill miles at the beginning of the race? Well, now I was in for some super sandy uphill miles. I wasn't feeling too stoked on it.
Luckily, I headed out of the aid station with a small group of others, all hiking through the sand with me..
One gal is a triathlete and had done a few Ironman races. So we passed quite a few tough miles trading our experiences at the different Ironman/Ironman 70.3 races.
I flew through Slickrock Aid Station again, knowing I only had 2-ish miles to the Page Rim Aid Station. Turdl, one of the race organizers blew past on a four-wheeler and shouted, "Only 1/4 of a mile till you are done with the sand!"
Music to my ears!
Miles 23-27
Page Rim Aid Station… and thank goodness only the 10 mile loop till the finish.  Honestly, approaching the steep hill, with the aid station on top, I felt great.  Buoyed by my family at the top and my husband who was pacing me the last 10 miles, I seemingly flew up the hill.
At the aid station, I pulled out my drop bag (the first time of the race), and put on new socks. I probably didn't need to change out my socks, but it sure did feel good. I dropped my race pack in exchange for a handheld.
The next 4 miles to Powell Aid Station were heavenly single track and it was slightly downhill! Yay!
Miles 27-34.4
And then things got really hard.
I guess I shouldn't have been surprised. But after the 4 previous miles that miraculously felt AMAZING, these did not. The trail took a slight uphill turn. Not enough to notice if I had been on fresh legs, but certainly enough that I began walking the majority of the time.
Down below I could see the lines of hotels and restaurants we'd passed on our drive that morning to the start line. I knew how much further I had to go… and it seemed impossibly far!
I'll be honest, at this point I broke down in tears. I can laugh now, but with the finish not even in sight, a mere 4 miles to go seemed painfully far. I didn't doubt my ability to finish, I knew I could and would. But I felt like I was barely moving….
Fast forward those 6.5 miles of hot, slow progress and the Page Rim Aid Station was just a bit ahead. I started to pick up my pace. The faster I ran, the faster I got to stop running. 🙂
I hit the downhill, crossed the parking lot, and heard the whoops of my family waiting on the ramp/sandstone as I came into view.
I'll never forget finishing my first Ultra. I am still amazed at the irony. A few years ago I thought a 10k was further than I could or would ever be able to go. But as I've ticked off larger and larger goals, I've been amazed at what my body can do.
What I love about Ultras? The people are so amazing. Everyone is in it together, cheering each other on, distracting each other from the misery in the legs.
I know I'll never be fast. That isn't even a goal of mine. But I am amazed at what I can do if I just "keep on keepin' on."
Slow but stead progress can reap amazing results. And perhaps that is the lesson I will take into my daily life as I move forward.