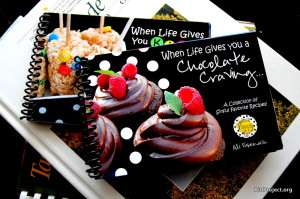 I am not a cook. But I like food :). I am not a baker. But I love desserts! I am more comfortable belaying my kids while they rock climb than making their birthday cake!  I am not one of those moms with crazy creative food ideas for my family. But I want to be! And that is where Ali Eisenach from Lemon Poppy Inc. saves the day with her awesome cookbooks!
Just after Christmas my dear friend gave me "When life gives you kids…" a collection of fun and creative recipes for the adventure of mommyhood. I asked, "Where did you get this?! It is adorable." Not only colorful, compact, and easy to read – but I soon learned that she has some great recipes. [Which I plan on "wowing" all my mommy friends with at the next birthday party!]
But aside from having a cute product, I love Ali's business story…because the economic downturn has effected nearly everyone out there. In short, Ali's family
"had the cruise-control on, with the top down and wind in our hair.   We had a nice new home, a good job, and a comfortable standard of living.  Life was good, but when a promising job opportunity took us to Colorado the highway got a little bumpy.  Our beautiful house sat vacant and unsold for almost two years, the market and slumping economy left us  with a FLAMING break down on the side of the road… "
But instead of giving up, Ali rolled up her sleeves, put her creative talents to use and started creating, photographing and selling her favorite recipes inorder to raise money for her family. As she said, "Life gave me lemons, so I made lemon poppy cake." [Hense the name of her company!] Ali is a living example of something we believe deeply in at the Kid Project…taking sour circumstances and turning them into something sweet.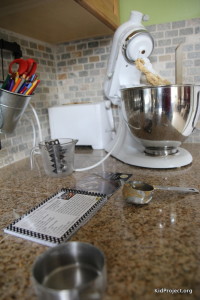 And her little cookbooks are oh so sweet! Now I haven't been able to try and test every recipe. [I know from the ingredients that they are going to be great!] But I did try a few… And here are the things I noticed:
It sits nicely on your counter and doesn't take up a lot of space.
The book has thick pages, with some sort of laminate or high gloss. Meaning…when my toddler drops an egg on it or knocks it in the sink, it remains intact. [Trust me, I tested this :)]
These recipes are good!
I am not a pro. And since photos sometimes speak better than words… here is my attempt [a successful one] at the Chocolate Peanut Butter Bars from her book "When Life Gives You a Chocolate Craving…" And here is another of my son gleefully enjoying his. Later, my 23 month old chased me around the kitchen [while I was eating my own piece] yelling, "mine!" I figure this speaks for her tenacity or the recipe's success…or both.
The good news for you: Ali is raffling off "When life gives you a chocolate craving…" just in time for Valentine's Day! Want to try one of these cookbooks then enter below!  Check out all Lemon Poppy Inc.'s Cookbooks, only $8.99 (free shipping). And if you don't win? Well, Ali is giving everyone a special deal: her chocolate cookbook will be on sale for $6 + free shipping February 1st-14th ONLY. Pick one up for a friend!
I want to share just one more thing. Hang with me! Ali is also releasing a new cookbook February 25th, called Blogging for Fishes. It is a collection of recipes from mommy bloggers [your's truly included!] to benefit the Fish family- a family who recently had two children diagnosed with a rare disease called Leaky SCID (Severe Combined Immune Deficiency). They are raising money to offset the Fish's climbing medical costs. Get this cookbook, it will be awesome! You can follow the Fish's story here or preview Lemon Poppy Inc.'s new cookbook here. Now for the giveaway:

a Rafflecopter giveaway