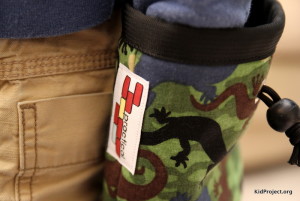 Here is the truth: My chalk bag is cooler than your chalk bag! OK, that isn't exactly correct. My kids chalk bags are cooler than your kids chalk bags. 🙂 But not for long.
I want to introduce you to Practical Climbing today. Why? Because I am always looking for a chalk bag that isn't like every one else's. Reason 2: I am pro green – meaning I don't like how much of our clothing, fabric, food, and resources go to waste… Reason 3: Well, they want to do a giveaway for my readers! Two Kid sized chalk bags…meaning there will be two kids with crazy cool chalk bags (or two parents that hijack them)!
Now there is only so much to say about a chalk bag- I mean it isn't as though they can help us get to the top of the wall faster or better. But Practical Climbing offers something I haven't seen elsewhere: custom chalk bags and buckets that are affordable, durable, and super fun. For example, they have a monster chalk bag [yes, it looks like a little monster along for the climb].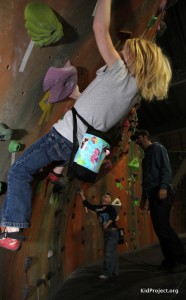 Now for the beta:
 The bags are well crafted: lightweight, tight stitching, and durable.

Kid sized doesn't mean tiny. As you can see-they aren't over-sized or awkward on my three and five year old-yet the bag and opening are the exact same size as MY Mad Rock Adult chalk bag.
The fleece inside is so soft it could double as a muffler to keep your hands warm. [Do people even know what those are anymore?]
Waist belt highly adjustable.
What I learned from their site: (Practical Climbing's Gallery)
Many of the Practical Chalk bags and buckets are made from up-cycled materials [you can designate if you want it up-cycled at Practical's store front]. But they don't look up-cycled…you know what I mean, those products that look second hand too? Not these. The craft is awesome. So where do they get the fabrics? In their own words:
We use fleece made from recycled poly for our bag liners.  Our hemp chalk bags are made from scraps that have been reclaimed from an independent clothing manufacturer. We get the amazing fabrics for our sari chalk bags from a woman who buys unwearable saris at Indian flea markets, cuts out the usable pieces and resells them. When we can get our hands on it, we use cordura that has been salvaged from a supplier who cannot use smaller cuts, but they're perfect for us!
And all the products are hand made in the USA. Rock on!
Practical Climbing has offered to giveaway two Kids sized chalk bags! Meaning, there will be two lucky winners that get a very cool kids chalk bag ($15 value). The folks over there even said the winners can pick their bag from the available fabrics. Follow the instructions below to enter:
 Kid Project received two kids chalk bags for this review; however, the opinions shared in this article are in no way influenced by this. They are our real and honest thoughts.