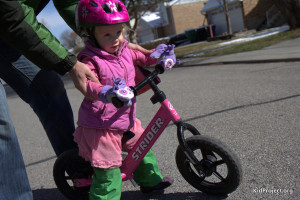 OK, it is spring! While the breeze is still chilly, the sun is warm. And kids are swarming the neighborhood on nearly every imaginable thing with wheels. And we are joining in on the fun. So, I thought, "Why don't we pump out some biking posts?" Since we are all in the mood…
We LOVE Strider Bikes. For those of you who are asking, "What is that?" Here ya go: A Strider bike is a no-pedal, balance bike that helps to teach kids the coordination of balance and turning BEFORE pedaling. Ingenious! If your local bike shop doesn't carry them you can get them here: Striders on Amazon.  I thought I'd share our Strider progression with you. Starting with our son's first ride when he was 22 months old and just walking with the bike.
What next? Well, soon they start to trust the seat and coast a little. By soon, for us it was the next day! No joke, this was day 2:
Day 4: He mastered steering.
Day 9: learning to balance. Biggest problem? He gets distracted and doesn't watch where he is going. We still have that problem now that he is almost four :).
Soon he and his sister were conquering the grass hill by our house and next we were hitting up the BMX park.
Are you convinced yet? Join us in a few days as I share our daughter's transition from Strider to a pedal bike!