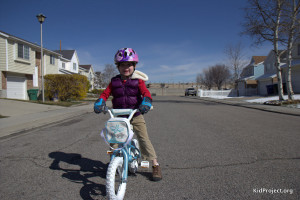 I haven't totally mastered this YouTube thing. I spent most of the week attempting to upload the video so I could link it. But if this is posting…then I must have found success somehow!
Last week we cashed in on our REI dividend and 20% off coupon and bought our daughter a pedal bike. (Novara Firefly). So far the bike seems to be of great quality. But then, this is not a bike review.
Rather, I wanted to show you how easy it was for our daughter to learn to use a pedal bike WITHOUT training wheels, after she'd been on a Strider Bike for the last 2 years.
Here is her first attempt (Sorry the "part 2" in the title was an oops!):
And her second (or it might have been the third 🙂 ):
As you can see, her seat is set low, so she can easily reach the ground. This helps the child feel more comfortable and stable during the learning process. I started by instructing her to just coast down the driveway, like she would with her strider, and push with her feet. Pedal bikes are heavier, so I figured it would take some getting used to.
Honestly, it wasn't nearly the climatic event we thought it would be. It didn't take days on end. She wasn't even frightened by the idea. She just did it. And while I would like to accredit it to my instructional prowess, it really comes from the use of a balance bike.
Tune in to The Kid Project throughout the next week to see reviews of locations and bike parks to take your kiddos to! There are some good ones!