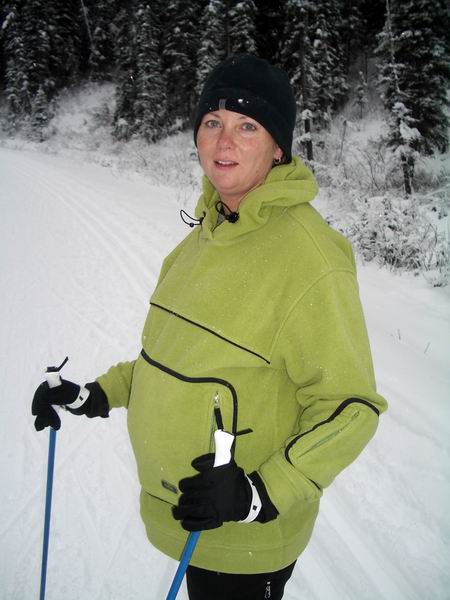 Maybe you are enjoying this Saturday morning, watching the leaves change out your window. Today, our friend Tanya is taking the reins and sharing her fit pregnancy story. Let her inspire you to get out an enjoy the changing seasons! She loves hiking, camping, skiing, paddling, biking and all things mountain-related. Tanya is the author of the blog, Family Adventures in the Canadian Rockies, (www.rockiesfamilyadventures.com) and the founder of Calgary Outdoor Playgroups. Ever wonder if you can hike, travel, run or ski while pregnant? Here is her story:
It was spring 2008 and we were planning our first trip to Peru to hike the famed Inca Trail.  We were at the tour office and I was asking what would happen if I were to get pregnant before the trip started.  It wasn't like we were seriously trying to get pregnant and we had actually pretty much come to the conclusion that having kids wasn't in our future.  Yet, I couldn't shake this "feeling" about the trip and this incredible paranoia I had that I would get pregnant before we could leave.  In the end, you should always listen to that "feeling" in your gut telling you something is about to happen!
We had to go down to the tour office and make some major changes to our trip as planned.  We still really wanted to go to Peru but we knew that high altitude trekking wasn't exactly recommended for pregnant women.  I was also a little intimidated by the name of the highest pass, Dead Woman's Pass, situated at just under 14 000 feet.  Did I really want to take myself and unborn baby over that?  We had also planned to visit the Amazon rain forest on our trip and I wouldn't be able to get the yellow fever vaccination.  I know many people visit the rain forest without this vaccination but it was highly recommended we get it and I like to take every precaution when I travel.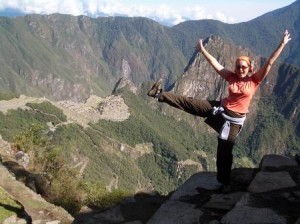 Change of plans – our trek became a bus tour.  The Amazon– well, that is still there I hope because we'll have to see it next time.  The main attraction for me was Machu Picchu which we were able to still visit by train.  We also moved our start date so that we'd be traveling during my second trimester which is the recommended safest time to travel.
The trip went fabulously and we had an amazing time!  Had I not told everybody in our group, nobody would have ever guessed I was pregnant as I was still barely showing and was extremely fit for a woman 4.5 months pregnant.  I had no problems with the altitude in Cusco at 11,000 feet despite the rest of our group gasping to get up the smallest of hills and we were running constantly!  We had limited time to explore on the fixed schedule our tours had to follow so at every set of ruins my husband and I would take off sprinting as we left the rest of our group in the dust.  I had to promise at the end of our tour that I would go home and "rest."   My favorite memory is of us running to the top of one of the islands on Lake Titicaca, situated at over 12 000 feet.  We were told we wouldn't have time to explore the whole island and that we were only going half way up to the viewpoint to reach our lunch destination.  My husband and I looked at each other and said, "We'll see you at the restaurant" as we sprinted up the long hill to the viewpoint looking down over the beautiful lake.  We made it back down to the restaurant just as our group was about to order.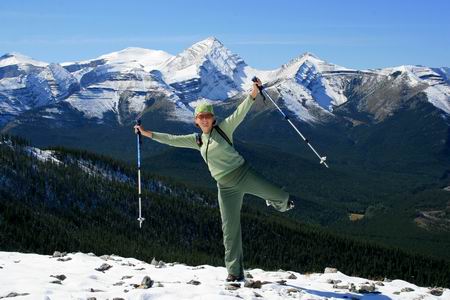 I consider myself very fortunate and blessed to have had such a wonderful pregnancy.  Of course there were many things I didn't like and I could have done without the nausea or the tiredness in my first trimester.  My secret to surviving the first trimester though was exercise.  When I was battling nausea, hiking was often the only thing that would take it away.   We'd drive out to the mountains with me feeling wretched but within ten minutes of slow and steady walking I'd be fine.
There were some things I chose to give up during my pregnancy and other activities I heavily modified.  I gave up running which wasn't much of a sacrifice because I'd always disliked it and only did it for the exercise benefit.  We also shortened our hiking days, cutting elevation gain down to 3000 feet and distance down to 9 miles.  (Seriously, that was significantly reduced from what we normally did.)  I also tried hard to keep my heart rate and body temperature down.  I was told it wasn't safe to spike your heart rate too high (something I know is open for debate amongst pregnant women) and that overheating was a concern.  To reduce these risks, we started hiking more slowly and I clearly remember jumping into more than one freezing cold mountain lake at the end of a hike to cool down.  (In hind sight though, not sure you should really shock your heart like that when you're pregnant.)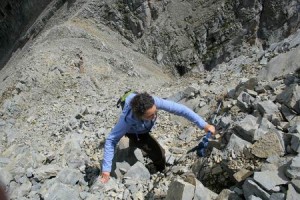 We did some pretty difficult hikes well into my third trimester but by the time ski season was upon us, my feet were too swollen to fit into my ski boots.  I tried cross country skiing twice but it just wasn't a great idea with my boots only half done up!  I was quite disappointed by that because I kind of thought I'd ski right into the delivery room.  In the last month we managed short walks but that was about it.
Again, I was blessed to have had such an active pregnancy.  I was still doing yoga two days before my son was born and spent the first half of my labor walking loops around my neighborhood.  I wish every pregnant woman an active and healthy pregnancy!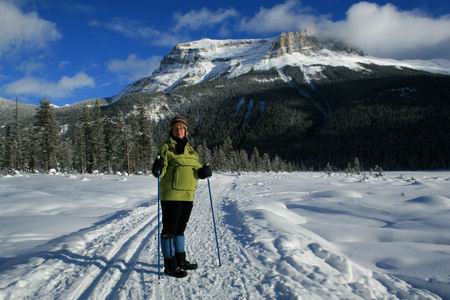 Thanks Tanya! For more great posts from a mom who kept her outdoor lifestyle intact during pregnancy visit:
Velo Mom – Biking with a Watermelon Under My Jersey
And don't miss this weeks giveaways from Mountain Mama and Strider Balance Bikes!