Do you have a case of the Mondays? Even though we had a long-ish weekend, it still went too fast. But we have an action packed day around here for you! We have a winner from our first giveaway, another giveaway starting today AND an awesome park/anywhere workout that will bless your socks off. Or sweat them off. The second week of Expect[ing] to Thrive starts today!
And the winner is…
I hate making you all wait around…so the winner of the Mountain Mama Harper Hoodie is Courtney Alberty! Now you can do your happy dance! For everyone one else, thanks for entering and check out our other event giveaways at the end of this post!
So…what is a Monkey Mat?
DEFINITION OF THE MONKEY MAT®. – NOUN 'MAŊ-KĒ MAT
1. A lightweight Travel Mat | lightweight Exercise Mat | lightweight Yoga Mat | lightweight Picnic Mat | lightweight Outdoor Concert Mat | lightweight Baby Mat | lightweight Outdoor Ground Mat | lightweight Baby Changing Pad | lightweight Play Mat | lightweight Beach Mat | lightweight Camping Mat
2. The perfect baby shower gift
Did you get the lightweight part? 🙂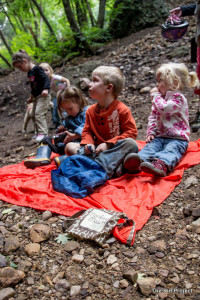 Yes, it is perfect for all those things. It is also:
water repellent
versatile
large enough for the whole family
fits easily in a 6×6″ zippered pouch
has weighted corners so the lightweighted-ness doesn't come back to bite you when a beautiful summer breeze picks up.
Has loops on all corners as well as in the center, for baby toys, keys, or to use as attachment when tying it up as a kid fort or small sun shade. (Yes, we did this!)
machine washable
Oh and, lightweight. 🙂
Yays! (aka. what I love)
I love this product! It passed our crag test (clean place for kids to play with toys while rock climbing), it passed the soccer mom test (kept my butt dry during the game), it passed the wash test (super muddy feet=super muddy Monkey Mat), it passed the engineering test (I could actually get it BACK in the little bag it came in, easily)…and it passed the versatility test (could easily be used for nearly anything I dreamt up!)
Nays (aka. not so much…)
While the mat is large enough for my whole family (2 adults, 3 kids) the lightweight fabric loved their rubber little shoes…meaning the type A part of my personality that wants my park blanket to lay perfectly flat and beautiful was constantly at war with the bunching mat.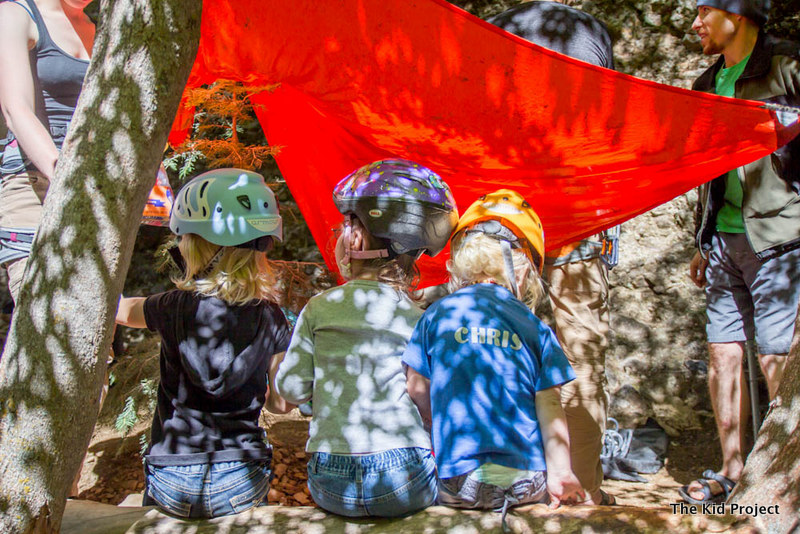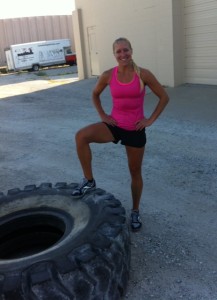 You have a chance to try one for free! Cause Monkay Mats and the Kid Project is giving one orange mat away today! How about that?!
But I don't only want to give away an outdoor mat, but a workout routine to accompany it and you to the park or anywhere you want to go! Jess from BlondePonytail.com has generously let us post one of her playground workouts! Her site, Blonde Ponytail, has whole sections devoted to home workouts, gym workouts, core workouts, Cross Fit, and online personal training. Jess is a NSCA-CSCS trainer and former Stanford athlete balancing life as coach's wife and dog mommy. She loves running, CrossFit, and creating unique workouts. You can read more about her by visiting her about me page.
GNC Workout: Playground Challenge  That's right. We are going to use the monkey rings and a park bench to challenge ourselves.
5 moves for 10 reps each.  Work up to 4 rounds.
Hanging knees to elbows
Bench jumps
Decline push-ups (modify to normal push-ups or incline push-ups if needed)
Step-ups on bench
Dips (bring feet in for an easier modification)
If you want to make this even more of a fat-burning workout, add a 400m run each round like Coach and Jess did here.
And now for the giveaway!!!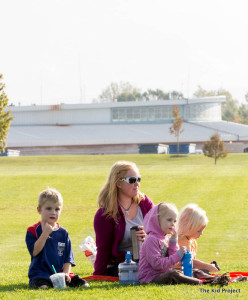 Follow the instructions below: a Rafflecopter giveaway