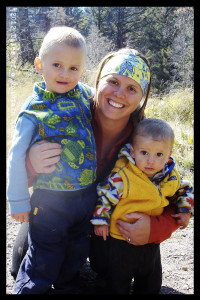 Today we welcome Amelia to our event! She has a unique story. An active, outdoor woman that was "sentenced" to bed rest, and fought her way back into shape. Amelia and her husband live with their two young boys at the gateway to Yellowstone.  They love to bike, run, hike, ski and adventure all year long as a family.  You can also find Amelia blogging over at Tales of a Mountain Mama about those said adventures along with tips and tricks, gear reviews and giveaways.
I am the proud mother of two boys (ages 3 and 1.) They are a blessing and a miracle to behold (despite those times when life is so chaotic, I can hardly think! :))
I went into both of my pregnancies ready to ski, hike and run right up until my due date.  I have always been very active and find great release and peace in the rush of endorphins during or after a good workout.
With Baby #1, I quickly realized running was just not going to work for me for very long.  I was done at about 10 weeks (really.)  However, I did manage to cross country ski at about 8 months and walked daily.  *Note, until you are pregnant yourself (depending on the woman, of course) there is no understanding how long a half mile walk can feel.*
Things changed when I had to have my appendix out at 33 weeks and then delivered J at 35 weeks (on vacation, mind you, in a hospital 8 hours from home.)  We spent two weeks in the NICU, which is a whole story in itself, but then recovered fairly easily.  I found great solace in the fact that my BOB stroller allowed me to walk and then run with J after we got home.  I was determined (for my own sanity, if nothing else) to get my body back to what I knew it as and feel like I could manage life again.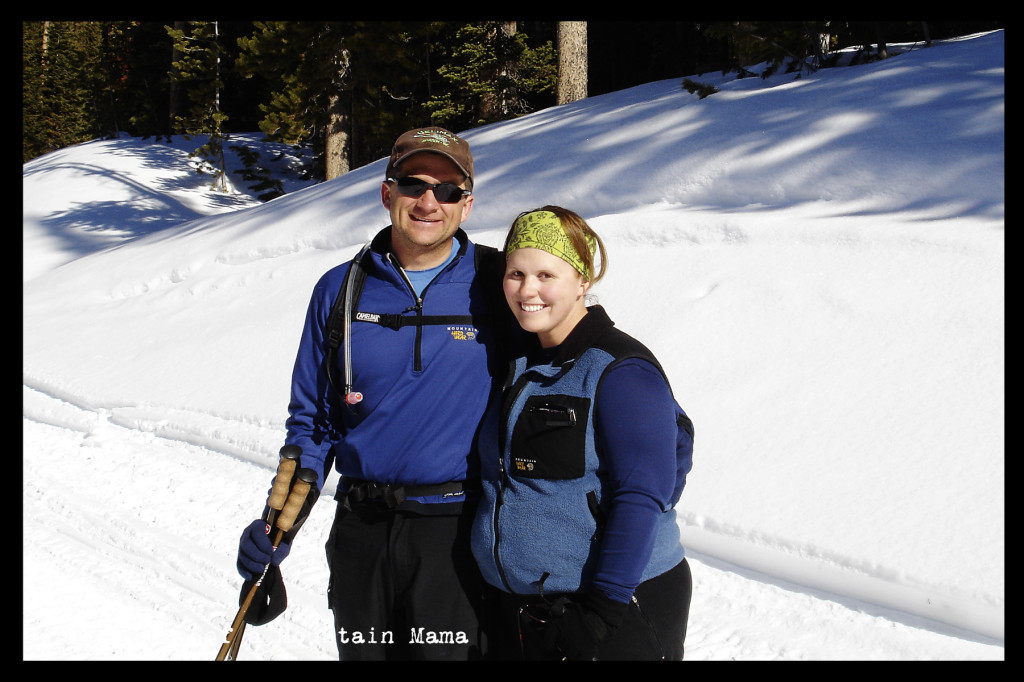 When we found out we were pregnant with Baby #2, I again had it in my mind that this pregnancy would be even better than the first.  Did I mention that I had gained somewhere between 50 and 60 pounds with the first??  I knew what to expect (or so I thought) and had plans to do things a little differently.  I had worked hard to get back to where I had started, but was determined to not have to work quite so hard the second time around.
Like often happens in life, I was thrown a couple of curve balls that I just didn't plan on.  I was feeling great and active until 30 weeks when I was put on bed rest thanks to some early dilation.  While I wasn't completely restricted to bed, I was on house arrest and even walks were completely out of the question.  The fact that I had already delivered early with number one, coupled with the fact that my husband was gone on a fire at the time (he is a wildland firefighter) made my doctor extra cautious.  We were living at good hour and a half from a hospital and taking chances just didn't seem prudent.
I will be completely honest – the following six weeks were pure misery for me.  I felt completely trapped, was unable to keep up with J (and so we had grandmas living with us for most of that time) and really didn't handle it very well.
I missed working my lungs.  I missed being able to move and gather my thoughts.  I missed feeling like ME.  I was completely unproductive (though I did finish a couple of books) and found myself eating my miseries away.  The stress was high in our household and I was ready to just have a healthy baby and get everything over with.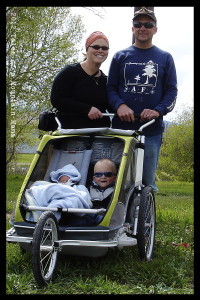 Despite our preventative measures, I did deliver P four weeks early. Thankfully, he is a fighter and we spent just one extra day in the hospital.
While I can't even imagine what some women go through being on complete and strict bed rest for MUCH longer than I did, let me tell you that 6 weeks of minimal movement does wonders as far as muscle atrophy.  I was starting at almost ground zero with an additional 60 pounds of baby weight to fight against me.  It's a rough road.  
I am a fighter too, though, and have worked hard over the past 15 months to get this body back to the point where I can feel good about being strong again.  I attended a 5 am workout class throughout the winter, often on 2 or 3 hours of sleep.  I am training now for a 10 K race that I will finish so I can bring home that shirt (and the half marathon will be next!)  I still have a ways to go, but I am happy, I am healthy and I am in movement.
I have choices – I can succumb to the difficulties that are just LIFE or fight harder than I ever have before to show my children how important being healthy is.  I can be frustrated by my weaknesses or work on them to be the best version of myself.  It's a continual process.
I am a mother.  Hear me roar.
————————————————————————————————-
More pregnancy/post pregnancy stories:
Lifelong Adventure- Pregnancy is Only the Beginning – Family Adventures in the Canadian Rockies
The Crazy Things We Do While Pregnant (roadtrips) – Kid Project