The #1 gear item on our list for this summer's Backpacking Project 2013 was kid's backpacks. Now I don't expect them to carry much…but I NEED them to carry something!  But in my opinion kid's packs are tricky. Most are designed for school, for obvious reasons. But we needed and wanted something with a little more support and outdoor usability – including things like rugged fabric, waist belts, sternum straps, and hydration readiness.
So we turned to the brand we've all known and trusted since our kids were riding on our backs in Deuter Kid carriers, to see if they had an awesome solution to the next-step in our outdoor family adventures.
This pack will be available Fall of 2013!
Youth Climber Backpack
Duration of Testing:
Four Months
Tested by: 
6-yr old girl, 7 and 9 yr old boys
Conditions:
Snowshoeing, Hiking, Backpacking
Best Uses:
Everything! Ski touring – Backpacking
Suggested Age:
6-13 yrs  
Yays!
Padded waist belt/shoulder straps and sternum strap help with a slightly heavier than usual load.
Comfortable and wicking suspension system, just like on an adult pack.
Fabric sheds water and is super rugged.
Velcro tab/sleeve for hydration bladder.
The pack is still light and simple. The large main compartment is easy to pack.
The top "essentials" pocket is  large enough for a hat, headlamp, snacks, small camera, etc.
Straps and "D-ring" attachments on top for lightweight bulky items.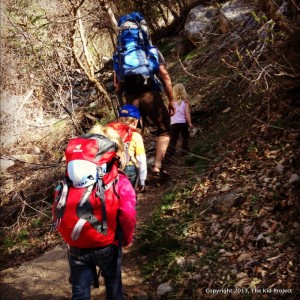 Mesh pockets on the side are deep, so water bottles or whatever you want to stow will not easily fall out. Added straps to secure longer items like tent poles, etc that you might want to stow for overnight trips.
Gear loops on waist belts just like on a climbing harness. We haven't used these yet but I figure they will come in handy when we take it climbing in the future!
Interior security pocket in the hood – always a good thing.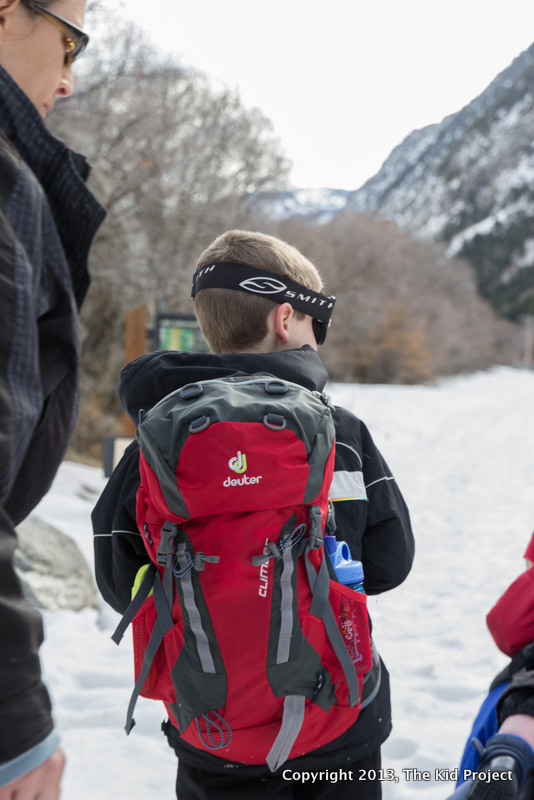 Nays
I wish there was a small pocket on the outside front for added organization.
Overall?
I am not sure I've been this happy with any kid pack! It is perfect for hiking and backpacking for kids ages 6-12. I would highly recommend this pack.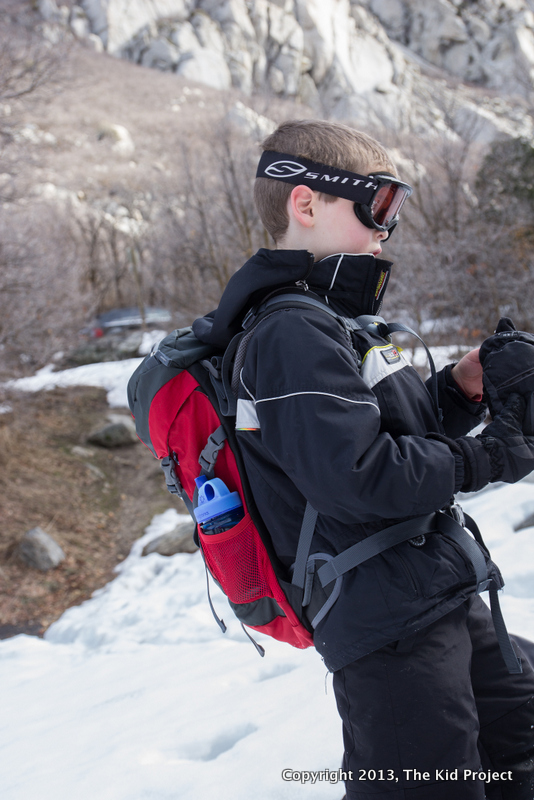 – Alpine Back System
– Ice axe/ trekking pole straps
– Mesh side pockets
– Side compression straps
– Gear loops with plenty of space for anything from carabiners to a magnifying glass
– Zipped pocket on lid
– Valuables pocket under the lid
– D-rings on lid for attaching extra gear
– Soft hip fins with gear loops
– Chest strap with emergency whistle
– Shoulder straps with Soft-Edge edges
– Hydration system compatible
– Carry capacity – 30lb
– Torso length – 10-17″ / 25-43cm
– Volume – 1343 cu in / 22 L
– Weight – 1lb 7 oz / .77kg
– Dimensions – 20 x 11x 8in  / 52 x 27 x 20 cm (H x W x D)
– Ripstop 210 / Microrip-Nylon
Availability: late August/early September 2013 (for fall season)
Price: MSRP $69
*We'd like to thank Deuter, who gave us this pack at no cost for the purpose of review. As always, these are our honest opinions.