I've asked my favorite group of #OutdoorFamily Bloggers for their favorite winter jackets and below are the results!
This post is newly updated [as 2016/2017] and these are tried and tested, used, spilled on, washed, and (when applicable) passed on to siblings. These are the jackets that tag along on our adventures and we would consider "worth the money."
For More Reviews Visit:
Click on the photo for a link to their review or a retail site for more info!
"The new L.L. Bean Peak 3-in-1 Jacket is one of the best jackets I've seen in a long time! The outer shell is lightweight, waterproof, and windproof with fully taped seams. The inner jacket is a water resistant, PrimaLoft liner that can be worn alone or zipped into the shell for very cold days. The 3-in1 jacket can cover every season, from backpacking in the summer, rainy shoulder seasons, and frigid winters!
– Kid Project
"The Big Agnes Ice House Hoodie
for kids has many features no other kid's down jackets have… like thumb loops! But seriously, this jacket is also made with 650 fill power Downtek™ [meaning the down itself is water resistant] with a lightweight nylon ripstop shell. This jacket is built just like its adult counterpart: warm, light, durable and well loved."(Available in updated colors Fall 2016)
– Kid Project
"The Eddie Bauer Downlight jacket has 600 goose down fill keeping J-Man toasty warm. It is water resistant, which was certainly tested a few times while camping. It has an attached hood that fits snuggly around J-Man's head."
– Adventure Tykes
"Stio, an outwear company from Jackson Hole, WY has designed a great 650- fill down jacket that balances style with performance. This jacket is great for those in cold climates, needing something super warm with a helmet compatible hood. Comparable to the Bobcat Hoodie by Canada Goose (the warmest jacket we've found) but at an affordable price point. We want one in every color. 🙂 "
-Kid Project
"The Canada Goose Bobcat Hoodie
is a 625-fill down coat that is engineered to perfection. It is one of the only down jackets I've seen with growth cuffs that can be extended 1 1/2″ for extended use. It is perfect for the committed adventure family or those who don't mind dropping the money on their kid's gear. But for the average family simply looking for a good winter coat, the cost will be the limiting factor."
-Alyssa at The Kid Project
The L.L Bean Puff n' Stuff is a lightweight, quick-drying PrimaLoft insulated jacket that is a perfect layer for use year-round or in mild climates. This jacket packs down small and is perfect for camping or backpacking in the summer. The rugged mini-ripstop shell repels water and snow making it a perfect choice for our fall hikes and as a layer under a hardshell for ski season. Overall, I love any layer my kids can wear that performs well and can be used year-round!
-Alyssa at The Kid Project
My son's been wearing North Face "light puffy" jackets for 5 years now … and I bought both his Perrito Jacket along with the next big-kids model of insulated jacket with my own money so we didn't just go with North Face because it was free gear. (Something you should definitely know!) My son's new
North Face Thermoball
Jacket is the first North Face Jacket we've been given for an official review, but our love affair with North Face goes way way back.
-Tanya from Family Adventure in the Canadian Rockies
"I love the Molehill Kid's Down jacket
because it provides maximum warmth while being incredibly light weight. It's so puffy and light, kids will feel like they are literally wearing nothing at all. This is a jacket designed for those of us living in cold climates so that we can continue to get outside in winter, play in the snow, and embrace whatever weather mother nature throws at us.  The jacket comes in sizes 2T up to children's 8-10."
– Family Adventures in the Canadian Rockies
"After searching for years, we've found a brand that we absolutely LOVE!  Snow Dragons Kid's jackets
.  You get all the features of a high end coat, without the high end price – waterproof, grow cuffs, drawstring waist, fantastic colors, and detachable hood. We regularly see them on sale so you can get an extra awesome deal.  Add the grow-cuffs on top of that deal, which gets you 2-3 years of wear out of each coat, and Snow Dragons can't be beat. "
– Bring-The-Kids
"The Patagonia Puff Ball jacket is our go-to jacket for colder weather.  It keeps kids surprisingly warm, is ultra light and is great for an outer layer and layering over.  It also fits great and safely in car seats since it adds nearly no extra bulk."
– Tales of a Mountain Mama
"One of our favorite brands is Spyder Kid's Jackets
.  From little to big, Spyder ski jackets are warm and they have a tangible "cool" factor. From the ubiquitous Spyder on their little boy's coats, to the latest "mom-worthy" colors and designs for youth-sized girls, Spyder delivers in all weather. Plus, Spyder kids' jackets include the Small-to-Tall sleeves so they "grow" an extra 1.5″ in length!"
– Kristen via BraveSkiMom.com
"The REI fleece jackets layer well. They don't pill or thin after lots of wear and washing. Fleece maintains some warmth even if it gets wet, which is a major bonus. Very versatile: camping in the summer, climbing in the fall, layering in the winter."
– Kid Project
"The Patagonia Infant Bunting
is a must have for baby: warm and reversible, wind- and water-resistant  with a long zipper for easy on/off."
– GoAdventureMom.com
"Our favorite aspects of the REI down jackets, other than warmth:
They are compressible and easy to pack.
The cuffed wrists allow you to buy it a few sizes too big thus getting a few seasons out of them.
Half the price of other brands such as Patagonia or North Face.
In the words of my mother, "They wash like a dream."
– Kid Project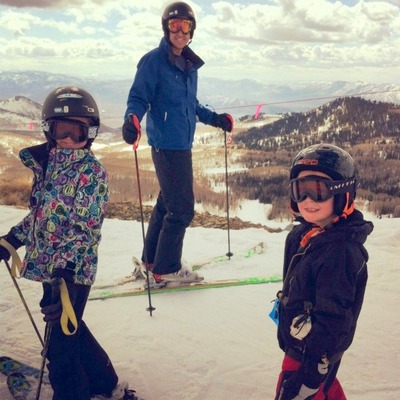 "Obermeyer Kids Jacket with I-Grow
system features a unique way of increasing the life of a garment's longevity. By simply snipping the colored threads, you can lengthen the sleeves and cuffs up to two inches. And we're going on our third season with the kids' coats and ski pants. "
– Amber via Snowmamas
I get commissions for purchases made through links in this post. Help keep this site up and running by shopping through the links above.