Finding a good seat in the backcountry can be hard. (Pun intended.) I've tried sitting on 3 legged stools, the 'convert a therm-a-rest to a chair' thingamabops and have generally settled on using a tree. None of them are very comfortable.
When Alyssa said we were going to be testing the Joey Chair by Travel Chair, a sub-two-pound backpacking chair, I was skeptical. I figured it would feel flimsy, or at least not be comfortable. Is two pounds worth it in the backcountry? Well, I did bring an apple pie on the last trip. But then again, it weighed nothing on the trip out. I guess it just depends on the trip. Anyway, onto the review!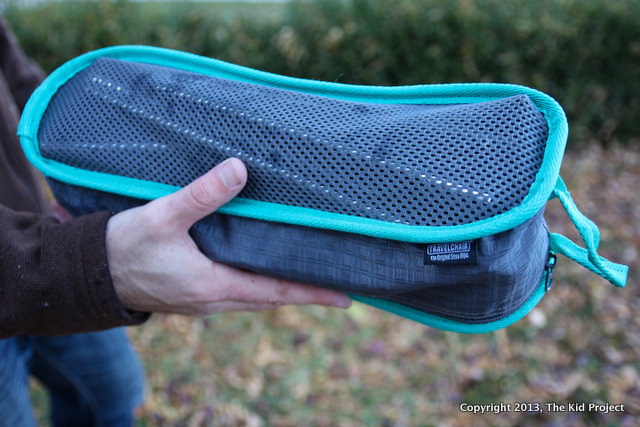 I was pleasantly surprised by this little chair. Not only is at actually a chair (usable back support), but it is comfortable, easy to setup/teardown, stable, and quite lightweight. Beyond being lightweight, it is super compact. This means that even if you don't take it backpacking, it fits easily in the car or stroller or day pack for less 'epic' uses.
Setting it up is super easy. I just grab the pole assembly's center pole, and spin it in my hand until all the poles snap in place. Then attach the mesh seat. Done. 30 seconds.
Tested in: Camping/climbing in Southern Utah
Cost: $69.99
Best use:
– Luxury backpacking, camping
– Daily life (throw on top of climbing bag, take to a soccer game, keep it in the corner of the trunk)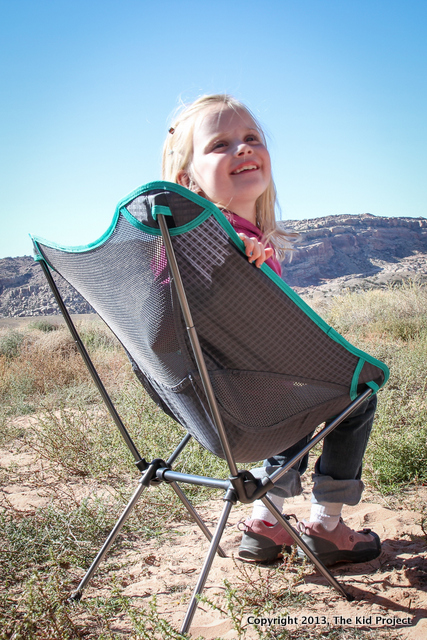 Selling points:
– Lightweight
– Quick and easy setup
– Comfortable
– Easy to belay someone while sitting in it 🙂
– Stable (don't worry about falling over). You can put your feet up and lounge in this sucker. It even did well in sand. And while all our photos are of our daughter, it does indeed comfortably hold an full grown adult.
Relevant specs:
– Under 2lbs
– Drawn aluminum tubing
– Shock cord system
– Highest and largest seat in its class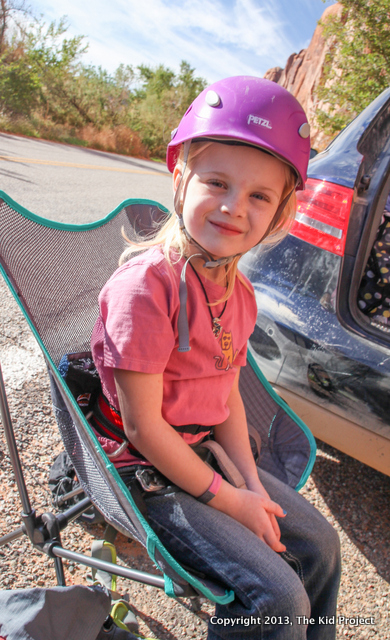 Desired improvements:
– Include a little velcro strap on the poles that hold them collapsed — that way when going 'bagless' it doesn't accidentally start assembling itself.
– Figure out a way to make it so the seat fabric can be wrapped around the frame to act as the bag, that way a bag isn't necessary.
Bottom line:
Travel Chair has come up with a great design for a sub-two-pound compact chair that is very comfortable and usable. While it costs more than some of their other offerings (Slacker Camp Chair), it makes up for it in comfort and usability without adding weight. It is also markedly LESS expensive that some of its market competitors like the Big Agnes Helinox Chair 1.