This year, Canada Goose came out with a line of outer-wear for kids, taking all the aspects of warmth and protection for adults but miniaturizing it for the smallest of adventurers. The Bobcat Hoodie is their quilted 625-fill down jacket. It is great as a stand alone or layered under a shell for rugged exploration.
Tested in: Wasatch Range, USA; 5-32 degrees F (for 2-4 hr outdoors); snow, wind, and freezing rain.
Cost: $294.95
Availability: now
Best Use: Ultimately versatile. It is perfect for extended exposure to cold temperatures. Sledding, Skiing, Snowshoe, Winter Outdoors. Also, packs down small, so perfect for high alpine backcountry trips year-round.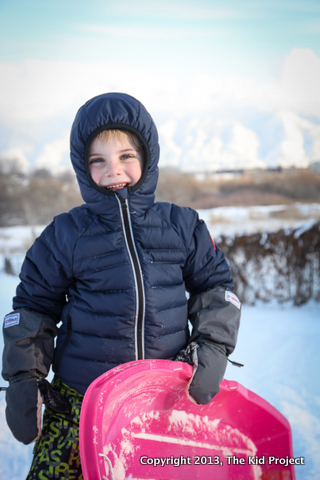 Selling Points:
Quilted Down Hood! Man, this hood fits perfectly, fitting close to the face, allowing freedom of movement, but keeping them very warm. This is by far my favorite feature.
Fit: All the benefits of a down jacket (warm, lightweight, non-bulky) without all the 'extras' a lot of companies add that only bulk it up.
The jacket is longer in the back to provide extra protection from cold while bending, twisting, playing, and adventuring.
Performance: This is one of the warmest down kid's jackets on the market but also one of the only down coats I've seen with "grow-me cuffs" to lengthen the sleeves approx. 1 1/2 inches for extended use.
Our son has never been cold in this jacket, often layering only a single long sleeve shirt under it during the coldest weather. While it isn't a "rain" jacket, it has handled the wet snow and freezing rain very well.
The stretchy cuff binding around the wrists is very comfortable and keeps the snow out and cuff in place during the craziest of play-times.
Easy Care: Cold wash in front loading washer; tumble dry low.
Reputation: Canada Goose has a worldwide reputation for providing some of the highest quality expedition gear, using the highest quality products. There is a peace of mind, when you know your kid is in some of the warmest outer-wear made.
Versatility: The weight and design of this jacket makes it perfect for the outdoor adventurer that needs one piece of warm outer-wear that can be used year-round. It will travel with us not only to major ski resorts in the winter but deep into the backcountry year-round.
Significant Stats: 
Self-packable into interior pillow pocket
Reflective details for safety and style (back of hood and along zipper)
Two external fleece lined pockets with zipper closure
One internal mesh pocket
Goose I.D. in interior with hand-me down option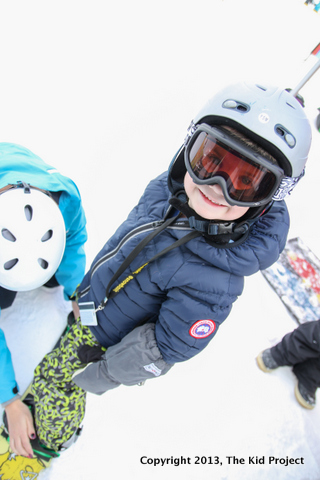 Desired Improvements: None
The Bottom Line: This a fantastic down jacket. Warm, packable, and high performing but with family friendly additions that make this mom happy. It is the only quality down jacket I've found with growth cuffs. It is perfect for the committed adventure family or those who don't mind dropping the money on their kid's gear. But for the average family simply looking for a good winter coat, the cost will be the limiting factor.