A Kid Project reader recently asked:
 How do you make your toddlers stay in their sleeping bags? My 21-month-old rolls all over the crib and she hates to wear any sleeping bag that covers her feet. She wears a Halo sleepsack at home but it won't be warm enough for camping. Any suggestions?
Ahhh! The madness! This is what I wanted to yell many nights out camping. You have uncovered probably the biggest obstacle to warmth and good sleep when it comes to family camping! For our family, this has been a huge problem. Can any one say case-of-the-wiggles?!?
But we have had a few victories.
When our kids were very young, infant through age three, we did ALOT of layering in order to keep them warm at night. First, I must say our kids were just never good at co-sleeping, or sleeping with mom and dad. That is probably the #1 way to keep them warm at night. But because that wasn't an option for us, we had to figure out what did works for us through trial and error.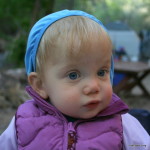 Like you mentioned in the question above, we used Halo Fleece sleep sacks at home and naturally brought them camping as well. I would layer heavily underneath: long underwear, a shirt with a well-fitting hood (like the one pictured), fleece one-piece pajamas all under the Halo Sleep Sack. But I agree with you, that wasn't enough. On top we tossed a small down quilt (ours was Bed Bath and Beyond) but you can find a variety of backcountry down quilts designed for just this purpose (Check out EnlightenedEquiptment.com). The free movement of the quilt meant it stayed on top through a lot of wiggling.
On really cold nights we add a down jacket on top of the sleep sac. I even bought my youngest's jacket a size big for this purpose… I sort of figured it was like a wearable sleeping bag. 🙂
It is important to note (if the down quilt thing isn't an option) that wider sleeping bags help toddlers stay inside them as well. The only kid specific bag I've noticed being wide is the Big Agnes Little Red or Haybro, but you could also go with an adult bag and tie it off at the bottom to limit air flow and increase warmth.
And of course don't forget the camping pad underneath. Keeping them ON it will be as much of a challenge as keeping them in or under their covers. For us the insulated air chamber pads like Big Agnes Air Core and Kelty Recluse 2.5 have worked very well. They are designed so that the air chambers on the perimeter of the pad are larger than in the center, creating a cradling effect that helps you stay in place. And this has really worked for us!
Sleeping systems like the Big Agnes Little Red, where the sleeping pad slides in a panel on the bottom of the bag have worked as well. And if you don't want to invest in new sleeping bags, you can often slip sleeping pads inside a normal sleeping bag. If you are handy with thread, add tie loops on the outside of the bag and use elastic to make-your-own straps the pad can slip into on the bottom side of the bag.
Lastly, while we've never tried it, I've heard from other parents that winter bunting, like the Patagonia Down Bunting, work great for sleeping on cold nights too!
Best of luck!
Alyssa