Stomach jittery. Mind reeling.
That is how I went into this weekend's race at Echo Reservoir. It was my first Olympic triathlon (1500m swim, 40k bike, 10k run) and I had (unknowingly at the time) entered a race that had a large pool of elite athletes. For some reason that intimidated me. I was thankful for the few sprint-triathlons I had done, simply because all the transition details were less stressful.
But nonetheless, I prepared mentally to be dead last. Dead. Last.
I even took to repeating this mantra to myself:
Dead last is still faster than never-got-off-the-couch.
It is good for me to remember why I do this. Not to compete with others, but with myself. To push my own limits.
And as the day unfolded, I watched a common theme unfurl: Alyssa, it isn't about you.
The Race
TriUtah organized a fantastic race. Small details like carpet between the swim beach and T1, well designed race shirts, chocolate milk, and icy cold towels at the finish were like frosting on the proverbial cake. But my favorite part? My favorite part was the racers who couldn't walk and who couldn't talk much less swim, bike or run. I'll explain below.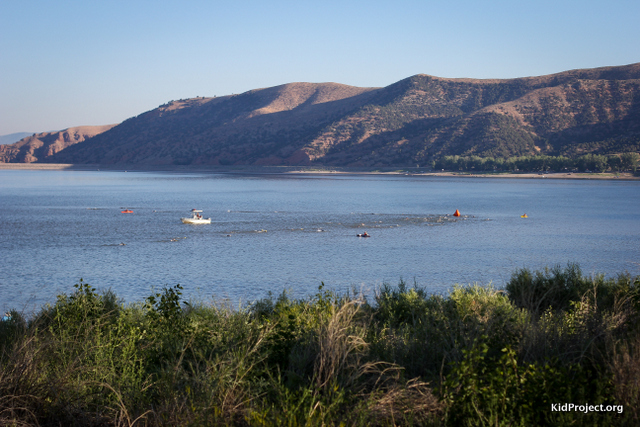 My swim wave started just as the sun emerged over the eastern hills – at 7a.m. Thank you TriUtah for having the Oly athletes go first, not every race is like that. It certainly helps not having to run quite so late in the day.
My friend and I walked down to the beach, acclimated to the water and took a few strokes. Then those first racers started emerging out of the water. TriUtah has a "Push To The Finish" division where they team up triathletes with disabled children. As I stood in the water, knee-deep, focusing on my swim technique, these triathletes completed their swim, pulling these children in rafts tethered about their waist.
As each swimmer/raft team crossed to the beach, 500+ athletes and spectators would erupt in applause and cheers. One little boy was so overcome he started clapping and cheering while they pulled his raft ashore. His face was glowing with the same excitement I feel when I come out of the water.
And that was when I had this thought:
 I think one of the simplest acts of thankfulness is using to the fullest the body you've been given.
Not everyone can swim, bike, and run. I can show thanks with every kick, every stroke and every stride.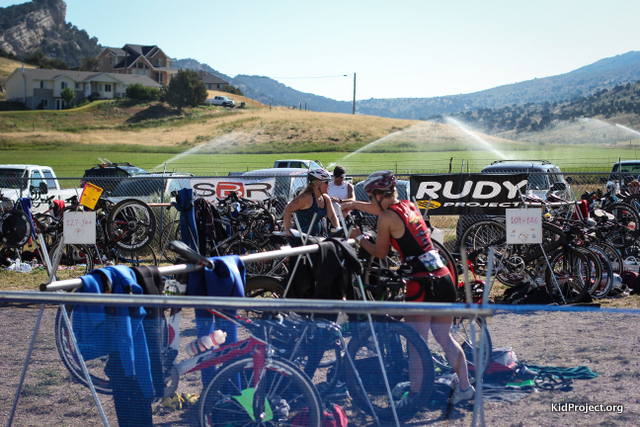 As far as my swim? The water was fantastic. Sighting was a little hard with a mix of shadow and sun on the buoys. And I had my first ever male-swimmer-shoving-me-under-and-swimming-over-me experience. And I survived! I didn't even get that upset about it. Just let him pass and continued on.
The bike felt great. I had been worried about the ten miles of false-flat and uphill. But every time I started to fret over my screaming legs, one of the "Push to the Finish" teams would pass me on their way back to T2 and I'd think, "You have no excuse not to keep going. They aren't quitting!" In the end I beat my last time on that bike segment and felt great about it. The hill coming back up by the dam wasn't even that difficult.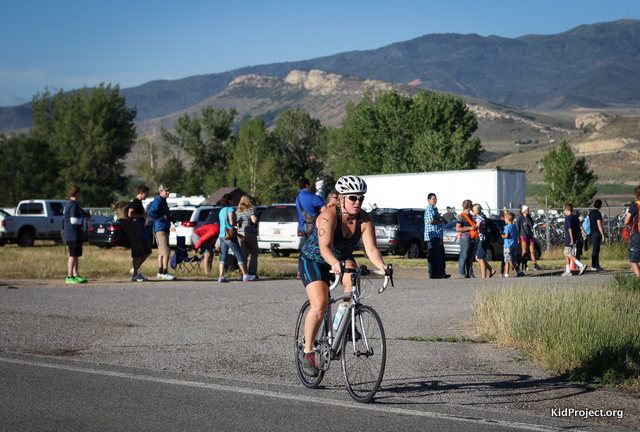 And the run? Well, it was hot. I expected that, with highs in the upper 90s it was inevitable. Which is a bummer because I think the run along the rail trail is the prettiest triathlon course I've ever done, following the shoreline just past the dam and then back to the finish. The heat sort of detracted from the beauty for me.
But once again, every time I started to focus on how hot I was or tired, one of the athletes pushing a disabled kid in a stroller would run the other way, reminding me just how blessed I am to be doing this.
I also used my Enduracool Instant Cooling Towel from Mission Athletecare by draping it around my neck and tucking the ends through my bra-straps. It definitely helped keep me from overheating.
Overall, I felt fine on the run until the last mile when I plain ran out of energy. I do not know if this was fueling or the heat or something else. But I felt good about making it that far before wanting to curl up on the ground.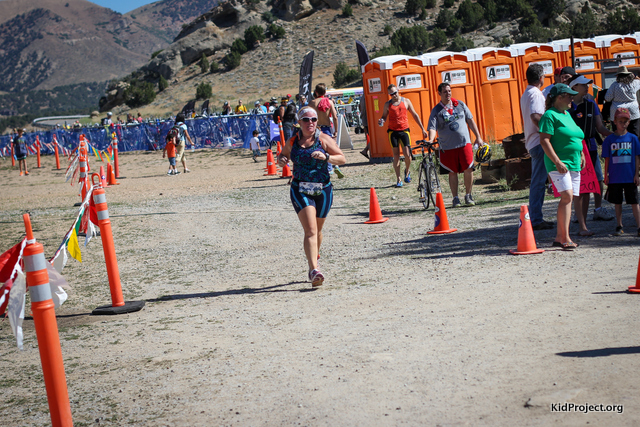 My favorite part? Being reminded by those "Push to the Finish" teams that perhaps what is more important than my body, is an unconquerable spirit. An unconquerable spirit can overcome many obstacles.
Oh and having my husband and kids there was motivating. They almost didn't come because logistics were tricky… hence we decided to camp there the night before.  But as I was looking for my kid's faces at T1/T2, waiting patiently for mom to turn the last corner, I realized I'd rather have them there with me than race alone just to save a little hassle. Having them race along the fence line to my finish, yelling for me to "go" is something I will not forget.
AND I wasn't dead last. 🙂 But honestly that doesn't matter. Someone was. And I tip my hat to them as they were out in that heat working hard longer than I was!
Fueling:
Prerace: 3 Organic Fig Newtons, few sips of coffee.
Bike: 18 oz. Nuun, 5 Shot Blocks.
Run: Water every mile at aid stations, 2 sips of electrolight drink.
 Results: