The air was crisp and cool, requiring down vests and fleece jackets. But the sun was strong, promising warmth as we hiked into the day. For once, instead of refereeing an argument all the kids were geared up for our hike. We had one of those rare moments of bliss as parents where no one wants anything and everything is working out perfectly. Our moments of bliss continued throughout the rest of the morning on our hike to Delicate Arch.
To this day it is still one of my favorite memories of 2014.
As lovers of the backcountry and the road less traveled, we often shy away from hikes that are wrought with crowds. I hate a busy trailhead as much as the next person. BUT if ever there was a hike worth a little "people dodging", it is the hike to Delicate Arch in Arches National Park, UT.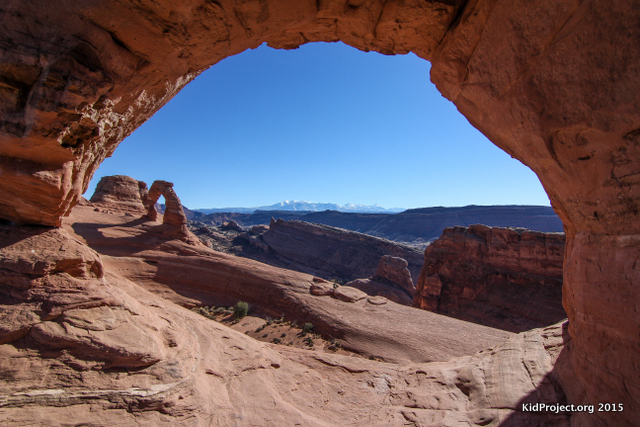 There is a reason that the likeness of the Arch is on many of the Utah license plates. It is truly majestic.
In addition, Delicate Arch is easy in terms of mileage and elevation gain, making it a must-do for families. One word of caution, there are a few exposed parts on the hike, keep a firm hand on your young children during them.
The Hike to Delicate Arch starts from the Wolfe Ranch Trailhead.
Stats:
Distance: 4-ish miles round-trip
Trail: Out and back
Elevation Gain: 641 feet
Estimated Family Hiking Time: 2.5 hrs (this includes a lengthy lunch break at the Arch)
The hike begins by crossing a bridge. There is an old cabin for kids to explore.
From there the trail climbs over the slickrock for the remainder of the hike. The trail gains moderate elevation for the next 1.5 miles and follows rock cairns. Views are amazing at almost any point. If you visit in the late fall or early spring, the snow-covered La Sal mountains make a unique and picturesque backdrop during most of the hike!
Just before you reach the large "bowl" where Delicate Arch resides, there is a steep trail cut into the sandstone. Up and to the right is my favorite view of Delicate Arch, missed by many people who simple walk on past or are afraid to climb the somewhat steep sandstone to peer through the window.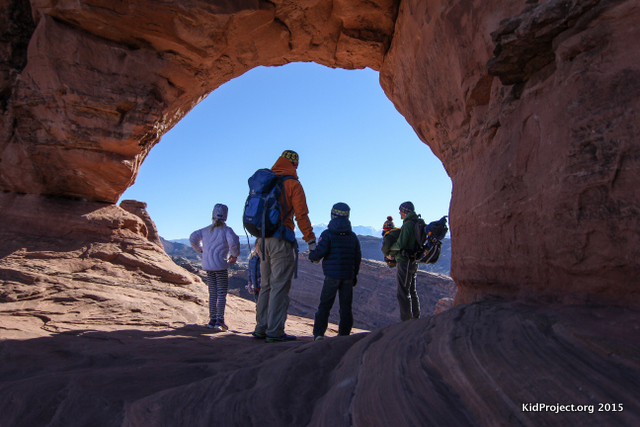 Once at the arch, there is room to explore, though on crowded days it might feel a bit tight. We had lunch, let the kids scramble a little, and even played around taking fun photos. The hike back is almost entirely downhill, and therefore faster and less exhausting. If you make it to the arch, you should have no problem getting back to the car. 🙂
Here is our map and brief stats on our group of 4 adults and 5 kids ages 3-8.