Earlier we posted on our fun and low-key hike to Delicate Arch late last fall. Fall and early spring are amazing times to visit Arches National Park. The air temperatures are cool or pleasantly warm, and there are less crowds.
Two days prior to our Delicate Arch hike, we took on the longer Black Angel Trail, past Double O Arch, and returned via the primitive trail. The Black Angel/Double O Arch trail originates at the Devil's Garden trailhead, is well established and clearly marked.
Stats:
Mileage: 6.8 miles (total loop via the primitive trail)
Trail: The main trail is out and back/ Primitive trail makes it a loop
Elevation gain: 1,232 ft
 Moving time/total time with kids: 2.5 hrs / 3.75 hrs
The trail climbs up and down, through sand, up steps and across slick rock. Approximately .8 miles into the hike you will pass Landscape Arch.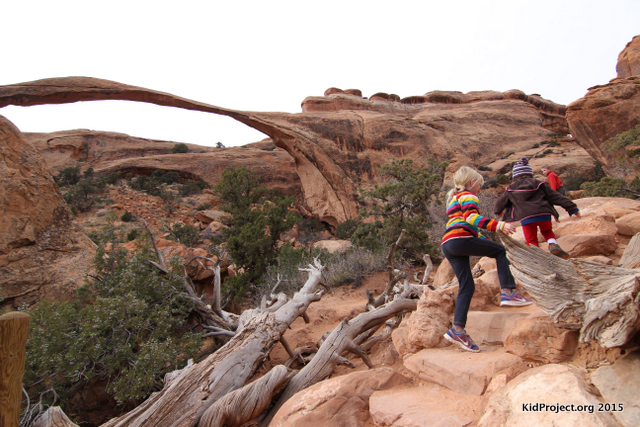 At times you find yourself in a narrow constriction of sandstone and at others times the orange vistas open up before and below you with views that go on forever.
Our kids love exploring all the sandstone formations, climbing the rocks, and playing in the sand. In fact, they often seem more interested in bouldering then actually seeing the arches…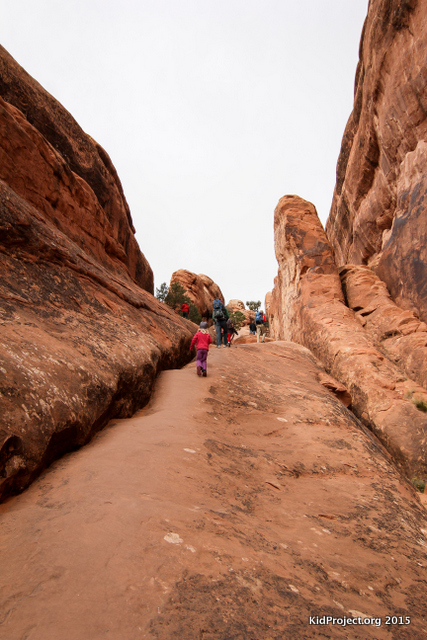 Double O arch is a "double-decker" arch and it is relatively easy to scramble up into the lower arch. I might not have gotten a photo of Double O Arch but I got one of us climbing out of it!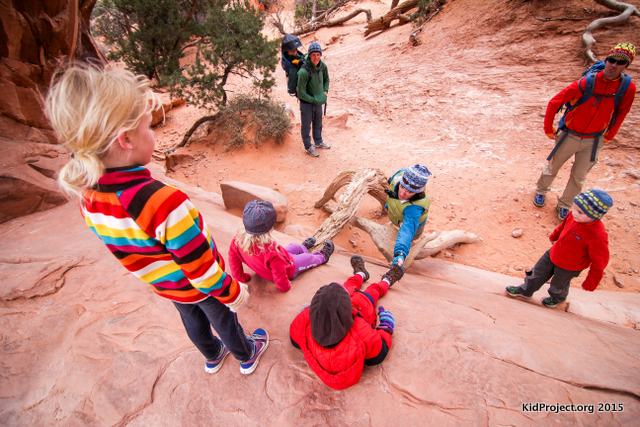 From Double O Arch, Black Angel sits on the horizon, approximately another .5 miles away. That was our lunch stop.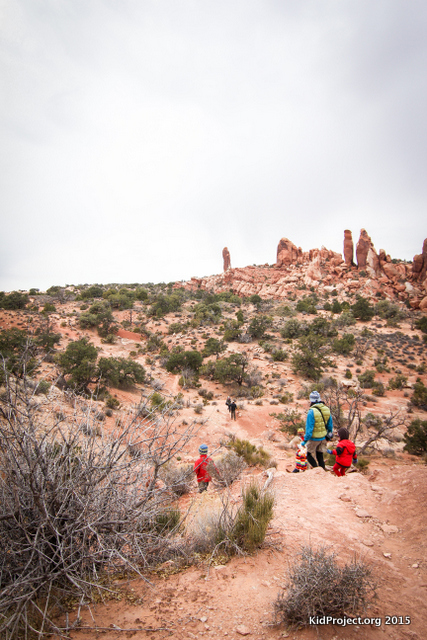 From there we made a group decision to try the Primitive Trail that loops back towards the parking lot. I would not suggest this option for those who are afraid of heights or steep footing, but we were decently confident in our kid's abilities, having done a 10 mile slot canyon a few weeks before.
The primitive trail is well-marked with cairns but does feel a tad more adventurous than the main trail!
Similar to other desert hikes, make sure to bring lots of water, food and layers. 
GPS Map: