Last weekend we visited Capitol Reef National Park for the first time. Yes, I know. Five years in Utah and we are only now visiting Capitol Reef…
For more information on camping in the area visit: Camping near Capitol Reef National Park.
On day number one, we hit the trail around 10 am. During the spring, temperatures vary greatly. After a very chilly morning (yes, down and fleece jackets were on), we hit the trails and things were quickly heating up. I joked about being both freezing cold and horribly hot all in the same day, but nothing in between!
Hickman Bridge
Our first goal was to hike Hickman Bridge with the kids. A short hike, just under 2 miles round trip, climbs over sandstone, through a wash, and along canyons to a magnificent natural bridge. The elevation gain is moderate, we climbed a total of 450 ft throughout the hike.
Just prior to reaching the bridge the trail divides off in a loop.
We rested under the bridge in the cool shade while having a snack, then completed the loop!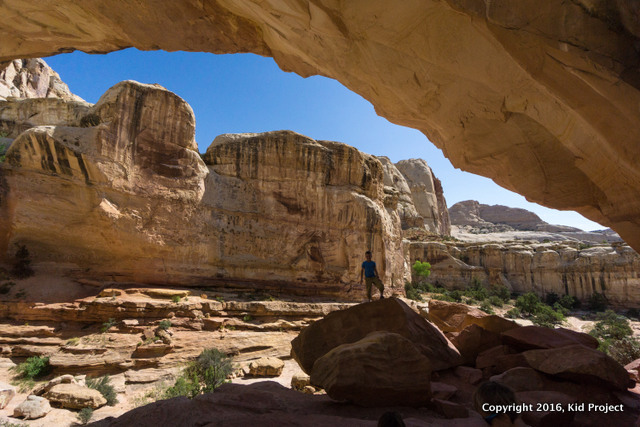 Since we were already parked at the appropriate trail head and were up for a little more hiking, we decided to hike Cohab Canyon one way from the trailhead to the campground. The dads would then run back and get the cars while we lounged in the shade. At least that was the plan. 🙂
Cohab Canyon
The trail starts on the opposite side of the road from Hickman Bridge. It was sort of hard to spot at first, and we had to be super attentive to our kids with all the traffic.
This hike is 1.8 miles one way or almost 4 miles if you do it both directions. There is a bit of elevation gain, roughly 470 ft. If you start from the campground, you have a killer hill to conquer initially but a long enjoyable downhill for the remainder. Hiking Cohab Canyon towards the campground meant we had a mellow but longer uphill before a steep downhill at the end.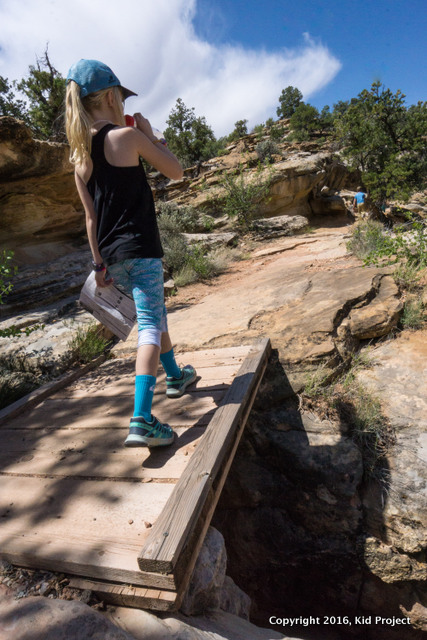 Much of the trail follows a wash through Cohab Canyon. The trail is sandy at times and the canyon becomes narrower as you get closer to the campground. We also found small alcoves and slot canyons to explore!
It took us roughly 1:10-1:20 minutes to complete each of the hikes above. Due to the lack of shade, I would suggest an early start, lots of water and snacks as well as appropriate layers and sunscreen.
See you on the trails!