On the second day of our trip to Capitol Reef National Park, we hit the trail even earlier (9 a.m.) in order to hike before it became to hot.
The day prior we had hiked to Hickman Bridge and the Cohab Canyon Trail.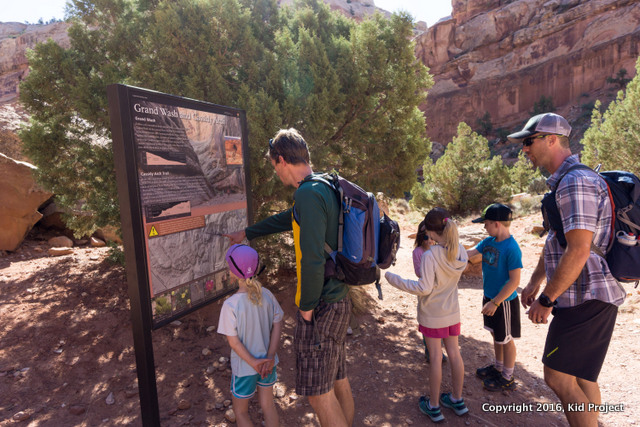 The trail to Cassidy Arch actually begins in Grand Wash. It heads in an easterly direction for .3 of a mile before branching off to the left. We were in the shade until we started ascending the north-side of the canyon. Bring lots of water and hats – there is very little shade on this hike as well!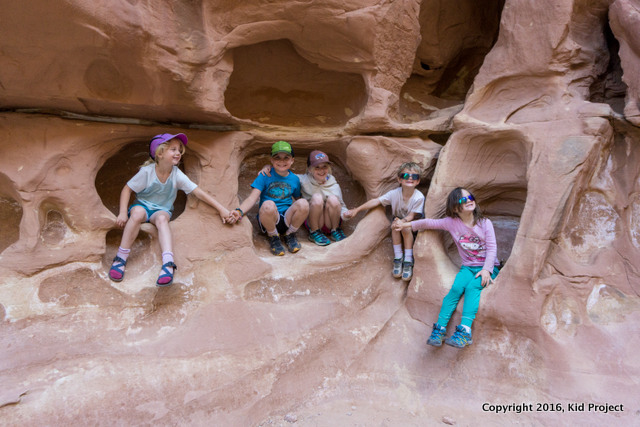 The trail climbed steeply along the steep canyon edge, giving us amazing views of the desert floor below.
With only .5 miles left till the arch, we encountered a trail sign and also our first views of the arch in the distance.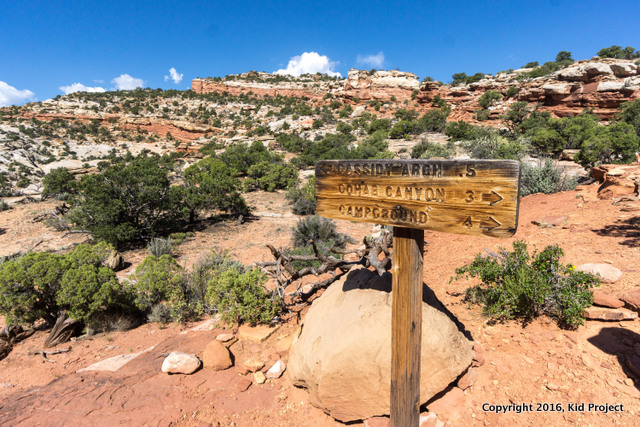 Unlike many other arch hikes we've done, the trail continues to climb the sandstone, aiming ABOVE the arch.
This hike is definitely a good one for keeping a firm hold on your young child's hand, as sheer cliff drops are never far off. But this is also my favorite hike in the area! The trail does indeed lead you above Cassidy Arch and you look down on it, making it one of the more memorable arches I've seen!
After playing at the arch for a while, and yes, posing for photos on top of the arch, we descended the trail back down to where Cassidy Arch Trail left the main Grand Wash Trail and decided to continue on down Grand Wash to the Narrows.
Like yesterday's hike, the dad's planned to hike the majority of the trail with us, and then run back to grab the cars and pick us up on the other end.
Though Grand Wash was not the most thrilling hike in my opinion, it did have a few treasures of its own. Like:
The narrows, though 'narrower,' are nothing compared to many of Utah's slot canyons we have frequented. As the sun reached its highest point, we began hiking "shade to shade" and simply hoping to see the cars.
All total our mileage for the day was 5.5 miles.
We finished off the day's adventures with ice cream cones and pizza back in the town of Torrey! Overall the Cassidy Arch hike is my favorite hike so far in the Capitol Reef area. Check it out!