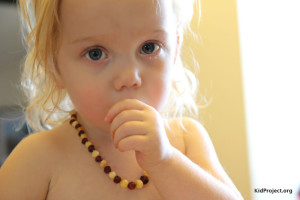 I don't really know how to start this review because it is SO subjective, and I really have no proof.  So instead I'll tell you the story of how I stumbled upon the Amber Artisans and their teething necklaces for baby.
At the beginning of January another attack of the teething monster erupted in the mouth of my almost two year old. The canines were coming in. No big deal. I am not adverse to Tylenol, Advil, or Orajel. In fact, they are secretly my go to guys for teething. But these canines have been horrible! One tooth coming in slowly [1-2 weeks per tooth]. And one baby who waddled around the house whining and crying and wanting to be carried ALL day long.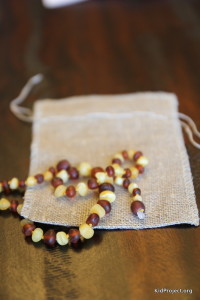 After a month something HAD to change. I couldn't/didn't want to medicate for so long a duration. But with two other kids, her fussing and crying all day wasn't an option in my mind. Then one of my friends mentioned amber teething necklaces. I'd never heard of them. Here is the beta:
They aren't designed for chewing on [like I originally thought].
They are designed to be worn by baby while they are teething in order to reduce swelling and discomfort.
How? I am not even going to attempt to explain. But I will let the people who make them:
Amber is not a "stone" but a natural resin. So as it warms with the body's natural temperature, amber releases its healing oils (these oils contain succinic acid )which are easily absorbed into the skin and then into the bloodstream… Amber is also known to reduce inflammation of the throat, ear and stomach and to fight irritation, infections and respiratory disease as it dramatically improves the body's immunity. Natural amber beaded necklaces are a completely non-invasive remedy for side effects associated with teething, such as lack of appetite, upset tummies, ear ache, fevers and colds. Baltic amber is also a natural analgesic that will calm your child and is recognized by allopathic medicine specialists as antispasmodic and anti-fever.
I am a skeptic. As much as I love the thought of all natural remedies, I don't inherantly believe in them. But I decided to give it a try. After all, I was DESPERATE.
So a few week ago I received a necklace to test [and one to giveaway] all the way from Lithuania. I was impressed just by getting a package from so far away. 🙂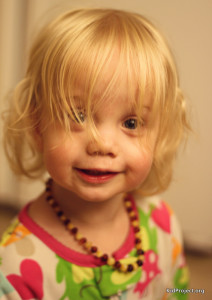 I slipped it on my youngest and waited. I tried not to make any judgements for a couple of days. And after a week I sort of forgot about it. Cause well, she wasn't fussy anymore. Then I thought, "Well, how do I know it is working? Maybe she isn't teething anymore." But I looked in her mouth and during the last week she had another new canine emerge through the gums. So did it work for us? Yes, it really did.
I do have to add that amber necklaces aren't as "on/off" as Tylenol. While it decreased her fussiness [and I assume her discomfort], she wasn't perfectly happy and energetic like nothing was wrong. She just wasn't miserable.
Now for my thoughts on the craft of this specific necklace:
The necklace is perfectly sized for baby [as in mommy cannot hijack it]. It isn't so loose it snags, nor so tight it chokes.
In crafting the necklace, they knotted the cord between EACH bead meaning 1. if it  happened to break, all the beads would not scatter and 2. they will not pinch the skin or hairs on baby's neck.
It has a screw clasp – the screws are part of the amber beads, meaning the clasp is invisible when on.
They are super cute! And if you are thinking, "I don't want my boy wearing a stinkin' necklace!" Well, ideally they are worn against the skin, meaning they are tucked inside their shirt most the time anyways…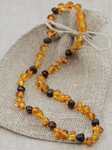 Amber has healing properties found to help in adults too, visit the Amber Artisan site for more info on healing properties of amber, authenticity of an amber necklace, and sizing info for baby.
Want to test it too? Well then, enter the raffle to win one similar to the picture! Cause I am sending one amber necklace to one lucky winner! Follow the instructions below:
Important Safety Notice:
Please supervise your child at all times while wearing the necklace. Amber necklaces are made for wearing not for chewing! Amber will crack and break under too much pressure. Teething jewelry should be removed when child is sleeping or unattended! We (Amber artisans) assume no responsibility if any harm should come to the child due to misuse of our products. Amber artisans or any other parties involved in creating, producing, manufacturing or services provided on this site shall not be liable for any direct or indirect, consequential, incidental, punitive, special or otherwise damages arising out of access or use of this site and its products..