I am back! And refreshed by the beautiful Colorado Collegiate wilderness. I will share all about my trip soon… for now I will tease by sharing my favorite moment I captured from the trip: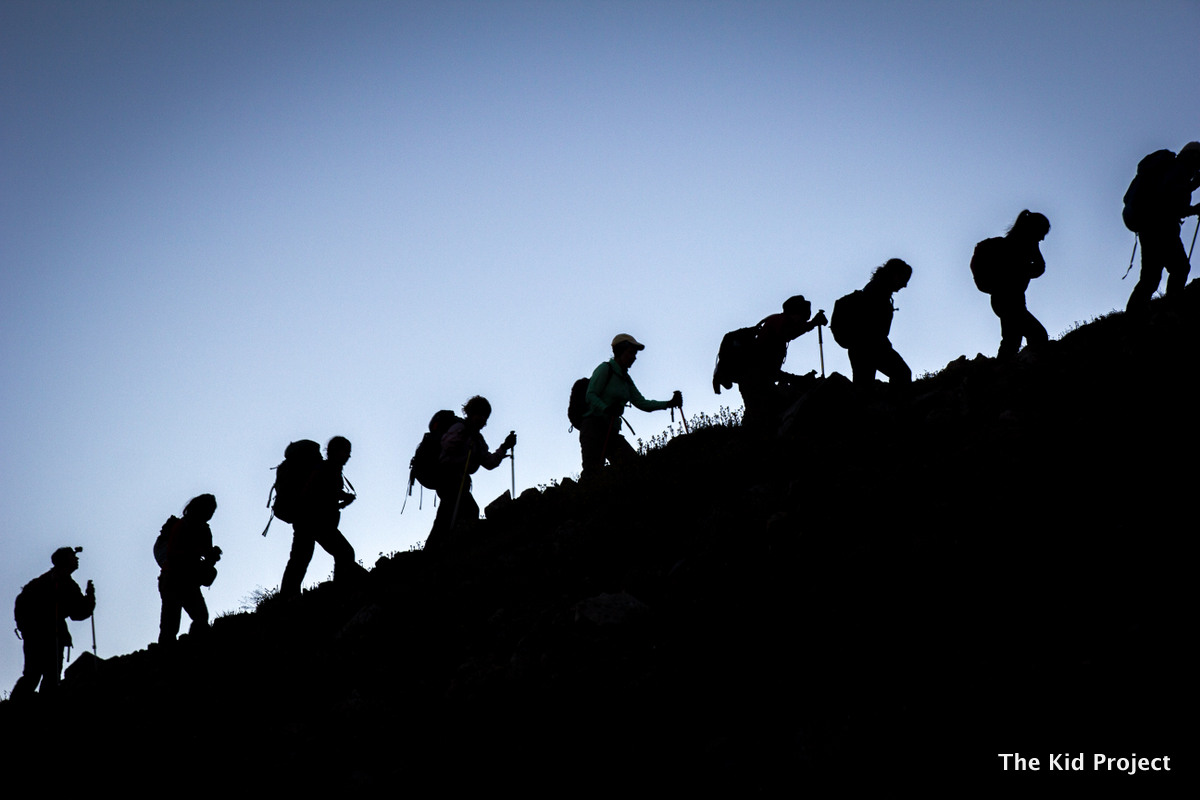 But until I can collect my thoughts on everything I learned in Colorado, I want to share about a community of people who have helped make this blog even better.
Recently I have been blessed by supportive, wise, outdoor loving, experienced and non-competitive groups of women. It has been awesome. The most recent all-women's backpacking trip I went on revolutionized my view on multi-generational trips [a post on this later]. But I have been lucky to be a part of an awesome online community of outdoor  bloggers also – a group who's goal is to support each other, not tear each other down. The sharing of encouragement, resources, and experience has been invaluable. And so I want to share them with you too!
Below are enough resources for anything you would want to do out in the sun! Go check them out!
Family Adventures in the Canadian Rockies
Have toddler and have not slowed down! This blog seeks to chronicle the joys and challenges of taking kids hiking, camping, backpacking, skiing and all-out exploring in the Canadian Rockies.
Family skiing tips, unbiased resort and mountain reviews, off-season biking and hiking. We're a western Colorado family that has seen it all and done a lot. I don't just share our adventures. I provide information to help you fuel your own adventure — from skiing to parenting.
Our mission is simple… We love to have fun outside with our kids, regardless if it is swimming with manatees in Florida, exploring Central Park in New York or just simply being outdoors PLAYING in your own backyard. We try our best to provide you with the best information about simple outdoor ideas, Fresh Air Living (lifestyle) and Cooking with Nature.
Our roots are Scandinavian, American and Canadian and our philosophy is based on the Norwegian word "Friluftsliv". For us, enjoying nature is a lifestyle and a way of life.
The Campy Mom's Guide to Family Camping. From pitching tents to pitching fits. We share camping tips, camping recipes, gear reviews and a lot of laughs. Join us there anytime- around the campfire.
AKontheGO was designed to encourage and promote family travel in Alaska. We are, at this time anyway, the only blog/website with a decided emphasis on family travel in Alaska. AND, I'm writing a guidebook with the working title of "Alaska On the Go: Exploring the 49th State With Children."
Go Explore Nature is all about connecting kids & families with nature, in your own backyard and beyond. You'll find everything from tips on bird watching and backyard camping to ideas for backyard nature play. Happy exploring!
Skedaddle is about getting the family outside, no matter the weather. Tips on gear, playground reviews and articles about making outdoor play accessible to everyone!
Velo Mom is the place I share our family bike adventures, highlight inspirational families and kids on bikes, discuss exceptional products, great rides and the latest news.
Provides encouragement and ideas concerning wholesome outdoor recreation for kids and their parents. But when you break it apart you'll see lots of photos and a lot of our first hand experiences in the outdoors with our 4 kids, from water and snow sports to biking, hiking, rock climbing and camping. You'll also see outdoor gear spotlights and giveaways. We like to throw in some outdoor cooking recipes too. Created in 2008.
Adventure Tykes: Little Feet, Big Adventures
Here you will find motivation and inspiration along with hard won experience to help you engage in outdoor activities with your tykes, such as camping, hiking, rock climbing, biking, picnic dinners and outdoor play. Gear reviews on the latest and greatest gear along with giveaways are featured. We hope you find the information beneficial and inspiring, and that you and your tykes get out and explore the great outdoors together.
Tales of a Mountain Mama (Family)
Aims to help inspire families to get outdoors and adventure, even with young children. We share our stories from out on the trails and in the mountains, provide tips and tricks, and welcome feedback from our readers! We also happen to be big believers in the fact that sometimes an investment in great gear is a worthwhile step in helping getting the entire family out. Watch for a diverse make-up of honest gear reviews and giveaways. Finally, we love to feature weekly guest bloggers and experts to round out our own knowledge and experience.
A blog about my ongoing journey to be healthier and fitter and sharing that healthy lifestyle with my children as well. It also chronicles my adventures in the great outdoors and how I share the experiences with my children.
A blog about our family's attempt to live an active outdoor lifestyle in order to reap the benefits of fresh air, exercise, a close relationship with nature and time with each other. While our trips tend to take us into the backcountry by canoe, we also love hiking, cross-country skiing, climbing, cycling and any other adventures that come our way. Follow along for inspiration, tips, tricks and ideas!
A blog that proves that you can still have adventures after you have kids. We love to camp, raft, ski, hike, and climb and love bringing our kids along so they can enjoy these things too!
The internet already had "design mom", "cooking mom", "coupon mom", even "tanning mom". What it needed was "outside mom". Outsidemom.com is a blog of tips, stories, pictures, activities and random tidbits of information for parents who also love spending time in the outdoors with their families.
To inspire others to get outside and walk and view the world up close. Topics include: walking and hiking with and without the kids and is mostly centered in southern California. Have a wonderful day.
A pair of Colorado rock climbers, backcountry dwellers, travelers and science geeks who were recently upgraded to parents and are learning to adventure as a team of three.
For more from these awesome blogging buddies, check out my post: "A blogger's mash up on warmth."