Every once in awhile we have some great idea, an invention so to speak… We share the idea with all our friends. Sometimes jokingly. Sometimes seriously. Like last weekend… we went skiing and my son wore this shirt: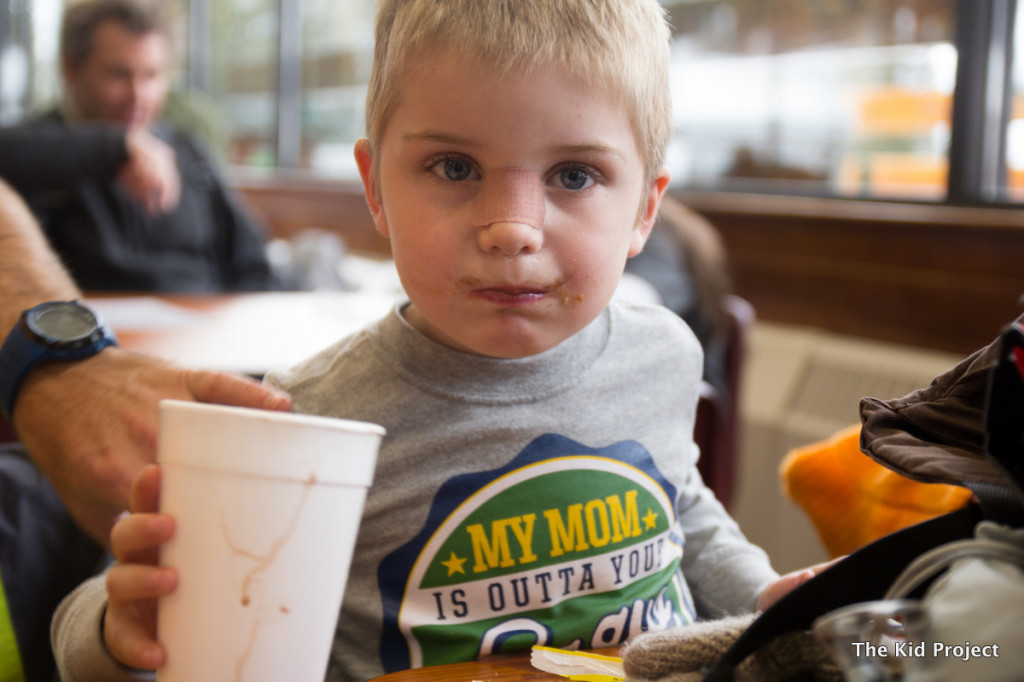 It is a cheap Old Navy shirt we got on clearance, nothing special. But when he spilled hot chocolate down the front we realized the plastic-like-image on the front actually worked as a sort of bib – wiping clean very easily. So I thought, "here's an idea!" Why not make a whole line of shirts, with large things printed all over the front, and market them as t-shirt bibs. OK…so I need a catchy name. Still working on this.
But this last weekend, along with coming up with inventions of our own, we were able to test an invention of someone else's. An idea that was actually taken to the bank, and made into a reality.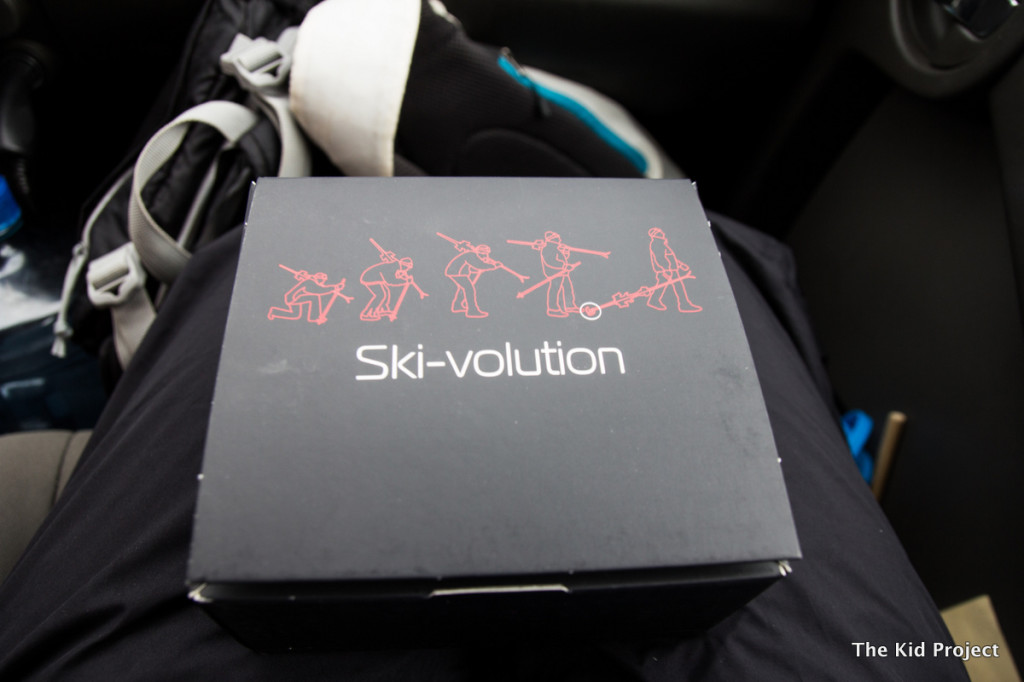 "With its ergonomic design and patented wheel-sled, PortaSki allows you to effortlessly transport your skis on snow or road.

The lightweight pocket-sized device takes seconds to attach and carries up to 70% of the weight of your skis, meaning it can be used by children and adults." –PortaSki 
The PortaSki is an attachment for turning your skis from a heavy-awkward-burden to a energy-saving two-wheeled miracle. Or almost 🙂 .
First Impressions
When the PortaSki first showed up on our doorstep, I was impressed. The packaging alone, a nifty black box with neat images and branding, spun my kids into a tornado of hands all grabbing for the new package.
After the dust settled and after 3-5 minutes of fidgeting, I figured out the basics of the little contraption. The PortaSki is engineered to stick together in a small cube-like shape. It then separates into two pieces. The wheel/sled for the back of the skis, attaching with a Velcro belt:

And the handle, attached by wrapping around the tip of the skis.
Brave Ski Mom gives an excellent evaluation of the PortaSki in her introduction, commenting on issues such as wheeling in variable conditions, using the PortaSki with twin tip or fat skis, and tips for using it correctly. So I will skip those things and address our reason for giving it a go:
Is PortaSki useful for kids?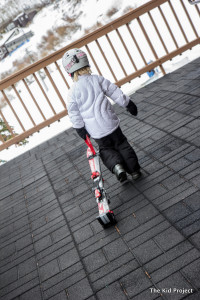 If there is a market for PortaSki, I would venture to say it is with the parents. Honestly, carrying my own skis really isn't much of a problem. I am used to it. But we've all seen (or been) those parents stumbling through the parking lot with not only our own skis, but at least 1-2 pairs of kid's skis as well. The larger ski resorts have attempt to remedy this by providing Gondolas/Cabriolets from upper parking lots and/or wagons for the kids and gear to ride in. But the truth is, making the trek from the car to base of a ski area with kids is half, if not more, of the battle of skiing as a family.
The PortaSki is lightweight, easy to use, and easy for a kid to manage.
A few tips:
Bring a backpack or plan on stowing the PortaSki in a locker while you ski.
Attach the PortaSki to your kid's skis ahead of time, not when you arrive. Just makes the whole situation easier.
Kids are still going to get tired, depending on the distance.
Concerns:
While my 6-year-old had no difficulty, my 4-year old kept flipping the skis over (off the wheels) and just dragging them across the concrete…not good.
Eventually the contraption simple fell off…which he neglected to notice for 20 feet. His inability to walk in a straight line sans ski boots probably contributed to this.
Finding somewhere to stow one PortaSki is a small inconvenience. We remedied this by stashing it in the backpack with our lunch. But we have three kids. If we had three PortaSkis? We'd need a backpack or mini locker just for them. Not so realistic.
Stairs. The PortaSki is not a mini-elevator. You still have to carry them sometimes.
All in all?
The PortaSki is a well-engineered, quality product that will be most useful for families skiing at large ski resorts. Honestly, we might not be the best people to test this product. We live in Utah. Most the areas we frequent are old-school, and we love that! The parking lots bump up to the runs and trekking long distances with our skis rarely happens.
Colorado is another deal. Most areas have large villages that they usher you through before you even get to the ticket windows. Between pay parking, crowds, and cobblestone walkways, you can find yourself walking, and walking, and walking. A PortaSki would be quite helpful in this situation, provided you aren't tripping your fellow trekkers with it :).