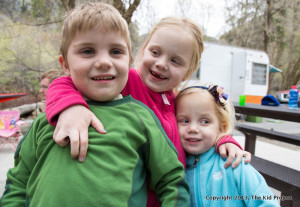 Well, after last week's successful hiking and climbing day, we took a look at another weekend full of 70 degree forecasts and decided to head out camping for the first night of the season. I like to think of these as "trial trips." We make sure all the gear is in working order (or the camper) before heading out on something more epic. But it is also a great excuse to check out some close-to-home campgrounds that otherwise get overlooked.
Saturday morning we loaded everything up and headed to Little Mill Campground in American Fork Canyon, UT. Little Mill is the first campground you encounter after Timpanogos Caves, and the only one open this early in May.  It was uncrowded and beautiful.  Not even that chilly! The sites are interspersed throughout the woods along the creek (not to deep or raging yet, so I didn't worry about the kids). Each site has a cement fire ring, picnic table, and access to vault toilets.
No water or electric provided.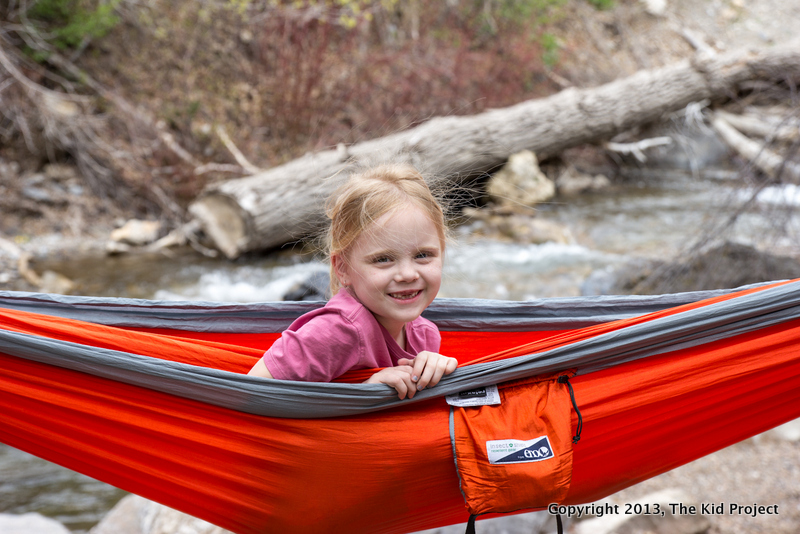 What to do?
Honestly, we don't camp to camp. It is usually a means to an ends, namely rock climbing or hiking. So I brought a few camp activities just in case we spent more time at camp than we normally would like…which we did. This early in the season, the roads higher than Tibbles Fork Reservoir were still closed, as was access to many of the trails we wanted to explore.
Our main purpose for exploring American Fork was for rock climbing. Neither of us had climbed down there before, and even though we didn't get much climbing in, it was a useful scouting trip.
Across the river and a 5 minute hike from camp is the Hard Rock Area – a wide variety of climbs from 5.6 to 5.12. It has a short approach with a few shale/steep sections. Just be prepared for crowds…it was just crowded enough when we were there to pass on climbing with the kids. There are two other crags within the campground: the Little Mill Area climbs are all rated around 5.12. And there are some easy Boulders great for beginners (and kids :)).
Seeing as there wasn't a lot of climbing going on, I took our trad rack down to the cliffs and spent an hour making placements, building anchors and having Chris critique me. When all else failed I went for a trail/road run. Maybe it is just me, but I wouldn't suggest running on the main road, in/out of AF canyon. Lots of other runners and road bikers joined me but I never felt relaxed with all the traffic coming around corners.
Other activities great for kids:

Timpanogos Caves: a roughly 1 mile hike to guided tours of some amazing cave systems.  Seasonal Hours for Cave, Cave Trail, and Visitor Center: May 25- September 22 , 2013, 7:00 a.m. to 5:30 p.m. Come prepared with water and snacks. You gain roughly 1000′ of elevation getting to the caves. Contact the visitors center for ticket info.
Hiking – There's a ton of beautiful hiking in the area, later in the summer (at least for those of us toting along kids).
Two miles up the road is Tibble Fork Reservoir, perfect for fishing, if you are the fishing type :).
Red Tape:
Fee area: $6 for 3-day pass. National Park Passes accepted
Camping is $18 / night.

Tip Jar!
Here is my favorite feature of trip reports.  Our top five from the trip:
1. ENO Hammock – lots of fun for all!
2. Running stuff – cause when all else fails: go for a run.
3. Strider Bikes – they make our top 5 often. This time we had the new Super 16 (for ages 6-10) with us. Look out for a review coming soon.
4. Trad Gear – I have a goal this summer of leading my first trad routes, but honestly, as a mom of three, finding the time to learn the tedious and attention-needed task of making placements is hard to come by. So even though AF Canyon is known for sport climbing, we tossed in the rack and I spent the afternoon practicing placements while my kids bouldered. 🙂
5. An assortment of "around camp" activities. Including orange cones for making obstacle courses for the bikes, soccer, and water-color painting.