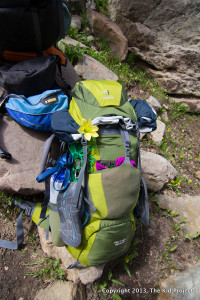 Duration: A total of 5 nights and 7 days on the trail so far.
Location: Testing in the Wasatch and Uinta Ranges
Best Uses: Backpacking, Multi-day trips for those looking to go "light weight" or even climbing day trips where a larger pack would be needed.
Yays!
Size is great. I could easily fit a full set of pots, two-man tent, two sleeping pads (one mini one for the dog), clothing, and food without maxing out the available volume.
I love the front mesh pocket for stuffing "easy-access" items.
Very light weight pack, 3 lbs. 4 oz.
The SL is Deuter's version of a woman specific fit. I found it incredibly comfortable. Sits on my hips without rubbing or bruising on the hip bones. Shoulder straps are narrower = very comfortable on my shoulders. I'd highly suggest this pack just for this reason.
Small zipper pouch on waist belt is so useful. One of my favorite features.
For the lack of extra "pockets or pouches" on this pack, I've never missed them in terms of organization.
Side mesh pockets are deep and wide, allowing many options for strapping gear on the exterior.
Exterior bungee cords and gear loops positioned well and easy to use.
Nays
There is nothing I really don't like about this pack!
Jury is Still Out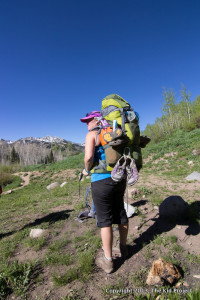 So my husband has the ACT Zero and I like the fabric used on his mesh pockets and front mesh pouch better. On this pack, it works well, but I am concerned the fabric will snag easily and isn't as durable. Although to be fair, I haven't witnessed any of these things yet.
Honestly, it seems Deuter dumped some weight by "cheapening" up the buckles. I am a little concerned about their long-term durability. However, they have performed well in current circumstances.
We'd like to thank Deuter for providing this gear for the purpose of review. As always, these are our real and honest opinions.