Ollie and Stella Outfitters have been generous with me as I've tested their one-piece rain, wind, and snow suit during each of the four seasons. You might recall this item making it in our "Multi-Tasking Must-Haves" series last spring. And after 5 more months of having this piece of gear around, I still agree. While we didn't run into any adverse weather on our all-family backpacking trips this summer, it would have been infinitely useful if we had. It is by definition multi-tasking. Below is a breakdown of what we think works well and not.
Tested by: 2-3 yr old girl
Location: Wasatch Range, UT [Skiing, Backpacking, Snowshoeing]
Best Use: Rain/snow shell for backpacking, beach play, snow play.
Fit: Sized a little large to fit over clothing
Yays!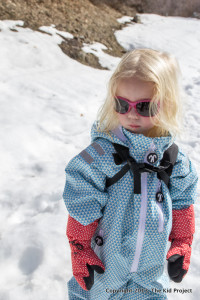 Design: This suit is designed to be a shell, with room to layer extensively underneath. And it does that successfully! You can layer as much or as little as you like. The foot stirrups work well for keeping the snow out and the suit leg down around the child's ankle. Simple features like the velcro adjustment on the hood make it easy to "pull in" some of the bulkiness for a better fit.
Reflective detailing make this useful for night-time adventures such as biking and walks in the winter.
Performance: The water and wind protection of this suit has performed admirably. Having the suit be "one-piece" means hours of outdoor play without snow up the back and rain down the pants. Great piece of gear to have with you always and throw on over clothes for spur-of-the-moment play adventures.
Usefulness: You really could have one suit that does it all for every season's harsh weather. The winter uses are more obvious. But it would be great for windy hikes and as small, lightweight, rain protection for backpacking or hiking with your kids.
Nays
While the layering capacity is one of this pieces strengths, I also found it exhausting during our cold winters. Due to the lack of insulating fabric, I found myself layering my daughter up in 1-2 pairs of fleece pants and 2 tops + a down jacket underneath the suit. Honestly, for skiing, an insulated pair of bib overalls was much quicker, easier, and more practical.
**UPDATED: Ducksday now has a one piece insulated snowsuit available as of Nov 2013! It is basically the same suit with a slightly more durable exterior and 3M Thinsulate insulation. I am so excited as this cuts down on the amount of layering needed in super cold climates and would be perfect for skiing.
Secondly, while I love the fun and bright patterns, many parents couldn't get past the "clown costume" feeling. A few parents even said, "I'd love one…in plain black." 🙂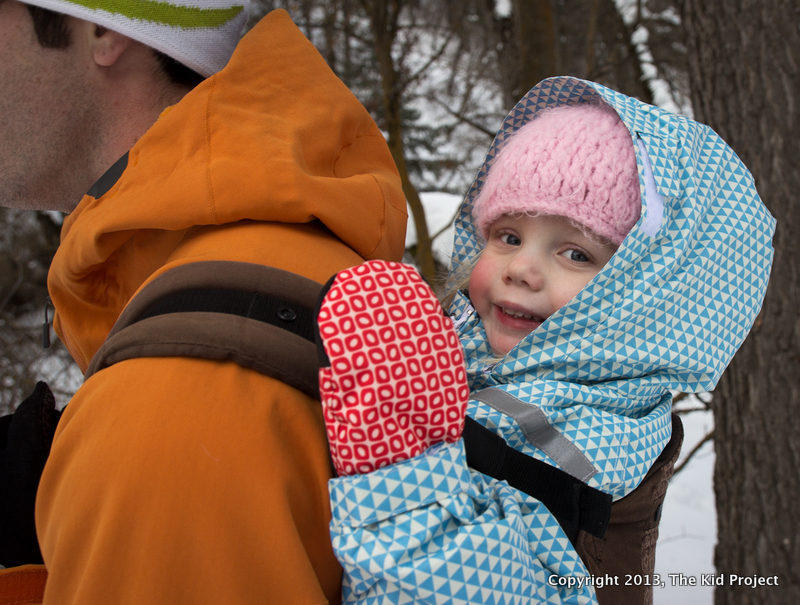 Features
Soft and Breathable
Waterproof zippers
Reflector tape on the shoulders for better visibility in low light
Elastic stirrups for holding the pant legs down
Fun colors and patterns! Ensures I don't lose my kid on the ski hill.
Adjustable cuffs and hood
Reasonable priced
We'd like to thank Ollie and Stella Outfitters for providing this gear for the purpose of review. As always, these are our real and honest opinions.