This last week we decided to seize one last weekend before snowfall by going to one of our favorite fall destinations: Southern Utah. And we weren't disappointed. The leaves were peaking, the temperatures hovered right around 72 degrees, and the skies were cobalt blue. It was perfect.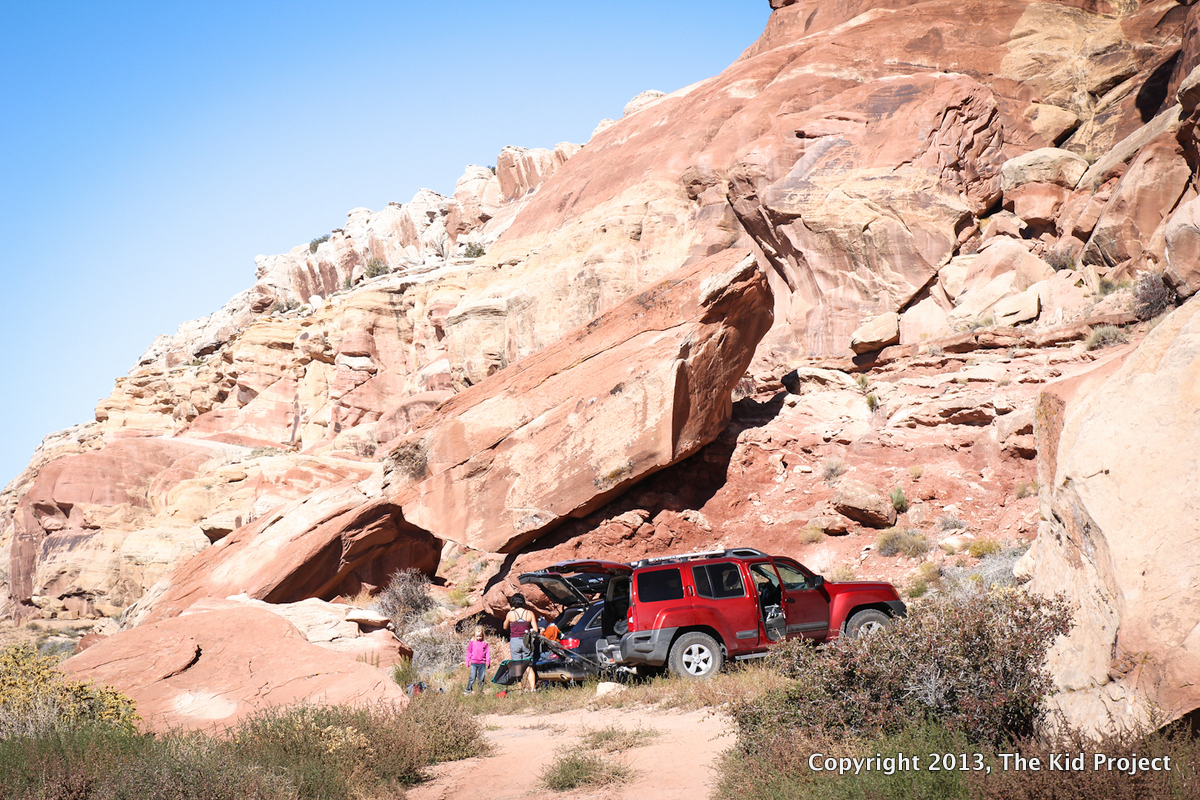 We headed out to a new crag for us: Sunshine Wall, having heard it was full of moderate slab climbs. After roughly a 40 minute drive from the town of Moab, over dirt roads (that looks like it would be a nightmare in rain or snow) we arrived.
As with any new destination, we were surprised by a few things. 1. The actual climbs were a 5 minute rocky scramble up to a series of exposed 4′ ledges. This meant the kids would not be hanging at the base of the climbs with us. Rather we were going to have two adults watch the kids, while two others climbed and then switch. 2. I was excited to see my choice in pants (over shorts or capris) was wise considering the large amounts of pricker bushes everywhere. 3. We were indeed very glad we chose to check out this crag in the fall. It is in the sun all day, meaning it is horribly hot during the summer, or even on warmer days.
We punched out a quick three routes each before the sun was getting too hot and the kids too tired. Of the three climbs (Learning Curve 5.7, Mosquito Coast 5.8R, Love Hurts 5.9) Love Hurts was by far the favorite. A fun mix of balancey slab moves. And as usual, after a day of slab climbing, we left mentally tougher and joking about how we felt we hadn't climbed at all. I guess that is the funny thing about slab. It is all friction and no muscle. Which worked well for my healing shoulder…
Things to note:
Make sure you have 2 ropes or a 70 m rope, this will get you down to the top most ledge from the anchors, but barely.
Bring the trad gear. Bolts/Pitons are spaced far apart and some small cams were helpful.
You can, if you want, punch out multiply routes on one set of anchors.
This is a great place for new leaders, or newbies in general, to practice.
Not so great for kids. We thought it would be a great place to let them get a few climbs in…but weren't comfortable with getting our kids ages 7 and under up there safely.
Sunshine Wall is on BLM land and there are 2-3 camping spots that would be fun, just as long as you can deal with the prickers… Not so sure our dog was excited about it. Maybe it is better during a different season?
If you plan on staying all day, bring your own shade. You'll want it.