Our kids live in their winter boots for four months out of the year. So naturally we have a high bar on traction, performance, and cost. Today we are reviewing Stonz Winter Bootz for kids. We've been nothing but impressed with these!
Tested in: Wasatch Range, UT; winter conditions
Cost: $54.99-$63.99
Best Use: Winter boot, sledding, snowshoeing, daily living
What makes these boots different: They are lightweight! I mean noticeably lighter than any other kid's snow boots we've tried. This is awesome for the little ones. And as far as I can tell, they are superb at keeping the feet warm.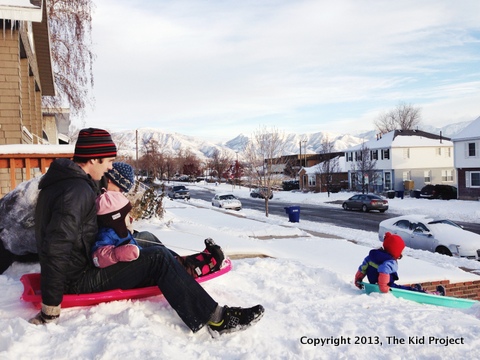 Significant Specs: 
A slip resistant sole, coupled with a 600D nylon upper have produced a boot that will withstand temperatures down to -50oC/-58oF.
Available in 2 colors.
Suitable for children up to 14 years of age!
Selling Points:
Design:
Everything about the design of theses boots is well thought out. The opening is wide, making for easy on/off. Yet there is an elastic drawstring at the closure for a customized fit.
The velcro enclosure makes it even EASIER to put the foot in, along with any thick socks, pants, etc.
You can tighten an ankle strap to secure the boot for activities like snowshoeing, where you need the boot to be tighter fitting.
There is a removable liner in case you need to wash or dry them out.
Performance: The traction has been adequate and I've never had a boot rated down to -58oF. Impressive!
Desired Improvements: None. I am incredible impressed with how thought out these boots are for real-world use.
Bottom Line: These are my favorite kid's winter boots I've tried. Having tried everything from WalMart boots to higher end Keen winter boots, I am amazed at their performance and design…especially for the price! I will be buying more in the future.