If I am going to keep it real, we never intended to stay at Dead Horse Point State Park on this trip. We intended to visit Island in the Sky/Canyonland National Park, and had a variety of campgrounds on BLM land that we were going to check out.
For a full account of our mis-adventures visit our post on exploring Island in the Sky/Mesa Arch/and the Syncline Loop trail.
For the purposes of this post though, just know we got very lucky, survived the largest crowds I have ever seen in the Moab area and somehow scored the last campsite at Dead Horse Point State Park. None of this we expected.
I also didn't expect to LOVE this campground as much as I did, in fact I cannot wait to go back!
Camping at Dead Horse Point State Park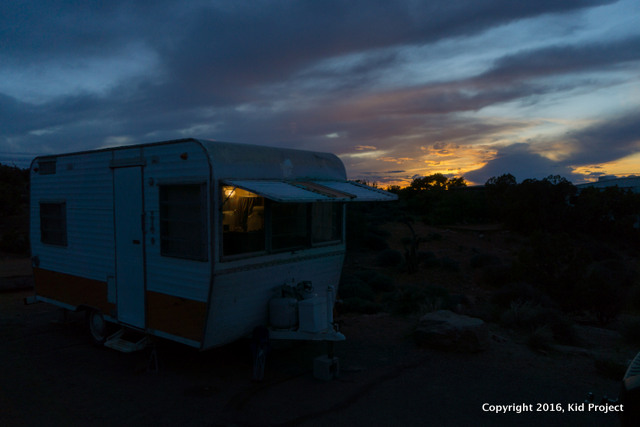 It has been a long time since I've been so impressed by a campground. We arrived early Saturday morning. Our site was a short distance to clean flushing toilets and had its own picnic shelter, fire pit, tent pad and access to the trail systems directly from camp. What more could we want?!
On day one we had one kiddo that wasn't feeling very well, so Chris and I were able to take turns trail running right from camp. We also hiked the West Rim Trail to the visitor's center with the kids. The trails are easy enough for the whole family, well-marked and non-technical.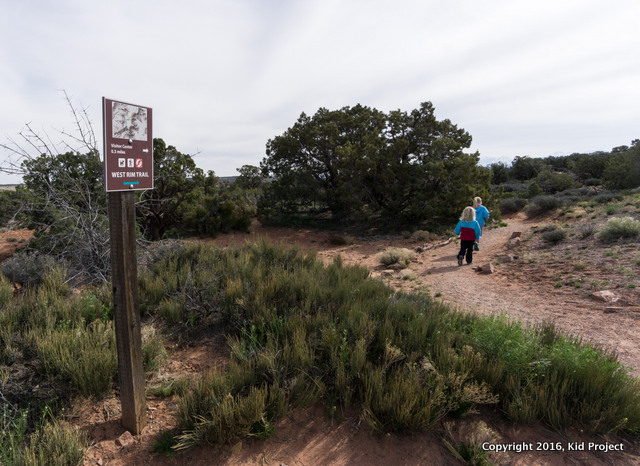 We drove (but you could easily hike) to the actual Dead Horse Point, though I'd suggest visiting at sunset or sunrise for the best views.
The next day we ate breakfast and drove the 20 minutes to Island in the Sky/Canyonlands National Park. Our goal was to explore as much as possible of this area in one day. For the full report of that adventure and how our kids hiked 10 miles and over 2000′ of vertical gain visit: Exploring Island in the Sky/Canyonlands/Mesa Arch and Syncline Loop.
The last day we hiked with the kids to Bighorn Overlook, a relatively short mileage and flat hike that I would consider a must-do if you are in the area! We started on the West Rim Trail (where it meets the campground loop) and headed west. After .2 miles we ran into the intersection with the Bighorn Overlook trail.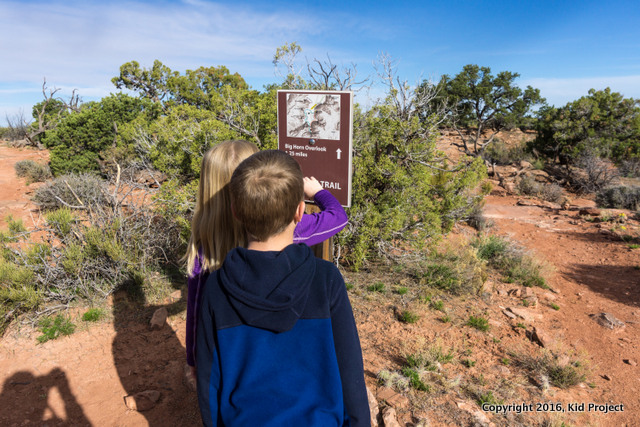 The trail heads out to the rim and then follows the cliff side for awhile. Obviously, I'd keep a hand on those really young kids near the exposed parts of this hike.
Then the trail cuts inland a bit, crossed some sandstone and eventually arrives at an amazing overlook with desert potholes.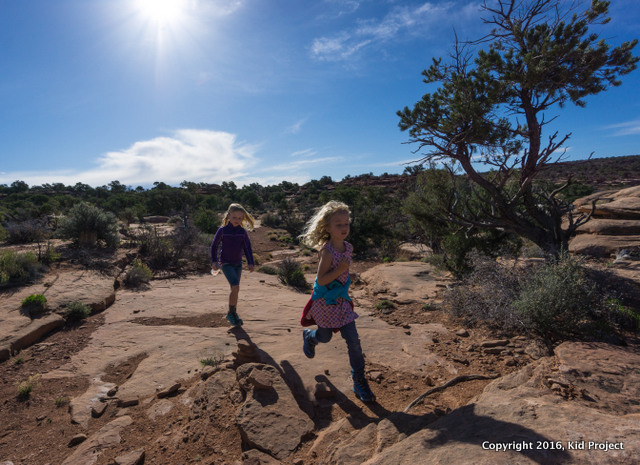 All around are views that seem to stretch on to infinity. And also cliffs that drop off equally as long, so keep your kids close!
I left Dead Horse Point SP refreshed and ready to return again soon! I'd suggest reservations, for those of you that are better planners than we are… Or visit in the fall when crowds are a little less demanding.
Dead Horse Point State Park it also known for some awesome mountain biking (again accessible from the campground) and easy trails for kids as well! For more information visit:
Dead Horse Point Yurts – via AdventureTykes.com
Biking and Education at Dead Horse Point – via PedalAdventures.com
See you on the road!