If you have been following the blog for a while, then you may have read this week's post on taking extended family vacations. Last summer we decided to take a full month and relocate to Tahoe Vista, CA.
We are a family with three kids ages 5, 7, and 9. We also have a beloved dog, Kai, the Golden Doodle. So naturally, being a three-ring circus of gear and moving parts, finding and exploring Tahoe's best family friendly beaches became our main objective. And trust me, some are better than others, whether due to parking, crowds, or general ambiance.
Below are our favorite beaches, listed in order. We hope this helps your family plan their own vacation to Lake Tahoe.
Speedboat Beach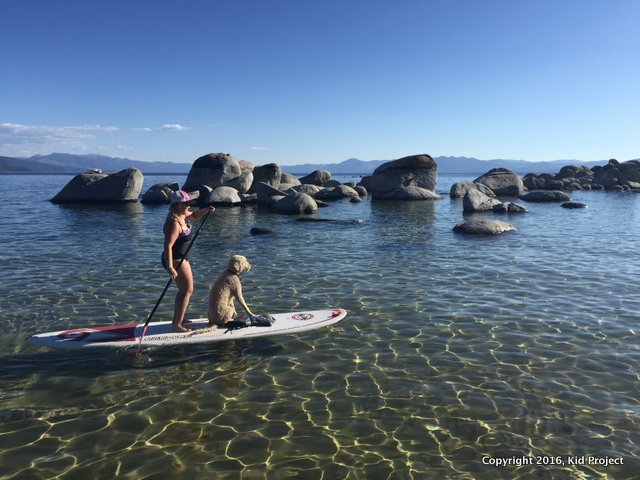 This is by-and-far our favorite beach and we frequented it weekly. Parking is found along the roadside in a tightly built neighborhood, so that is a major downside. But it boasts a fun mix of beautiful sand, large granite boulders for climbing on and finding crawfish. This is one of our favorite paddle boarding beaches as the shoreline is dotted with large granite formations that are fun to paddle around.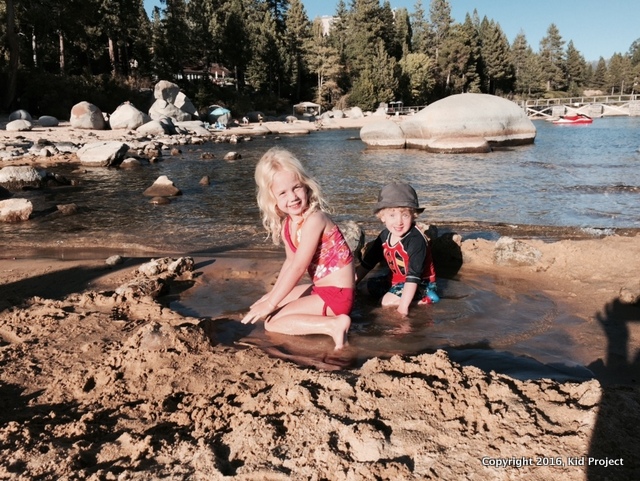 Tip: Pack everything in easy to manage/carry bags as there is a bit of a walk down some stairs to the actual beach.
*Uncertain if dogs are allowed
Directions: From King's Beach continue East on North Lake BLVD. At the traffic circle continue straight to stay on North Lake BLVD. Take a right on Harbor Ave and continue towards the lake until it dead ends in the beach access. Find parking along the roadside.
Moon Dune Beach
If you aren't familiar with the area, the entrance to Moon Dune Beach can be quite tricky, and the walk involves carrying beach items along a path, up a small sand dune, and then back down the other side. But really, this is one of the nicest beaches around! The sand is perfect, the water is shallow and easy for kids to play in.
Tip: The walk is a bit rough on this one, pack everything in backpacks and bring water shoes for the kids – not for the water but for the trek through the hot sand!
Directions: Heading west on N Lake BLVD from King's Beach, look for a wetland on the right. Find parking on the road side. The path to Moon Dune beach is on the south side of the street, at the cross walk. It is a small dirt trail winding up to the sand dunes.
*No dogs allowed
Chimney beach
We finally made the trek to Chimney Beach on our final week in Lake Tahoe and wished we had gone sooner! This beach is located on the north-eastern shore of the lake in Nevada. It involves a short half mile hike down to the beach and for that reason it often doesn't have crowds. But it is a true gem, and if you pack correctly, it is family friendly as well.
Tip: Bring your pups! This is one of the few dog-friendly beaches in Tahoe.
Directions: The sign for Chimney Beach can be tricky to find if you aren't looking for it. From King's Beach, continue east around the lake to the NV side via NV-28E. Approximately 12.7 miles begin looking for a trailhead/parking area on the left hand side of the road. We parked here, carefully crossed the street and hiked down the trails on the lake side of the road.
Sand Harbor State Park, NV
Yes, you have to pay since it is a State Park, and yes, it is worth every penny! Sand Harbor makes exploring Lake Tahoe's most beautiful shores easy for families, with close bathrooms, multiple beach options, and rentals right at the boat dock.
In fact, one of our favorite memories was a multi-family paddling day you can read about here: Exploring Sand Harbor State Park by Paddle Board or Kayak
Tip: Arrive early on the weekends, as space is limited and they will close down access. Take the time to rent a small kayak or paddle board and go explore this beautiful shoreline!
*No dogs allowed
Directions: From King's Beach, take NV-28/N Lake Tahoe BLVD east around the lake for roughly 10.1 Miles. Watch for signs.
North Lake Tahoe Beach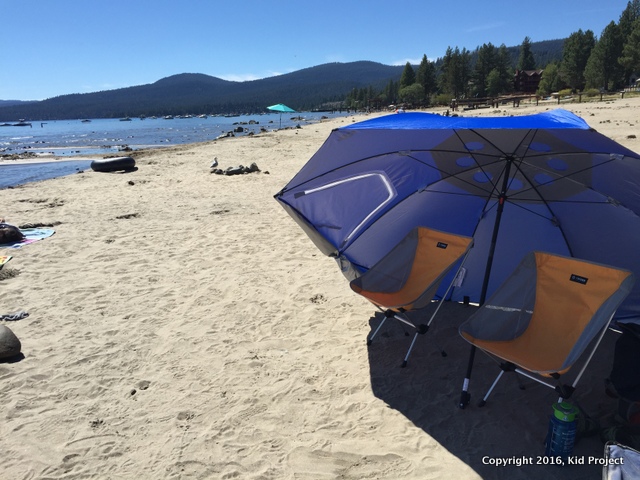 North Lake Tahoe Beach is super convenient, and that is its main sell. We'd visit this beach for a little "energy burning" after grocery shopping or after a day of school. Perfect for a picnic dinner or afternoons during the week.
Tip: Arrive early on the weekends to score a parking spot.
*Dogs allowed on the east side of beach just off Coon Street Only.
Directions: Just off North Lake BLVD, west of N Shore BLVD, there is a small parking lot across the street from Safeway.
Emerald Bay Beach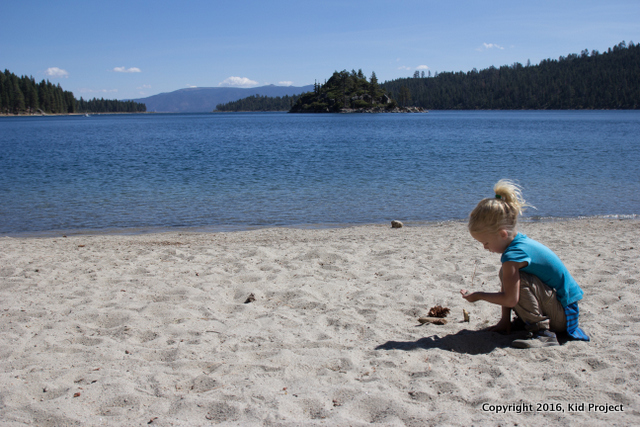 Honestly we waited a long time to visit this beach on the south side of Lake Tahoe due to crowds. Not that I know first-hand that there are crowds, but I simply figured that if it was THE place to go, it would be crazy. But it is a magical place that everyone should visit when given the opportunity.
We visited Vikingsholm and also hiked around the area.
Tip: Come with your hiking shoes on and backpack filled for a day of fun. The hike down isn't long, just over .5 miles, but the hike back up will be the harder part. Boat rentals are available down at the beach, so bring your suits, rent a kayak and paddle out to Fannette Island for some exploring and cliff jumping! It is amazing!
*No dogs allowed
Directions: Vikingsholm and the beach can be reached by parking in the Harvey West parking lot by Highway 89 at Emerald Bay. Take the trail, which is one mile in length and drops 500 feet in elevation to the house.