Hi friends! I have been asked this question,
How do I teach my child to turn on their skis?!
And I have been procrastinating on my answer for far too long. Why? There is no easy answer to this!
Sure, I can get into the technical terms for pressuring your skis to make a turn. But kids don't understand that.
The Feeling of Turning
Ultimately, kids need to learn the "feel" of turning. Words can help a little, but the sensation of turning is the goal. So I am going to share some tools we used to help our kids learn to make turns on skis:
Parent Assisted Turns
For the youngest skiers, I would suggest using these parent assisted positions to help the child get a feel for turning:
Weight Shifting from Ski to Ski
Have the child practice shifting their weight from one ski to the next. Stepping on one ski, then the other. (A good coordination and balance drill as well.) Do this first on flat ground while not moving, so that they understand what you are asking.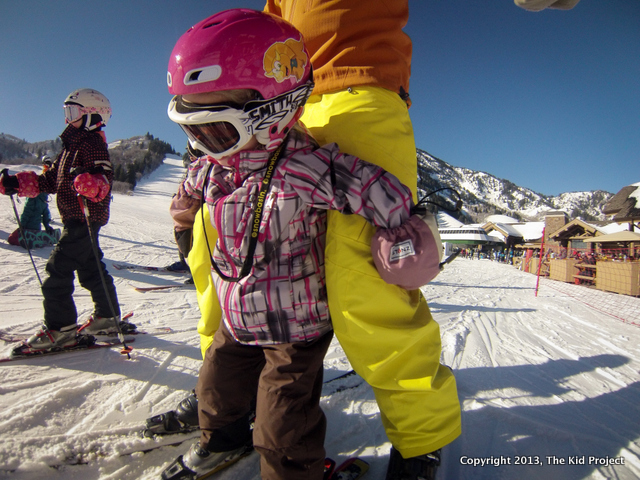 Head, Shoulders, Hips
One basic rule of thumb: where the head, shoulders, and hips point – the skier goes. Sounds complicated but these vital body parts tend to track together. See which of these your child connects most with:
"Look where you want to go" – pick objects on either side of the run (ie. chairlift and trees) and direct the child to look at them. This helps the super young child that still finds "left/right" hard to process.
If looking isn't enough (and often it isn't) have the child point where you want to go. Pointing with both hands will shift the shoulders and hips over the downhill ski and pressure a turn. (Super easy for young kids to do.)
Follow the Leader
Nothing is used quite as much in our ski "teaching" as the mimic principle.
Follow me. Turn where I turn. Do as I do.
Kids are great mimickers. Make a ski train or snake down the hill with friends or family. Once a child has the feel of making a turn, the goal is to motivate them to do it often so the motion becomes natural.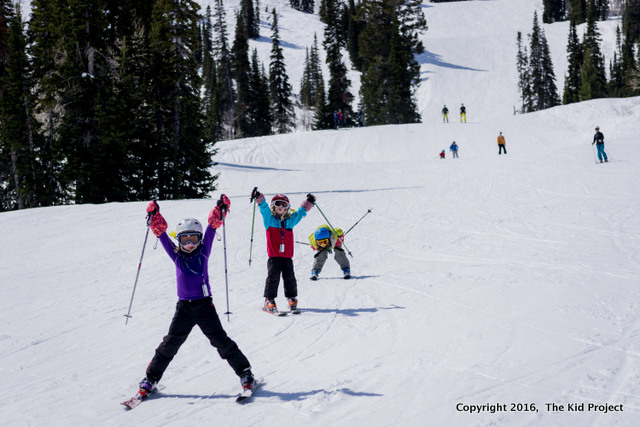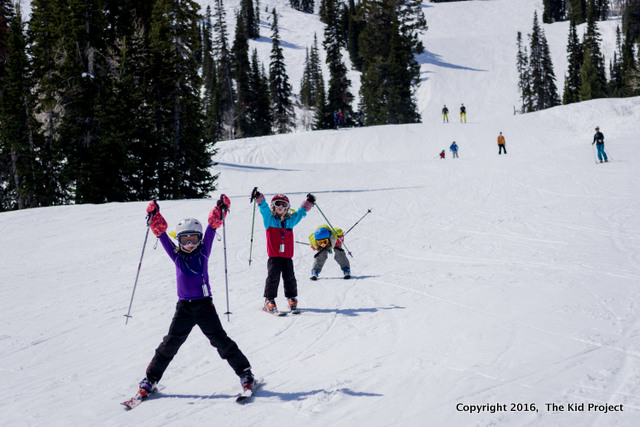 Obstacles/Games
I've seen parents use ski poles, pine bows, and even soccer cones on the ski hill to set up obstacles for their little skier to turn around!
Create a reason for them to turn that seems like a game, so they are motivated beyond just straight-running the bunny hill.
Occasionally we have (and still do) "turn competitions," who ever makes the most turns on a given hill before getting to the finish-line, wins.
Lastly, once our kids were comfortable wedging and stopping, but needed to work on turns – we found it was a great time to invest in a ski school class! Often different instructors have different ideas that will connect with your child.
What has helped your child learn to make turns?
(Below are links to products that were useful for us in teaching our kids to ski. We do not link to products we don't use and love! Shopping through these links helps support our site. Thanks!)