This review is for the women out there (and maybe the occasional husband/dad looking for a privacy solution for the woman in his life). Not very often do I get the chance to try a product that promises to make going to the bathroom in the wilderness easier.
What makes Andie's Outdoor Undies unique is the design of the leggings or shorts: YOU CAN GO TO THE BATHROOM WITHOUT TAKING THEM OFF.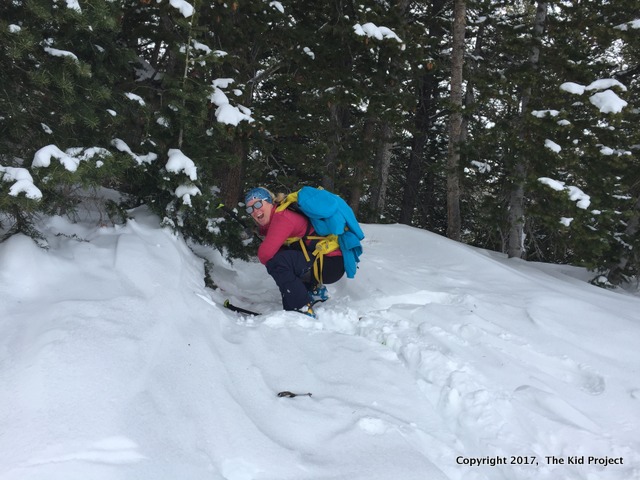 There I said it. Now I am sure you are wondering how on earth this works and IF it does actually work. (See below)
Tested In: Alpine Touring, Downhill Skiing, Winter Outdoors, Backcountry Camping
Fabric: 86% Polyester/14% Spandex is a 4 way stretch with wicking fibers.  Light Weight warmth, wicking, quick drying.
Price: $95
Where: Designing and production are in Colorado, supporting the local economy.
Selling Points:
Everyone can buy leggings these days, ANYWHERE. BUT I don't know of many leggings that allow you to relieve yourself without taking them off! The fleece leggings are super warm for activities such as snowshoeing, alpine touring and backcountry camping. They are amazingly warm, soft, stretchy and non-binding.
How to they work? The leggings have a 2-panel crotch that slides open when you squat and closed when you are standing. I no longer have to flash my bare-butt in the 10 degree weather and snow to pee near a tree when I am out for an extended period of time. What you probably want to know is, "did they work?" Yes! Brilliantly!
Occasionally I'd double check that the 2-paneled crotch did indeed separate and then close again correctly. It did. (A few times I helped them fold closed correctly.) When paired with shell pants that allow you to zip down the back (like the Patagonia KnifeRidge Softshell pants), the system is flawless.
I cannot wait to bring them backpacking this summer – my middle-of-the-night bathroom runs will be so much easier and warmer!
This crotch design is also offered in a summer short – that can be worn under baggier shorts for backpacking and hot days.
Tested In: Alpine Touring, Alpine Skiing, Winter Casual Wear
Fabric: 86% Polyester/14% Spandex is a 4 way stretch with wicking fibers.
Price: $85
Selling Points:
After many uses, I can honestly say this is the best turtle neck I've owned, period. The fleece is super warm, soft and stetchy. Some how allows me to sweat (ski touring) and it breathes/dries quickly. I've not overheated in this layer on the uphill nor grown cold on the downhill. Even wet from sweat and snow, it kept we warm when I tossed on my jacket.
The turtle neck is not your standard turtleneck. It is not tight or binding (something I hate) and is super long, coming entirely up over my chin and mouth like a Buff or neck gaiter should I need it (see photo above)!
The thumb-loops + sleeves do not bind or pull across my back when worn, and cover my hands sufficiently to keep them warm. This top is amazing and well worth the cost.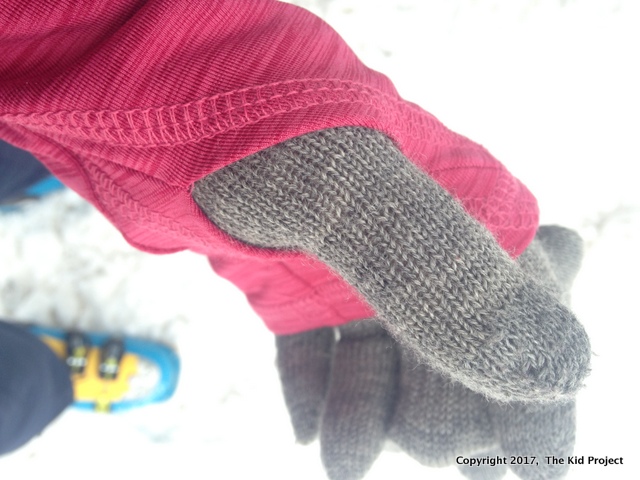 One of the greatest selling points?
Each product is made to order and offered in a variety of sizes to accommodate a wide variety of body types. If you are concerned on sizing, you can speak to them directly about it.
The XS/S sizes can be worn by many Tween/Teen sized girls as well – for those daughters that want more privacy in the woods.
Suggested Improvements:
None really! I would love the leggings in the lighter weight fabric as well – for the sunny spring ski tours and backpacking trips that I know are coming in March-May!
A warning: Don't accidentally grab these leggings on the way to yoga or to the climbing gym. Eek!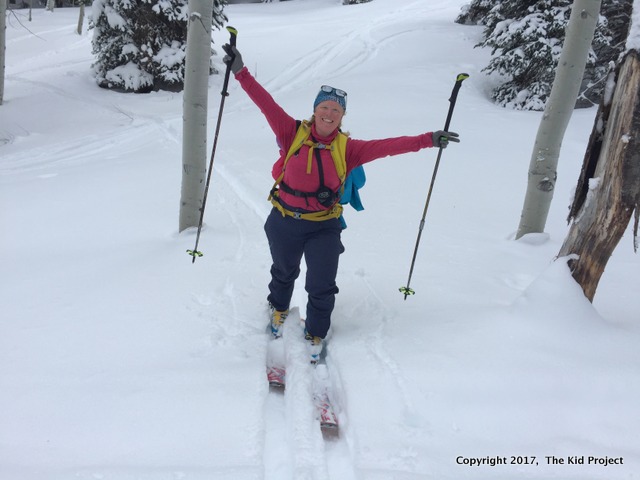 A note: I realized I carry my skis against my right leg when walking, and after much use the fleece fabric balled slightly from the rubbing of my skis against the pants and leggings. This is very common for me and probably the thing I could do is not repeatedly rub or carry my skis there! But in the efforts of honesty, I should disclose this. The fabric function wasn't compromised in any way.
Andie's Entreprenuership Story:
 I had a base layer with similar features that I wore completely out and the garment was no longer available. I bought fabric and starting with that basic design of the garment and adapted them to perform and fit better. After all, I knew how to sew, how hard could this be? Right? There was no going back. I showed them to my friends and family and they said 'I want a pair!'

Hence, the beginning of Andie's Outdoor Undies in May of 2012, now they are yours to experience!