This is a guide to the best South Lake Tahoe Beaches, cost, location and general amenities. If you are headed to the northern side of the lake, don't miss our guide to North Lake Tahoe's Best Family Beaches!
We've now spent a month in both locations, in addition to shorter trips to the area during the last 3 years. I think I am safe in saying that Lake Tahoe and the surrounding area is our favorite place to visit with our family.
The crowds in South Lake Tahoe can be daunting during July and August, so for most of the beaches (especially on a weekend), plan on arriving no later that 10:30 am, unless it is D.L. Bliss State Park, Sand Harbor State Park, or a smaller beach like Baldwin Beach – show up earlier, even as early as 9:00 a.m. to get a parking spot.
If early isn't your gig, we've found that many people clear out around 3 p.m. for dinner, but during the summer it is often warm enough to swim till sunset! Any of these beaches would be amazing in the late afternoon or evening as well.
Nevada Beach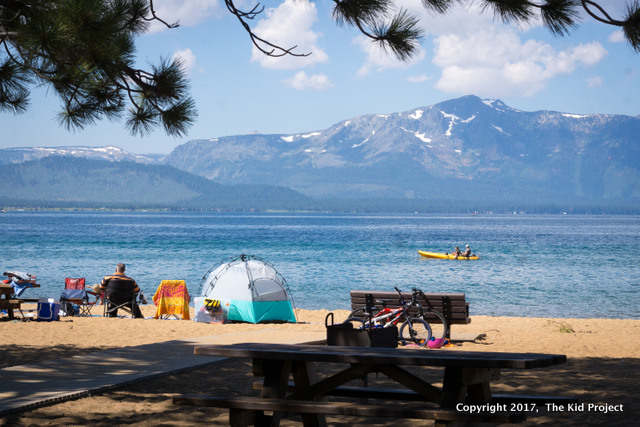 Nevada Beach quickly became one of my favorites for its glorious sandy beaches, clear water, and peaceful mountain views! A rather large beach (.7 miles long), it can hold larger crowds, meaning we didn't need to fight for a spot on the beach! Rentals are available as well.
Cost: $8, cash only. Day Use: No Dogs
Tips:
The campground here looks awesome, but you do have to reserve a spot 6 months in advance via Recreation.gov. People walk and/or bike in as well. There is a parking fee, but it can be avoided if you park outside the beach area on Elks Point Road and walk or ride in on your bike.
Directions:
Nevada Beach and Nevada Beach Campground is located 2 miles east of the California-Nevada state line, on Highway 50. Take Elks Point Rd. heading towards the shoreline and look for the signs for Nevada Beach Campground.
Baldwin Beach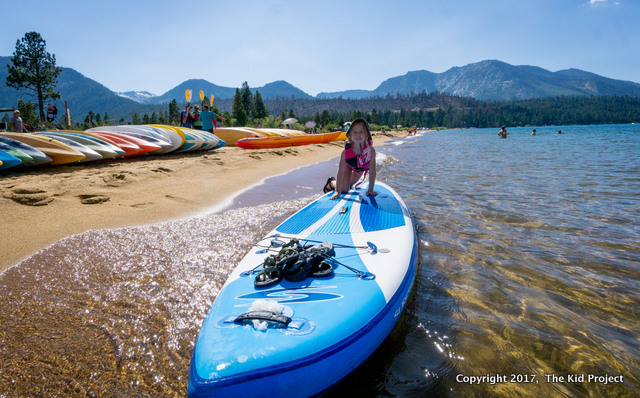 Baldwin Beach is one of the most beautiful beaches on the south shore with Mount Tallac standing nearby just to the southwest. Due to its smaller parking areas, it is quieter, with fewer people. Baldwin Beach is where we departed for our epic family paddle all the way to Emerald Bay and Fannette Island, which totaled 7.5 miles of paddling. (Not necessarily suggested.)
COST: $8, CASH ONLY. DAY USE: NO DOGS
Tips:
Arrive early, as Baldwin Beach has less parking than its nearby counterparts such as Pope Beach. Rentals are available and the parking lot is close to the beach, making it easy for all of us toting along kids and a pile of swim toys.
Directions:
Baldwin Beach is located 4 miles from the city of South Lake Tahoe on State Highway 89.
D.L. Bliss State Park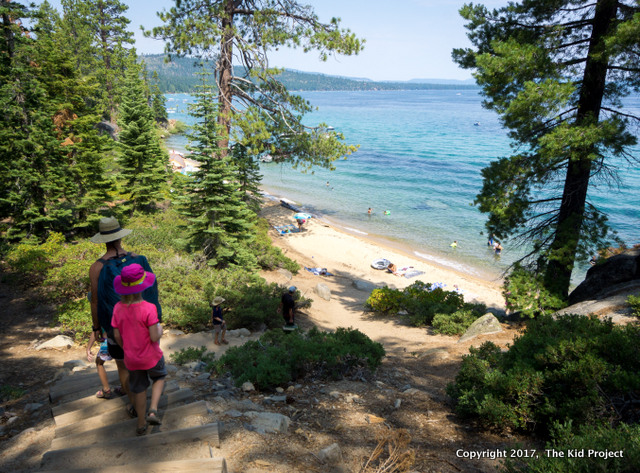 Known for its epic cliff jumping and crystal water, D.L. Bliss is perfect for a day of adventure. Scramble or swim out to the boulders south of the main swim beach and enjoy a day jumping off with your kids!
COST: $10, CASH ONLY.  NO DOGS
Tips:
Pack as though you were going for a hike, even the closest parking lot (which is nearly impossible to score a spot in) is still a steep walk down to the water's edge. Arrive early or prepare for a hike down. Even the upper lots were already full after 10 a.m. in the morning during the weekdays! The upper parking lots are roughly 1 mile one way, and downhill to the water.
*As always, cliff jumping is not safe. Please exercise caution, enter feet first, and be sure to be aware of a safe and deep landing area.
Directions:
The park is located 17 miles south of Tahoe City on Highway 89, a couple of miles north of Emerald Bay.
Zephyr Cove, nV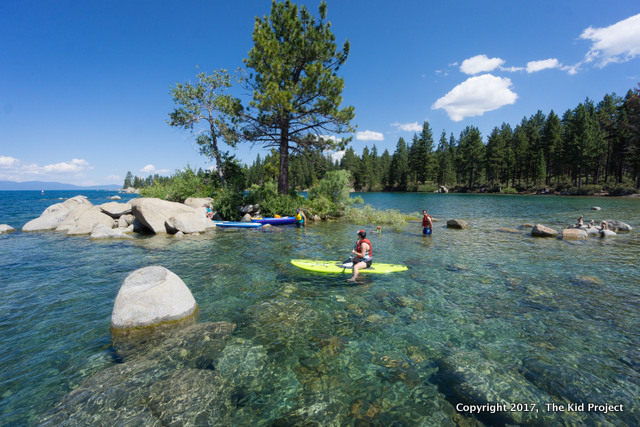 Zephyr Cove is just north of Nevada beach. Sandy coves dot the shoreline with a mix of rocky islands and large trees that provide shade. This is one of our favorite places to paddle, as the water is clear and beautiful!
Cost: Zephy Cove Resort is $10 for day use, no dogs. If you access the north beach and park off HWY 50, it is free. Dogs on leash allowed.
Tips:
Park off the main road and access the North Zephyr Cove Beach via the forest paths. Access is free and dogs are welcome!
Directions:
Located on the east side of Lake Tahoe, a few miles north of Nevada beach. Address: 760 Hwy 50, Zephyr Cove, NV
Emerald Bay/ Fannette Island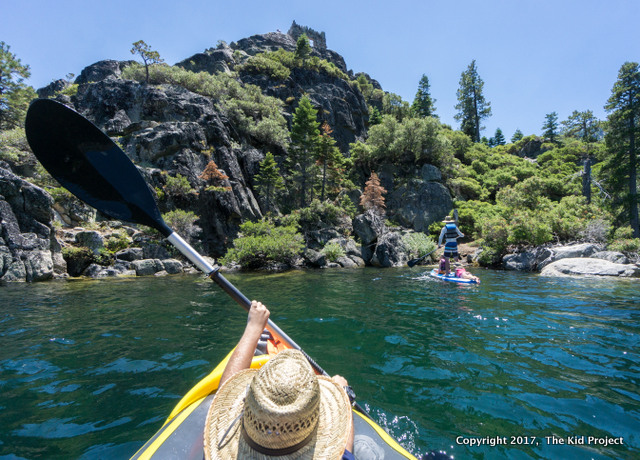 Everyone should experience the beauty of Emerald Bay beach and a paddle out to Fannette Island! This historic area is interesting for all ages, while the rocks and cliffs provide exciting swimming and jumping for the younger visitors! Fannette Island is the only island in all of Lake Tahoe and you can hike up to the historic Tea House on it!
COST: $10, CASH ONLY.  NO DOGS
Tips:
Pack food and towels for a whole day of adventure and arrive early. During the summer, parking often fills up before 9 am. Make sure to bring along cash so you can rent paddle boards or kayaks from the Emerald bay beach and paddle out to the island!
Directions: The park is located 12 miles north of South Lake Tahoe.
Vikingsholm can be reached by parking in the Vikingshom parking lot by Highway 89 at Emerald Bay. Access to lower Vikingsholm is via a steep one mile trail that drops 400 feet in elevation to the house.
Pope Beach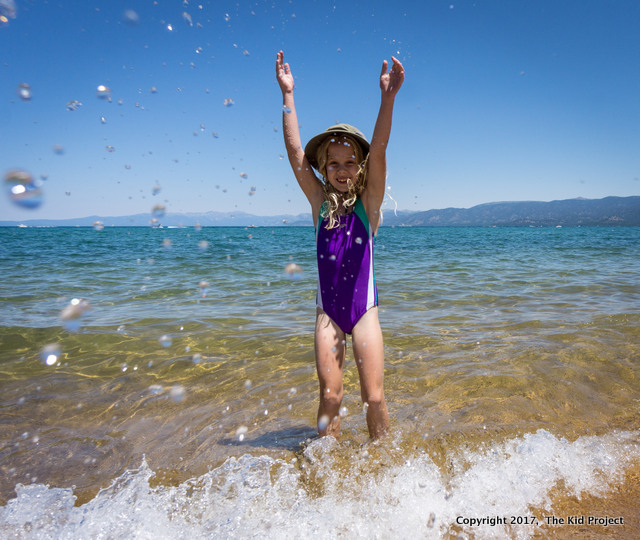 Pope Beach is the perfect beach for a family gathering! While often crowded, the parking lots and beach is expansive and the water access is close to where you park. Perfect sand dunes and beaches make for a day of lounging and building, while tall pines provide shade from the midday sun.
COST: $8, CASH ONLY. DAY USE: NO DOGS;  4th of July day use is $20/vehicle.
Tips:
Rental boats available, as well as food trucks. Bring cash.
Directions:
Pope Beach is located 3 miles west of the city of South Lake Tahoe on State Highway 89.
Sugar Pine Point State Park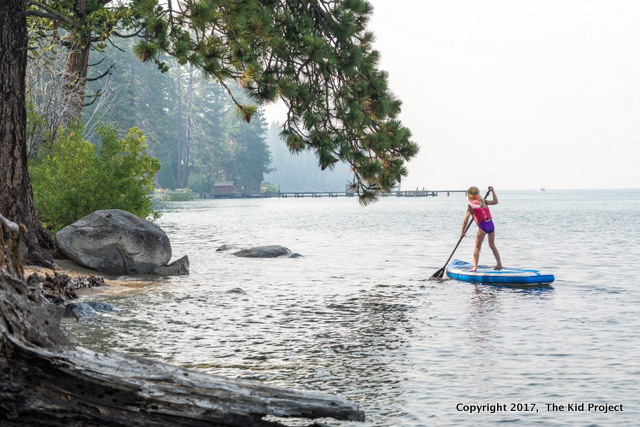 Sugar Pine Point is quintessentially "Lake Tahoe." Less of a sandy, beach experience, but rather small rocky coves with dense forest provides privacy between groups. A large shaded grass lawn near the historic area, provides an excellent picnic area, as well as additional day-use picnic sites near the parking lots.
Sugar Pine Point is also home to the Hellman-Ehrman Mansion (also known as Pine Lodge), a summer home built in 1903. There is a separate fee for tours of the estate.
COST: $10, CASH ONLY. NO DOGS (Dogs on a 6′ leash are allowed on paved areas, in the campground, and in the historic zone. Dogs are not allowed on beaches, unpaved trails, or in undeveloped areas.)
Tips:
The walk to the water isn't far, but far enough that you want to be wise with your packing.
Directions:
The park is located on the west shore of Lake Tahoe, ten miles south of Tahoe City on Highway 89.