This is the first post in our series Camping Chronicles, discussing all things camping with kids! Join us for more posts on topics such as packing, potty training, camper trailers, and good gear. Today we are attempting to answer the endless problem of how to sleep your babies in a tent AND keep them warm. Check out our friend up in the Canadian Rockies for her insight into the same subject.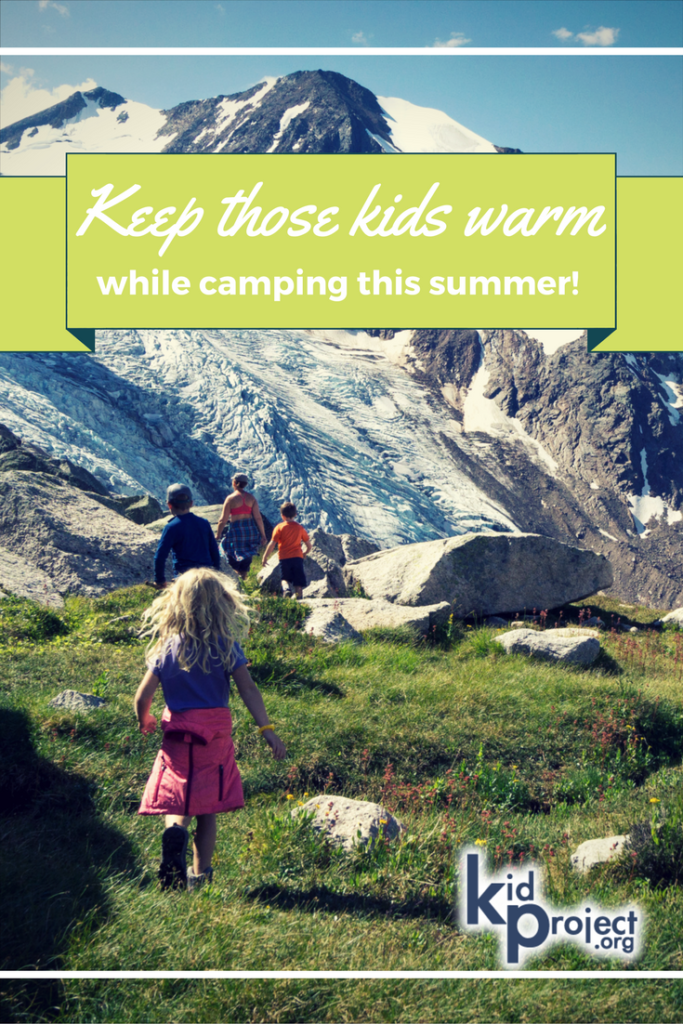 It was 2 a.m. Our oldest [age 3 at the time] woke up abruptly and announced, "Camping all done. Go home." She was unmovable. We explained. We reasoned. And in the end, she screamed and cried. Which… woke up the little brother [age 1]. He was cold and unhappy. At least we think so…he couldn't actually tell us this. But he screamed for nearly two hours before my husband got him to chill out and pass out. What amazes me is how they wake up in the morning energized and ready to go. That is why we are perfecting the art of good camping coffee.
Trust me, camping with young kids has its moments. We sort of just figure you have to pay your dues sometimes.
Now, let us assume you've already counted the cost, you have come to terms with the possibility of failure, sleeplessness, and frustration, but the prospect of getting out still sounds fun. Then this post is for you. Cause I am going to share all the things we learned the-hard-way about keeping those kids warm at night. There are lots of ways to do this…this was just our formula.
Sleeping babies in the tent
Our kids are older now, and the outdoor market is rapidly changing. So, first I'll share what we did, then what I wish we could have done.
Until age one we slept our kids in their infant carseats with the JJ Cole Bundle Me
or in the Travel Bassinet
. Fleece pajamas, a fleece beanie, and any extra blankets to finished off the nighttime routine.
When they were ages 6 months+, we moved on to the pac-n-play. Pac-n-plays are safe and provide peace of mind-however the airflow underneath is probably not so warm, so we'd line it with warm blankets.
What I wish we had? One of these:Peapod by Kidco
Layering Baby at night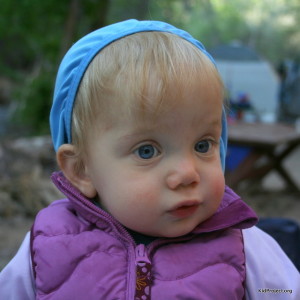 Layers are a large part of our secret. We'd start with a cotton onesie and Patagonia hooded long sleeve under simple fleece pajamas [Gordini fleece pants are super warm and thick] and a sleep sac on top.
Often this was enough from 8pm until 10pm. Then we'd layer as needed, usually a down puff-ball jacket [bought one size to big for more coverage] and fleece hat would be enough. Lastly, our real-deal-secret? A cheap down throw blanket from Bed Bath and Beyond. Yup. Quality. I set it close at hand to lay across the top of any cold kid when temperatures dipped around 4 a.m.
Another option would be the backcountry quilts by Enlightened Equipment.
Important note:
 To many times I'd layer the kid all up, only to find them overheated and sweaty an hour later. So layer gradually – plan on getting up in the night to add a layer if needed. A sweaty kid early in the night, turns into a cold one later in the night.
What I wish we'd had? Patagonia's Down Bunting or Columbia Baby Bunting
…but for us it was a cost thing. Looking back, I think it would have been worth it.
Odd Ball Tips? 
My kids love sleeping with a sippy cup of water. And I noticed camping that a cold cup of water in turn made them cold. So I started putting warm water in them and they kept them warm! Wow, who would have guessed? There are now warm water bottles designed for just this thing. Check them out!
Crash pads double as great camping pads for kids. Either way, make sure your kids have something insulating under them.
Thick air mattresses are not warm! This is a warning for mom and dad too!
We tried the Black Cat Tent Heater. It certainly helped but doesn't fix the cold. I would say, "It took the edge off."
Check out this Bloggers Mashup as I share the answers I received when I asked my fellow outdoor enthusiasts how they keep their kids warm in a tent! And check out the products below. Shop through the affiliate links to keep this site up and running. We promise never to promote a product we don't love ourselves!