Hiking in the Wasatch Range is… unique. It didn't take me long after moving from Colorado to realize there aren't many 'easy kid hikes' here. In fact, many of the lesser peaks have more technical trails and more elevation gain than some of Colorado's 14er's.
It was Kai's (our Golden Doodle) birthday and so the kids decided we should go on a hike where he could come along. And being that it was an odd numbered calendar day, he was even allowed off leash in the Mill Creek area.
So, three years after moving here, we are summitting only our second Wasatch Peak with the kids. The first was Sunshine Peak.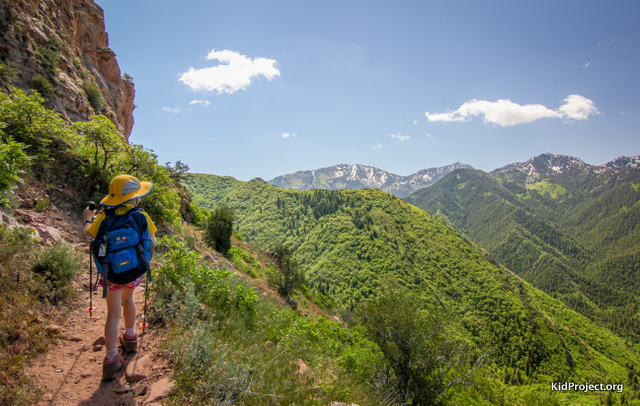 Grandeur Peak
Length: 6.8 total miles (from road)
Elevation Gain: 2,340 feet
Trail Type: Out-and-back
Season: Summer through fall
Trailhead Elevation: 5,960 feet
Top Elevation: 8,299 feet
We didn't wake that early, instead sleeping in a bit and scrambling together a huge amount of snacks and lunch for the trail.  When looking at the Wasatch Front, Grandeur appears small and minuscule in comparison to many others, but when my husband started comparing length of trail and vertical rise to other hikes we'd done with the kids (ages 4,6, and 7) he quick realized that this was going to be our longest, hardest hike yet and there was a good chance we might be on the trail for six hours.
Thanks goodness he did his math and packed enough food and sugar for just such an occasion… because we ate all of it.
Including: Bags of Reeces Pieces, Skittles, a half gallon of Red Vines, Ziploc of lunch meat, 4″x 3″ block of cheddar cheese, and a Tupperware each of salted nuts and dried mango.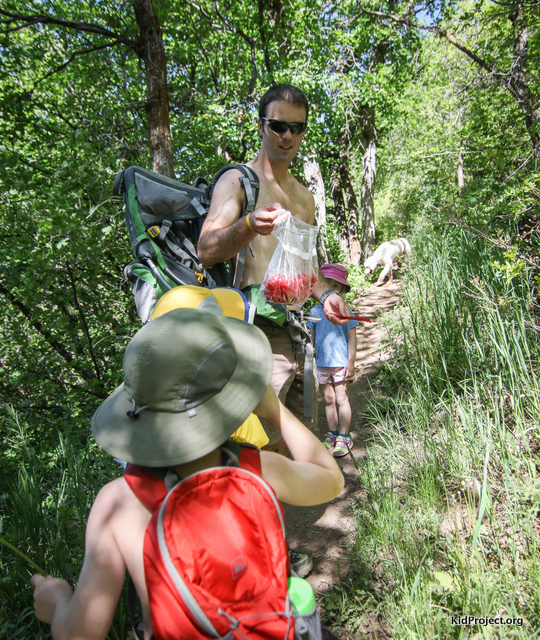 We parked at the Church Fork Trailhead, and headed north, across the river and up through the paved picnic areas. There are bathrooms here for one last pit stop. We even let Kai pull our youngest up the steep sections. It seemed to work. 🙂
Soon after passing a series of small waterfalls, the trail turns to dirt and travels up the valley. The trail here is very well maintained and moves consistently uphill but I wouldn't say it is steep. It is also very shaded, a pleasant surprise!
The trail switchbacks up to the east ridge coming off Grandeur and then becomes very scenic and sunny. Thank goodness for sun hats!
On the summit you have awesome views of the Wasatch Range to the south-east, the Salt Lake Valley, and the Great Salt Lake in the distance. This hike is beautiful, showcasing some of the best views Utah has to offer.
Over all, we traveled 6.8 miles, 2,626 vertical feet, and it took us 5 hours 46 minutes with three kids, mostly self-powered. That does include a lengthy rest + lunch on the summit. Our mileage and vert. was slightly more than expected because we measured from the road where we parked the car. The actual Grandeur Peak trail begins above the picnic areas, and where you cross the Pipeline trail. Our 4-year-old hiked most of it, taking a small .5 mile break in the Deuter Air on the way up and 1.0 mile break on the way down.