September is baby safety month and we are joining Owlet Baby Care and 30 other bloggers in sharing our tips for keeping your baby safe in all aspects of life.
If you have been following the "blog hop" for the month of September and came here from yesterday's post "Ten More Things No One Tells First Time Moms and Dads," welcome! I am excited to share the things we have learned!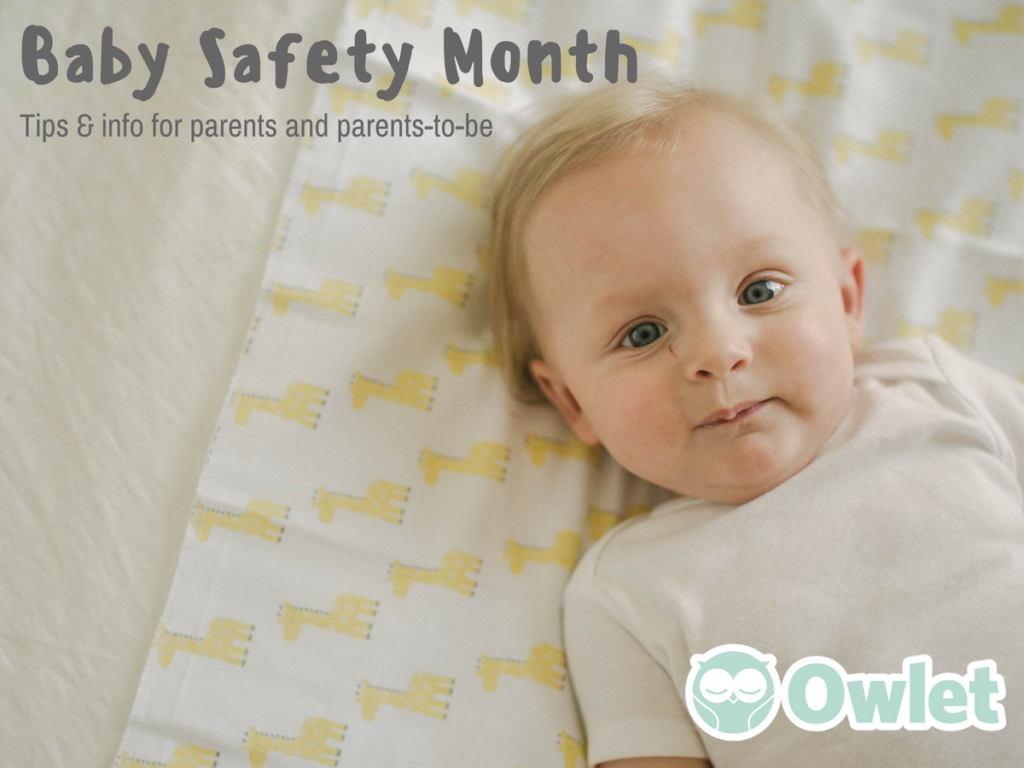 While my own children are ages 6-10 currently, I weathered the rough years of hauling an infant into most of our outdoor activities. And like most of you, I was filled with unease, worry, and doubt with the first child. And maybe the second. And I'd be lying if I said I no longer worried with the third. 🙂 But hey, I certainly worried less!
The Essence of the Outdoors
Nature, in its very essence is beautiful and wild. It isn't monitored by thermostats and kept above a comfy 68 degrees. It doesn't block out noise, smell and UV radiation like our houses. There aren't padded corners, sanitary surfaces, and screened in patios to keep the bugs away.
Yet so many parents run to the outdoors, whether hiking, camping, skiing, or biking to find some peace that nurtures their soul. And if that is you, then you are willing to take "risks" to bring baby into the outdoors with you.
Here are 4 key areas for keeping baby safe in the outdoors:
Keeping Baby Warm in the Winter
When you are enjoying outdoor recreation with baby in the winter, it is tricky. See, while you may be snowshoeing up a sweat, your little one is not. They are along for the ride and I suggest layering them in one more layer than yourself.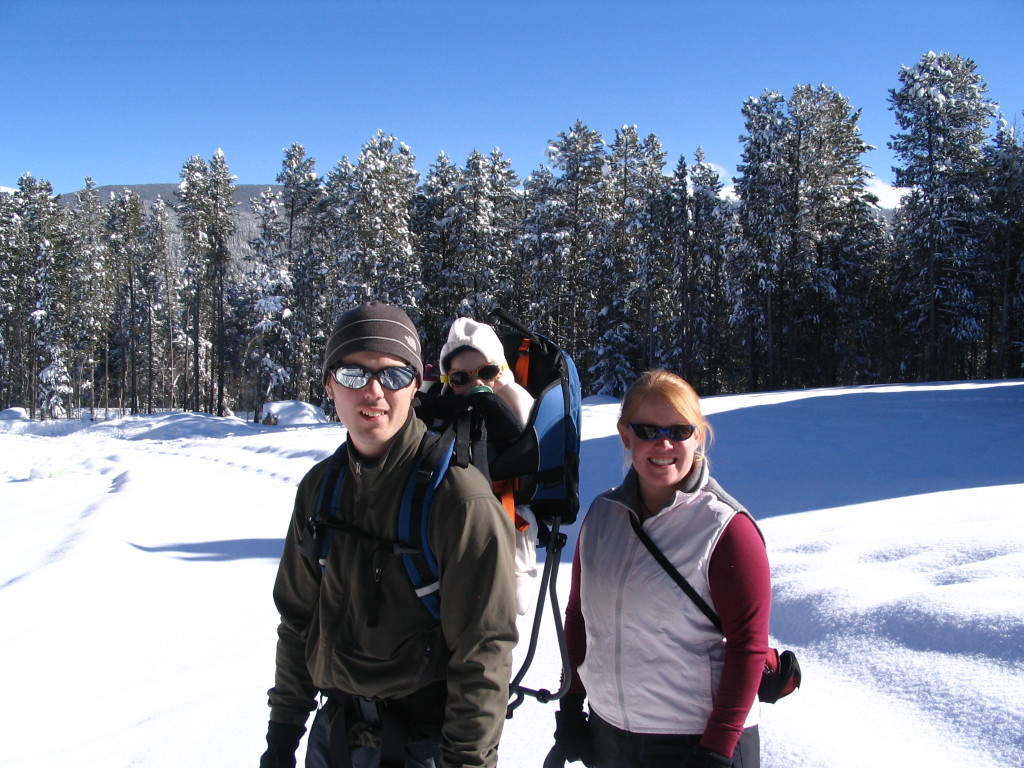 Base Layers
Now, I am not a believer that more expensive is better. I was fine layering my children in cotton long sleeve onsies and fleece jammies from Children's Place. If your infant is given to leaking through the diaper, then I'd suggest bringing extra base-layers or going with something like merino wool that will help retain some heat even if it becomes damp.
Outer Layers
When it comes to the outer layers I would suggest looking for a one-piece bunting that blocks wind and cold. Brands such as Patagonia, Columbia, and Ducksday make some great products. Look for one that covers feet and hands and has an integrated hood because this is the truth – no matter how cute those infant boots or mittens are, they will not stay on when you need them to. And the same goes for hats for the most part.
If you are looking for an excellent hat/mitten combo, check out our go-to brand, Stonzwear, a Canadian company, for the best designed kid gear I've found to date.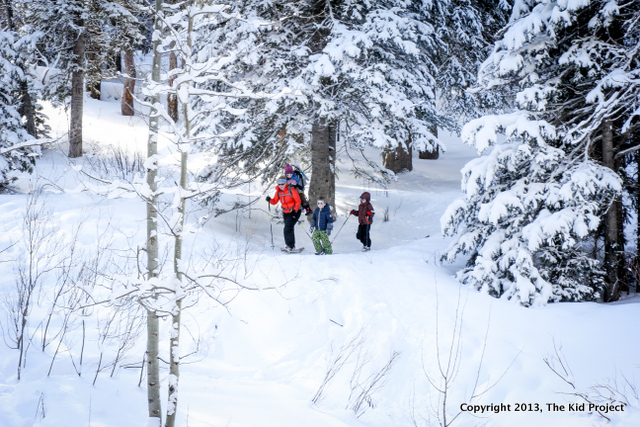 Remember one of the greatest unforeseen dangers is the bright light off the snow. Baby sunglasses are a must. Goggles are better because they also work to keep their faces and noses warm. They also have the added benefit of protecting babies eyes from the sun. All our kids have the Smith Challenger OTG goggle. They are inexpensive ($25) and fit from roughly 1-yr to well…age 7. I also like the Julbo Looping 3 sunglasses.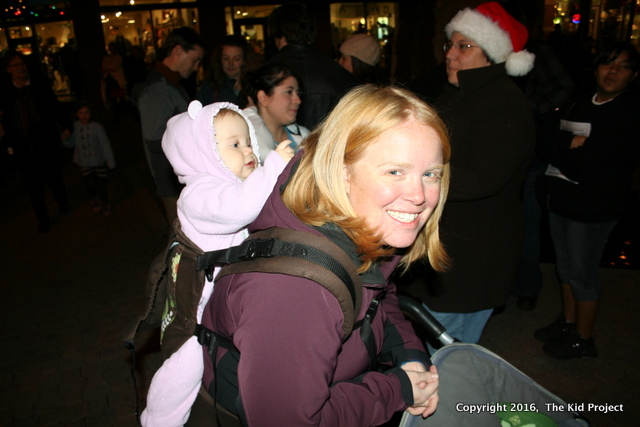 Lastly, while we love full-frame kid carriers and backpacks for hiking in the summer, we opted to use carriers such as the Beco Baby Carrier, Ergo, Bjorn or Onya Baby Carriers simply because they hold the baby next to your body directly, and you share heat with them.
Keeping Baby Safe from Insects While Camping or Hiking
Mosquitoes, yikes! I was recently reading the American Academy of Pediatrics guidelines on insect protection for infants. The actual article was super helpful, but I chuckled at this part: "Avoid areas where insects nest or congregate, such as stagnant pools of water, uncovered foods and gardens where flowers are in bloom." So avoid high mountain lakes, wildflower season, picnic dinners, parks, forests, etc?! Ha! That is indeed the reason we are reading this post, to figure out what to do IN those situations.
Here are a few things I suggest for keeping baby safe from bugs:
For complete guidelines regarding the use of DEET, please visit the American Academy of Pediatrics website.
Use long sleeves, pants. We try to keep the skin covered as much as is reasonable given outdoor temperatures.
We use a good-old bandana, spray it down with bug spray and tie it around or near their heads so we don't have to spray hands/faces with bug spray and risk ingesting.
We discovered Mighty Shield, a baby safe bug lotion that incorporates insect repelling natural oils and organic ingredients. We especially love that it can be applied to sooth any bug bites already received. Suggested age is 6+ months, check with doctor for newborns. Mighty Shield can be purchased online for $12.50 at www.babytimeusa.com.
Keeping Baby Protected from the Sun
No matter the season, keeping baby safe from the sun is important. I am not going to comment on the whole natural vs. chemical sunblock debate. Rather, I will share a few key rules of thumb that we try to implement.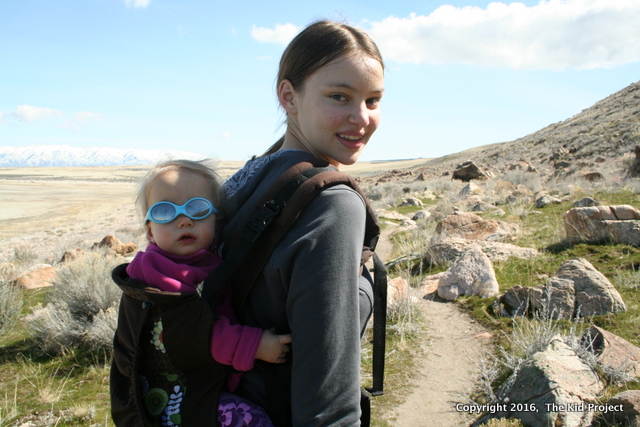 First, we try to get out of the sun or keep covered up with sun hats or long sleeves when the sun is at its strongest or from 11 a.m. to 2 p.m. We are religious users of sun hats, our favorite brand is Sunday Afternoons.
In the winter, sun protection for your child's eyes is also critical as the reflection off the snow surface can increase the effects and lead to things such as sunburned eyes or snow blindness. Consider a good a pair of sunglasses or goggles for your baby. See our winter tips for specific suggestions.
Keeping Baby from Overheating in the Summer
Overheating can become a real danger for babies when you are hiking or camping during the heat of summer. For the comfort of both baby and parent, we chose baby carriers such as the Deuter Kid Comfort Air or Kelty Pathfinder for hiking because they hold the infant away from your body, hence are cooler. Investing in the screened shade for the carrier will keep baby shaded and will be cooler than a sun hat.
Many outdoor parents assume they should have their babies in quick-dry synthetic clothing as well. And while we may want those fabrics for ourselves, I believe that good old white cotton is cooler, especially if your can dampen it should your infant seem hot.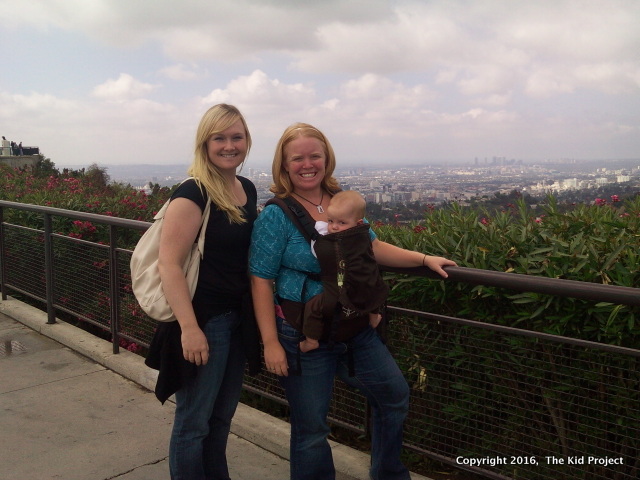 Signs and Symptoms
According to the American Academy of Pediatrics, children who are overheated may, "develop faintness, extreme tiredness, and headache, and there may be fever and intense thirst. Other signs include nausea, vomiting, hyperventilation, and skin numbness or tingling."
For infants, check the collar area for dampness or signs of sweating. Take note of rosy or rash covered cheeks and rapid breathing, as these may also be signs of overheating. When hiking or playing outside on a hot day, nurse or bottle feed your infants more often so they don't become dehydrated.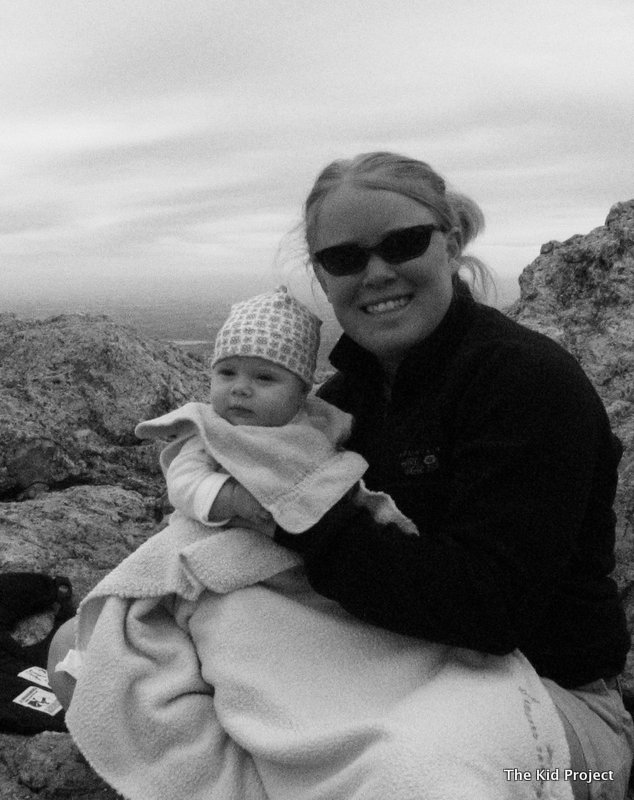 Thanks so much for dropping by and participating in the Owlet Baby Care Blog Hop! Check out tomorrow's post, "Fears of a new mom for baby safety — and what you need to know (baby safety edition)" over at http://www.livingthescream.com and make sure to enter the giveaway below!
What are your own tips for taking babies hiking, camping or into the outdoors in the winter?We welcome your tips in the comments below!
a Rafflecopter giveaway

This post is sponsored by Owlet baby Care. Did you know that 10 times more babies die during their sleep every year, than in a vehicle? Owlet is working hard to remedy this statistic by designing the only baby monitor that uses pulse oximetry to monitor sleeping babies. If that sounds confusing, think the little red light they clip on you at the hospital to measure heart rate and oxygen. This technology is built into a tiny baby sock that is designed to alert your smartphone should they stop breathing.