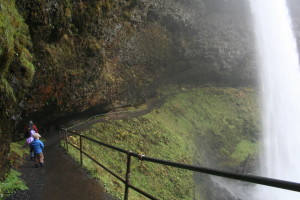 Seven years ago, almost to the day, Chris whisked (or rather dragged) me under a thundering, wet, magnificent water fall and asked me to marry him.  I don't remember much of what he said.  In fact I could barely hear him over the roar.  But I've never forgotten the waterfalls.  So naturally every time we head back to visit family in Oregon, we bring the kids to Silver Falls. Here is the info:
Location: 40 minutes outside of Salem, OR.  Take OR-22 East to Exit 9 towards Aumsville. Turn Left and follow signs to OR-214/Silver Falls Hwy.
Cost: State park fees apply, $5 per car/ per day.  National Park Passes accepted.
What to Expect: Silver Falls is a "must visit" for us every time we visit Salem, OR!  And it isn't just because that is where we got engaged.  There are over 25 miles of trails that take you along the north and south forks of Silver Creek and past 10 different waterfalls. Old growth forest towers over you in the summer and the falls thunder with power in the winter. The best part is hiking behind the falls as they thunder overhead.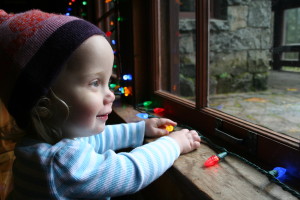 In the winter the trails can be steep and slippery but the largest fall, South Falls, is a short hike from the parking area and lodge. Come prepared for cold temperatures and lots of wet! The lodge was open for us- with a roaring fire in the old stone fireplace and a small concession stand with coffee, lattes and hot chocolate. Winter is my preferred season for a visit because the falls are much larger due to all the rain.
In the summer there is a swim beach (a favorite of the locals), nice park and grassy areas for a picnic. The slight elevation gain also means the temperatures are cooler.