When I became a mom, winter brought a whole host of worries. See, babies cannot really tell you when they are cold. They are also much more difficult to keep warm when outdoors, because unlike us, they aren't skiing or snowshoeing or burning massive amounts of energy. Here is what works for us: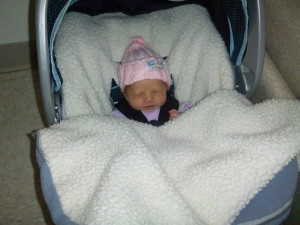 JJ Cole Bundle Me ($40) : We love this product! A thick fleece car seat (or stroller) insert that keeps your baby protected from the elements.  Double zippers allow for easy in or out.  Machine washable. Also great for those adventurous parents who are camping with their infant.  We slept our little ones in their car seat and the Bundle Me kept them nice and warm.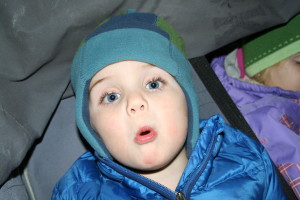 Peruvian Style Hats ($10 and up) : I've seen these hats everywhere but we got ours at REI.  They come low, covering the ears and neck- places where a lot of body heat is lost!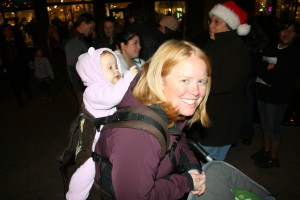 Beco Butterfly II: The Beco is our best friend.  You can read our full review for all the perks, but for the sake of this post I'll just say this: having your baby up against your back means both of you share body heat and they are kept warmer. Baby carriers such as the framed backpacks, hold the kid away from your body- good in the summer, but not so much in the winter.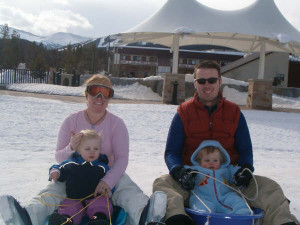 Fleece Snow Suit: We've tried many brands: Children's Place, Target, Patagonia, and REI.  The one we settled on is a french brand suit my mother found at a garage sale. Unfortunately, I've yet to find its equivalent in a store. Here is my advise: Make sure the fleece is thick and understand that fleece is not wind proof. Also, you get what you pay for. Cheaper fleece is OK for a short jaunt in the stroller but not a snowshoe outing. If you can find one with a nylon barrier to keep wind out, all the better! Double check that there are fold over hand cuffs to keep the hands covered.  Mittens are sort of a joke on babies.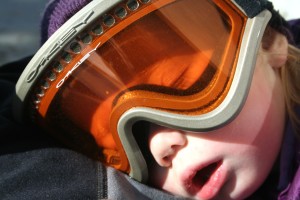 Goggles:  I don't have a brand preference at this point: just get some goggles for the little one if you expect to spend time in the snow.  Not only do they afford some eye protection – important on those snowy sun filled days – but they keep their whole face warm.  Especially, if like our kids, they are a little too big and cover most their face…
Lastly… a big jacket! If you want to know your infant is warm, keep them close.  Like in your jacket with you.