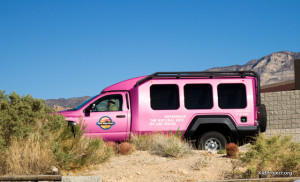 Pretty much the title says it all! Las Vegas is its own kind of place, with its own kind of rules. The little white words on the PINK truck? "Experience the natural side of Vegas." Or for instance, when we were looking for fun pools and they said females over 21 years old were free but everyone else was $20. Um…we decided that probably wasn't a pool we wanted to go to with the kids… But thanks to a few friends who knew the city pretty well, I was given a whole host of kid friendly information and sites that I will pass on to you [thank you Jessica Navarro, Nancy Henry, and a host of good blogs]: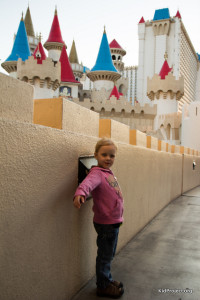 Kid's Quest at Red Rocks Resort and Casino This place is first on our list cause were are just that impressed with it. In short, it is childcare, Vegas style [which I was very uneasy about at first]. But the kids loved it! They have seperate classes for the Tiny Tots [2 yrs and under] and for the older kids a ratio of 1 adult to 7 kids as they play in a large tunnel structure, IPAD station, dress up room, play kitchen and grocery area, etc! Think of it as a children's museum where parent's don't stay :). [They go climbing…but then they learn a little late that parents aren't supposed to leave the premises].
Make sure to bring immunization records with you. The cost is roughly $8 per hour/per kid. They were clean, fun, and made me feel amazingly comfortable leaving my kids behind. Here is your link:
Kid's Quest
.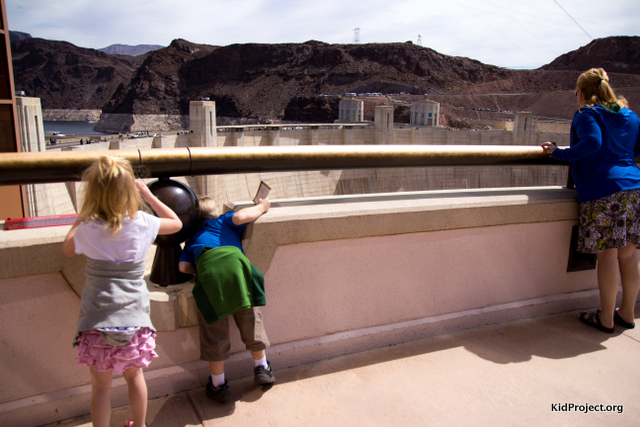 Hoover Dam – I was overly impressed with this place! This picture was taken right before I looked over and saw my son peering through just a little to comfortably. I wished he was on belay. Did the kids think it was great? Maybe not so much. They actually asked if we could leave and go back to Kid's Quest. But Chris and I had fun there so I figured it was worth mentioning :). Just go early and miss the crowds.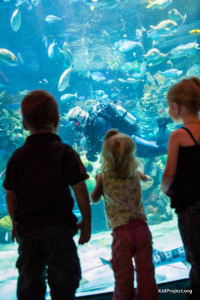 Silverton Aquarium – "Named the "Best Free Attraction" in Las Vegas, Silverton Casino's saltwater aquarium is large and impressive." There are more than 4,000 tropical fish and interactive feeding shows are scheduled daily at 1:30pm and 4:30pm.  Also, the kids loved the live mermaid swim!
Circus Circus – [We never got here] cool free circus act shows every 30 minutes or so (check online for posted schedules). They have arcade games and some pretty fun shows.
M&M World – More like an overpriced M&M advertisement, but lots of fun nonetheless. Four floors of everything you could imagine M&M. And a cute, free 3D movie on the third floor that exceeded my expectations.
Coca Cola World – Right next door to M&M world… so you know…you can get hyped up on sugar AND caffeine at the same time. Both are close to the MGM Grand. They have a fun elevator that took us up inside a glass "Coca Cola bottle." Good for five minutes of entertainment.
FYI there's a pirate show outside the Treasure Island that used to be cute and family friendly, but it's NOT anymore.
Water shows outside the Bellagio are awesome! We got lucky and traffic came to a screeching stop right as we pulled up next to it. So we got to watch it from the comfort of our car. The water fountains "dance" to music and at night time it's all lit up. I was told they go off every 15 or 30 minutes depending on the time of day, day of the week, etc.
Pool at the Rio – When we were there it was free to the public. They had one pool with a sandy bottom and another that was warm as a bath. Perfect for young kids.
Links to some helpful sites: