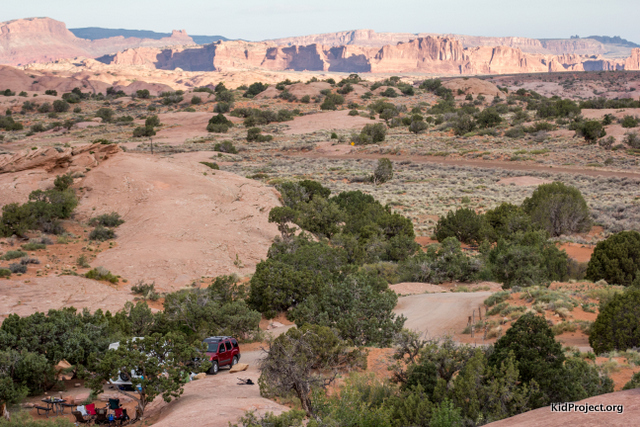 This has got to be up there my list of favorite places to camp. OK, after sitting here for a moment , I can actually think of no other place I like camping more. Now maybe I just haven't experienced enough all-America-camping. But that has got to count for something, right?
Directions: Sand Flats is located 2 miles east of Moab, UT. My directions are somewhat…unofficial. Including turning by Walker's gas station and again my Milt's Shake and Burger joint. Here is their site for more info: Sand Flats Recreational Area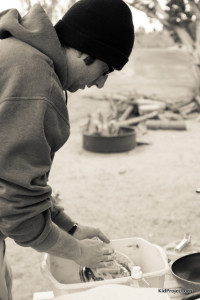 Cost: SFRA offers day-use passes, good for 3 days. If you enter in a private vehicle the pass costs $5.00, on a bike the pass costs $2.00,  in a shuttle/van the pass costs $2.00 per person.
Camping at SFRA costs $10.00 per night, per car for up to 5 people. Additional persons cost $2.00 each per night. Children 7 years of age and under camp free. If you are camping, the day-use pass is included in your camping fee. Bring cash or check, no credit cards accepted as of 4/2012.
What to expect: Sandflats Recreational Area, located near Moab, is home to the popular Slickrock Bike trail and numerous jeep trails. Nearly 100,000 people visit every year. Not sure where that ranks in the great scheme of things, but it certainly seems like a lot.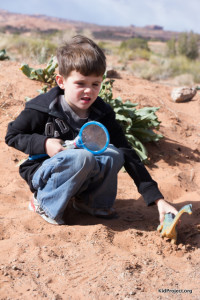 Sandflats is open to camping year round and has  roughly 9 camping loops with numerous sites within each loop [roughly 124 sites total]. Most sites, except the group sites, are on a first-come-first-serve basis. Each site has a fire ring and picnic table, with a vault outhouse nearby. As for amenities, that is it! Many sites are certainly big enough for RVs and camper trailers. Bring your own water and if you have an RV/camper, make sure the batteries are fully charged!
But you can expect to wake each morning to an orange and purple sunrise over the beautiful slickrock and canyons surrounding you. You are far enough away [2 miles] from Moab, so the stars are spectacular at night! Our kids loved digging, playing, rolling in the soft sands around camp, or riding their bikes on the rock. My boy [maybe all of us, really] even got a kick out of watching the jeeps crawl up the rocks [we even had to give the Xtera a try too]!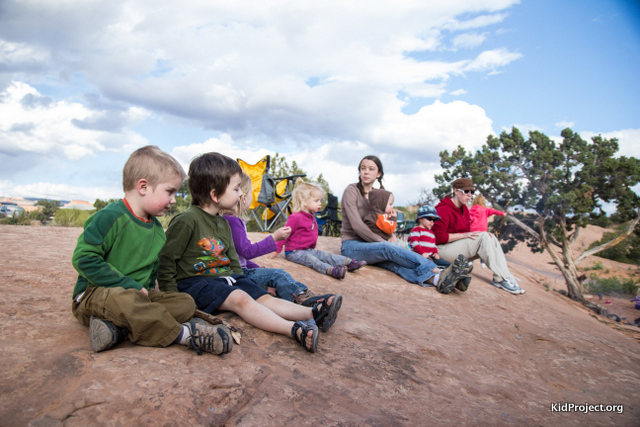 A few warnings for the wise: 
Camping in the desert is well, different, if you've never done it before. Bring your own water, there is none up on the desert plateau. You can refill campers/jugs many places in town, but we used Walkers gas station [300 E Main Street] on the main strip in Moab.
Days can be very warm, nights very cold. Temperatures vary greatly, so come prepared.

Watch the weather closely, and if winds laden with fine sand are not desirable, pick somewhere in town to camp, or reschedule your trip. On that same topic, some of the most beautiful times are before/after a storm. Just make sure you can manage the weather.
If you are a hater of the motor sport world, be careful which site you choose. We LOVED our site, its proximity to the rocks, etc. But we were camped at the start to "Fins n' Things," a popular jeep trail. So we had jeeps passing us a somewhat regular intervals.
I would suggest spring or fall for your camping visit as temperatures are too hot in the summer and cold in the winter. But the spring especially is VERY crowded due to spring break, jeep rallies, and bike races [to name a few]. Arrive on a wednesday to ensure getting a site for the following weekend during busy season.