This whole "fear" series has invoked some interesting responses. But by and large, the biggest question we have received is this, "What if my kid is fearless? What about then?" And I get that. In fact, dealing with a fearless kid is often times alarming for all us adults.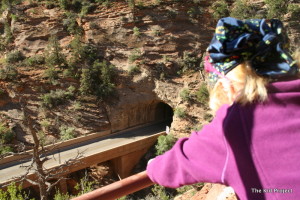 My daughter, as far as I can tell, is fearless of heights. She would [and has] marched right out to the edge of many cliffs and looked over. This elicits hysterics from which ever parent is on 'guard duty'.  Which then leads to her response…"why are you yelling, mom? I am not scared." Yeah, well… cause I am.
OR
The boy. Need I say more?
It all started at 11 months, when he started walking. He was determined to go down stairs the "adult" way. He'd approach the steps and without breaking stride attempt to step down…tumbling down the remainder of the stairs. He'd promptly get up, cry a little. And DO IT AGAIN. This sort of determination to master a task will undoubtedly be a strength in his adult life…but for now. Not ok.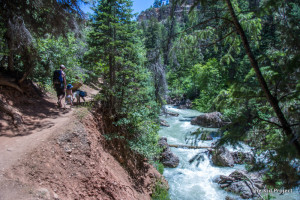 Well, extend this into all things outdoors and you'll see why we require him to hold our hand 98% of the time while hiking. Cause we always end up on trails like the one pictured. I don't know how, but we do. Trails with steep drop-offs ending in rocks. Trails with steep drop-offs ending in raging water. You get the picture.
For a boy who's mind and feet are in a constant battle for 'first', randomly tripping off the side of the trail or barging into bushes unexpectedly is common place. Which brings up another concern: those bushes with things like rattlesnakes hidden inside. This actually happened last weekend on our hike. Only thank goodness the dog barged ahead first. And no, no one was bit. That is reason #1 for having a dog :). [For a great post on encountering wild animals, visit here: What to do when encountering wild animals.]
So what do we do with our fearless kids?!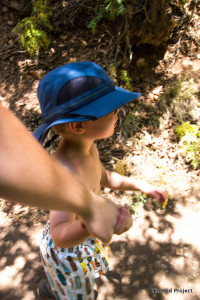 My two cents says: Train and educate.
The trouble with having kids that love the outdoors, is that they are comfortable outdoors too. A good thing but… educating our kids on looking out for snakes, making lots of noise in areas where mountain lions and bears are abundant [usually the noise thing is not a problem], or not running ahead without a parent is important. Have them hold your hand. Or position them on the inside of the trail.
And in our house, we take a lot of time to train our kids. As soon as they can waddle away on their own two feet we work on things such as "STOP" and "Touch my leg." Now for the explanation.
"Stop."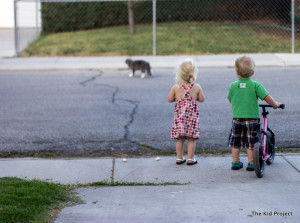 I want my kids to feel like they can run and play and frolic. But I want to be able to feel like I can let them. Part of that is having them attentive and obedient to my words. To us, this is a safety issue. If I say "stop," they should freeze. A car could be coming, a rogue shopping cart, or like last weekend, a rattlesnake. The best way to train is to practice in the everyday moments.
Sometimes, while the kids play outside in the driveway I test them. "Stop!" I say. And we repeat until everyone is obeying quickly [the two year old usually needs a little more repetition of this game :)]
We help reward good listening and quick obedience with increased freedoms. It was a big day [and sort of scary for mom] when I let my oldest daughter ride her bike down the street [we live on a dead end] without me. Sure I was watching, but she had shown me 1. she'd stop right away if I yelled, 2. she knew how to watch for cars, 3. she was attentive to her surroundings.
"Touch my leg."
We know a lot of families who do this, I cannot claim any credit for it. And honestly, most parents look at me like I have horns growing out my head. Why do we say that? Well… We've all seen it, heck…I remember doing it. Mom/Dad says, "come here." The kid take two steps in their direction and stops. They didn't really come "here". But they didn't ignore you either. We believe providing a clear cut command takes the "grey" out of their response. "Come touch my leg" requires the kid to come all the way to you, to obey completely. It has been invaluable in our outings.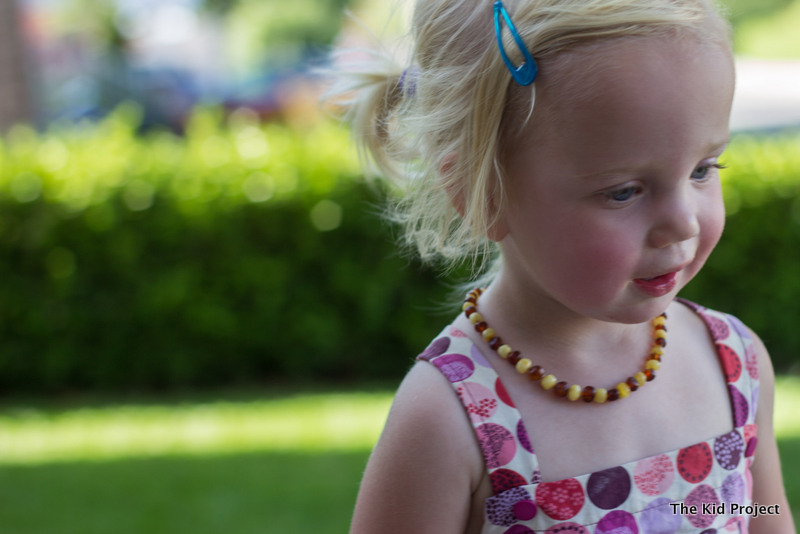 Now maybe some of you have read this and are thinking, "great, their kids are of those rare eager-to-please kind. But when I say "stop" my kid looks at me, grins and runs the other direction with an evil cackle." Each one of our kids has done that. In fact, our youngest is smack in the middle of that "stage." All I can say is be consistent, provide some sort of disciple for their disobedience, and keep working it. Stay the course.
And for the kid who is just plain fearless and maybe a little clumsy because they grow roughly an inch every month or two and cannot keep their feet under them? Well, get creative. You know those Lucky Bum Ski Harnesses we used for skiing this last year? I swore I would never use one…but my boy had no interest in stopping or turning his skis cause he wanted to go fast and go off jumps. [We eventually told him, "no jumps" till you stop and turn on your own…and it worked.] But for those same reasons I have seriously considered making him wear the harness hiking as well…for those moments he trips off the side of the mountain…you know?
And here is where I invite your stories! What have your fearless kids done? What do you do in response? As far as kid safety…I am not sure anything is out-of-bounds…