As small coastal towns faded into our rearview mirror, a new type of water started to dominate the landscape. Rivers. Big Rivers. And cities. So it seemed some good-old-fashioned urban paddling was in our future. Spending a few days in Salem, OR meant we had to check out the local paddling scene on the Willamette River. So we headed downtown to Riverfront Park.
Riverfront Park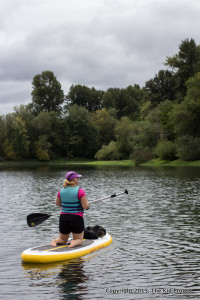 We launched from the pier down by the river boat. Not the best place for kids, but workable. We had quite the stroll to get there from the parking lot but this worked seeing as we had an inflatable SUP in a somewhat working backpack. For our first time out on a river, I wanted to spend sometime out without the kids. This is a great location for parents to switch off paddling while the kids play at several of the near by playgrounds and splash pads.
Launching off a dock was not nearly as difficult as I imagined. Inflate the SUP, get everything ready, like life jacket on and paddle in hand and step [or crawl] on.
A few specifics on this location:
The water is deep right off the dock.
Our kids wore life jackets the entire time before ever walking onto the dock.
No beach area. Kids really like a beach area to play, that is half the fun for them.
We paddled across the small inlet to a rocky beach on the other side where they could jump off and play a little.
The current isn't very fast here.
There was a cool lagoon full of birds and wildlife to watch and explore.
This is a relatively non-threatening inlet that you can explore before heading out into the main body of the river.
If you are looking for a better location, directly across the river from Riverfront Park is a small boat dock and rock beach area (under bridge) used for kayak/canoe launch.